Scrapbook Graduation Card Supplies for Free or Cheap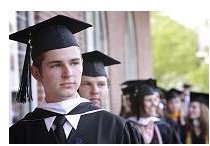 Display your creativity with scrapbook graduation cards that you make for that special graduate. Assuming you're not inviting more than fifteen people, it's a worthwhile effort to make these yourself. If you plan to invite more people than that, then you might consider purchasing scrapbook graduation cards online, because they can be time consuming. Scrapbook supplies are expensive in arts and crafts stores, but there are ways to find free supplies to use.
Freecycle.org
If you don't already "Freecyle" what are you waiting for? It's an excellent way to give others the things around your home that you no longer use, or get the things you need that other people are getting rid of. Members of a local Freecycle group post "offered" or "wanted" ads about the things they want to get rid of, or need. You're sure to find free scrapbook graduation card supplies if you check it often. That's the trick to using Freecycle, you have to check often and respond to an ad right away. Plan early to use Freecycle to find your supplies. Start checking the website a few months before graduation, and post a wanted ad requesting scrapbook supplies. You may end up with miscellaneous people to get supplies from, which means that not all of your invitations will look identical. Don't worry about that, because it's even better to have unique invites. It complements the idea of scrapbooking unique cards in the first place.
Craigslist.org
There's a "free" section on Craigslist worth checking often. A peak time to check for free scrapbook graduation card supplies is during yard sale seasons. People will post the supplies they don't sell for free after the yard sale is over. You cannot post a "wanted" ad though, like you can on Freecycle.
You can also check for cheap supplies under the "arts and crafts" and "household" sections. You can also search for "scrapbooking" or "scrapbook" on the first page of your local Craigslist page, just in case the person selling the supplies has listed them in a different category. You may have to wait to see whether the price on a particular ad goes down. Some prices for scrapbooking supplies are listed very high, but they tend to drop down after a while when no one buys them.
Yard Sales
It's easy to walk away with grocery bags full of supplies for little or no money at yard sales. The last thing the owner wants to do is bring the supplies back in the home. Some people who decide to move on from scrapbooking find the little pieces, stickers, buttons and other scrapbook supplies to be a nuisance and clutter. If you want them, the owner may sell them to you cheap.
It takes effort and time to check online often, but you can find free and cheap scrapbook graduation card supplies. The graduate in your life will appreciate the effort.