Ideas on How to Word a College Graduation Invitation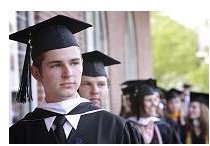 When looking for ideas on how to word a college graduation invitation, keep this in mind: it's up to you. There are standard invitations, but there are many that are unconventional. It all depends on the audience, the age of the graduate and the time you have to create invitations.
Graduation Invitation Checklist
You don't want to create a graduation invitation that's so unconventional that you leave out basic information about the ceremony. How you word the college graduation invitation is your choice, but make sure you include the following:
Full name of the graduate
Location of the graduation ceremony
Date and time
RSVP
Reason for the invite: graduation ceremony
If you plan to have an open house or ceremony afterwards, put that information on graduation inserts rather than on the graduation invitation.
Graduation Wording from Parents
Determining how to word the invitation often depends on the relationship connection between the person(s) sending the invite and the graduate. Here is one example of how to word a college graduation invitation if you are the parent, from Graduation Invitations and Graduation Party Ideas:
We, the proud parents of (Graduate's Name)
would like you to share in our happiness at Commencement Exercises
on (Date) at (Time) (Location)
RSVP by (Date) to (Parent's Names)
on (Telephone Number)
The wording was submitted by a parent and is free for you to use. It's important to personalize the card by using "I" or "We" in cards sent by you the parents. Don't just use a blank template that lists information on the checklist.
Graduation Wording from You the Graduate
A college graduation invitation coming from you can be personalized. Another option is to send it on behalf of the president of the college. For example, My Expressions offers this example that you're free to adapt and use:
The President, Faculty, and Graduating Class of
Wisdom, Discernment and Grace College
Announce that
John D. Jones
Is a candidate of a
Bachelor's of Science degree
Commencement will take place on
June 2, 2007 at 2:00 pm
At the Athletic Field of the College
777 Joy St.
Perseverance, NY
You as the graduate would send the invite, as if it were the college sending it. You might choose this style of wording for sending invites to prospective employers, clients and other people you plan to network with.
Consider a warmer invite to family and friends, such as this one:
With great happiness, I
(Graduate's Name)
announce my Graduation from
(College/University)
Come celebrate my achievement
at my Commencement Exercises
on (Date) at (Time)
(Location)
RSVP by (Date) on
(Telephone Number)
Sending two types of invites is not a bad idea if you can afford it. If not, choose one that will put you in the best light with the people you're sending the invitations to.
Determine how to word your graduation invitations in a way that is short and concise. You or the graduate can elaborate on just how much the day means to you (or them) in a speech after the graduation ceremony.