A Few Examples of Baby Shower Thank You Cards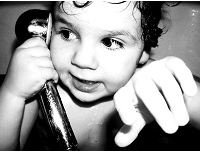 Planning Thank You Cards in Advance
While someone else is planning your baby shower, you can prepare to thank the planner and guests for their gifts, time and advice. Finding examples of baby shower thank you cards can provide you with inspiration and ideas to show your appreciation and to thank others for their thoughtfulness. What you don't want to do is send bland generic cards that don't say much. Think of friends, family members and grandmas who take months to knit little booties, scarves and hats for your baby. The least you can do is design thank you cards that show a little effort on your part.
Separate Cards for Boys and Girls
If you know whether you're having a boy or girl, then choose color schemes to match. You don't have to do just blue for boys and pink for girls. Blend other colors to complement these common color schemes. For example, blue and brown work nicely together. Even different shades of blue will work. Here's one example of a baby shower thank you card that uses two shades of blue for a baby boy thank you card, from Plan the Perfect Baby Shower: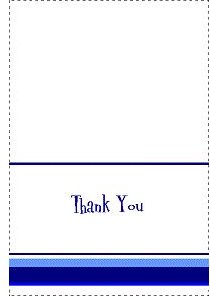 You can download this template for free, or design your own based on this one. Some colors that complement pink are yellow, orange or brown. Limit your choice to two colors though, as too many colors can be distracting.
Use Poetry
Write your own poem for the card's message, or find free ones written by others. Examples of baby shower thank you cards with poems are available online. For example, Poems for Free has a collection of poems that are specific for baby shower thank you cards. One offered on the website that is free for you to use is this one by Nicholas Gordon:
Thank you for your generous gift, Hard earned and easy spent! Although consumption may be swift, No time can dull intent. Know that we well know that you Your love have tendered so. Our love we then tender, too, Untold thanks in tow.
The length of your poem will depend on the space you have. Some people have beautiful handwriting. If that's you, consider writing out the poem by hand. Otherwise, type it using a baby shower themed font and print it out on the cards.
Write Personal Notes
In addition to a poem, or in lieu of one, write personal notes to everyone who gave a gift. You'll show your gratitude, and they'll have one more thing to remind them of the great time they had at your baby shower. At Thank You Notes Samples, you can find examples of baby shower thank you cards with personal notes, such as:
"Dear Wendy,
Thank you for the baby bath. I can't believe how much they've improved since I had Haley. With the padding, thermometer, and adjustable everything, I will get to enjoy bathing baby instead of being nervous! And the lavender baby bath you included smells so good, I may have to use that on myself. Thanks again for the thoughtful and useful gift.
Love,"
You goal is to be authentic and personal when writing your note, as this example illustrates.
Use these examples of baby shower thank you cards to spark ideas, but don't limit yourself to them. The possibilities of designing and writing your cards are endless, and the process of putting your own together should be fun.