Graduation Card Wishes Do's and Don'ts - Tips for Creating the Perfect Graduation Cards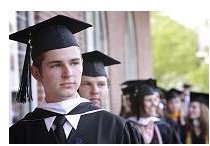 Congratulations, Graduate!
A nice way to congratulate someone who has worked hard to earn a diploma, degree or certificate is to send them a graduation card with wishes for a great future. Graduates often hold on to those cards for a long time, as keepsakes. To keep yours from ending up in the trash, or to convey your best wishes to someone special in your life, consider these tips.
Tip #1: Don't Assume Anything
Don't assume that the graduate is going to follow a particular career, higher education or business path in your card's message. Graduation card wishes that say things like, "Now you can get your dream job!" or "Can't wait to see what you do after law school!" can come across much different than what you intended. Many graduates don't have a job already lined up, or don't get accepted to college, or post graduate programs. Your wishes may be a reminder that they've not achieved the success that they were hoping for. It's best to avoid mentioning it in your card. It's far better to say something generic, such as "Congratulations, and may all go well with your future plans, whatever they may be."
Tip # 2: Use Humor When Appropriate
Graduation card wishes that incorporate humor are not for the serious graduate. It's a great choice, though, for graduates who enjoy laughs, and would appreciate you including a joke in your card. Be careful, because a corny card may cause more harm than good. The graduate may think that you didn't put much thought into the card, and they might take it personally. Use you best judgment as to what's appropriate, and whether it's a good idea to include humor.
Tip # 3: Write a Personal Note
Signing your name to a card without a personal note is not a good idea. Remember, most people hold on to graduation cards, and show them to their children in future years. Take the time to write something to remember you by. Reflect on your relationship with them, or trials that they overcame to graduate. Commend them and praise them for their efforts. Say something, beyond what's printed on the card. You can even write a poem if you have creative writing abilities. If not, a written note that's neatly written is fine.
Tip # 4: Choose Great Images to Enhance Your Wishes
A picture can say much more than you have room to type. Choosing the write image for your card is just as important as the graduation card wishes. Some ideas for images to use are:
A funny picture of the graduate
A baby picture of the graduate
You and the graduate doing an activity
Favorite hobby or recreational activity
Family picture
Copy of the graduate's favorite artwork
You can download free images online if you don't have any to use. One website to try is stock.xchng.hu.
Keep your graduation card wishes simple, but put considerable thought into it. The graduate will appreciate it, and may cherish your wishes for a long time.