Learn How to Create a Flip Brochure for Web and Print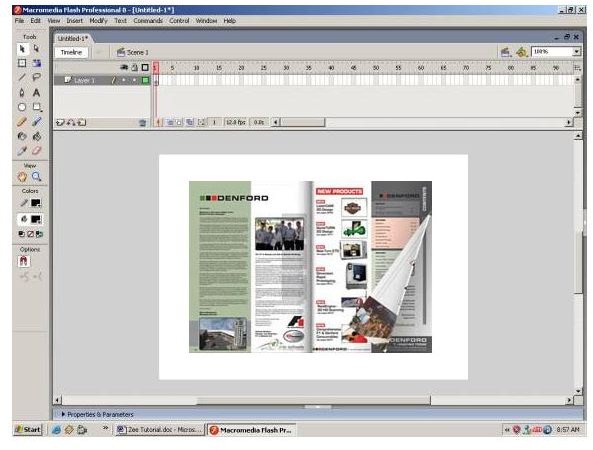 Brochures in Flip Book Format
The interactive flip book brochure is used to showcase a visual artist's work online. It can be used in conjunction with a website or blog, or on it's own as a multimedia CD presentation. Flip book brochures can be used to showcase illustrated images, photographs, editorials and the like. The pages of the digital flipbook are flipped with a simple point and click of the mouse on the right hand side of the page. So how do you create a flip book brochure for your next online or print presentation?
There are several ways that you can create an online flipbook. You may choose from several third party software options, that allow you to upload your pictures into a pre-designed book, such as Flipping Book . If you are saavy with Macromedia Flash, you can create a Flash SWF file and program page by page in Action Script. Let's look briefly at that process.
In Macromedia Flash, you want to start by importing three JPEG images, which will represent your first few flip pages. These three images will be loaded on three different Flash layers. Once you have loaded the images, you can begin incorporating more images and text on different layers of your Flash project. The images should look like the pages of a book, similar to the diagram below.
When you have loaded each layer of the flip book, you must write the appropiate Action Script to give the pages the illusion of turning. Here is a simple example. If you want to flip the following image A so that the final result is C. You would write the command, On mouseover go to frame 9 – that's only if your B flip is on frame 9.
When you hit the play button on your final SWF file, you will see that your page will flip from A to C, with B being the turning page. Pretty cool huh? This is the most basic way of creating an online flip brochure.
The Print Flipbook Brochure
Along with your online flipbook brochure, you can also create one in print format. With just a few simple steps, you will have it completed fairly quickly. The first thing you want is a book cover or a binder. This can be bought at a local office supply store. The book cover can be hard or soft cover.
1. At this point you want to decide how many pages you would like to showcase in the actual book. It's better to stick with a range between 10 and 12 to start. Try to show your strongest work in the first few pages.
2. Decide how you want to display your pages within the book. One option is to present your book with either a coil binding, or have it professionally stapled together on the top and the bottom of the pages. The best option is whichever one allows the viewer to flip through with ease.
3. You may choose to have 8 x 11 or 11 x 17 size pages, depending on your book cover size. The larger the images are, the more it will engage your audience.
4. Test your flip book's durability as you open the book and flip from cover to cover.
5. Ensure all of your pages are the same size. Secure the pages together at the top, and create laminated sheet pockets on each page.
6. Insert your illustrated artwork and photography into the laminated sheet pockets.
7. Label your pages. Once you have selected your artwork, you will want to separate them according to categories. For example: Perspective Drawing, Interior Design, and Three Dimensional Models would be a great introduction for an architectural designer's flipbook.
Both the interactive and print brochure should be consistent with enhancing the engaging factors of your work.
Sources: