Top Free Alternatives to Photoshop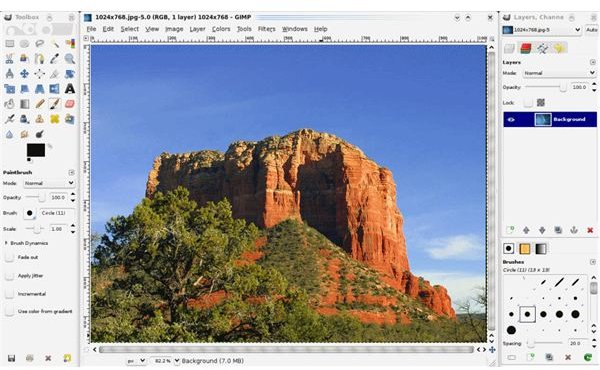 Appropriate Applications
Some professionals swear by Photoshop and claim there simply is no free alternative. In some cases, such as with color management, they would be right. Since the whole of image editing and authoring is comprised of so many individual tasks, however, there are plenty of users for whom a free alternative to Photoshop is perfectly acceptable.
GIMP
Considered the best alternative in terms of overall functionality, GIMP (which stands for GNU Image Manipulation Program) is compatible with Windows, Mac OS X, Linux, and other operating systems. It supports most of the image file formats that Photoshop supports, it has layer, channel, and scripting functionality, and it contains many essential editing functions found in Photoshop, such as cropping, resizing, color correction, sharpening, and beyond. It can correct photographic lens barrel distortion, and can also be used to create animations, logos, and icons.
There are, of course, the inevitable discrepancies in terms of matching up to Photoshop. GIMP does not offer the same extent of CMYK color management available in Photoshop. It also does not support the JPEG XR format. The bottom line is that GIMP is not quite up to Photoshop's level in terms of image processing. For images intended to remain strictly in the realm of computer displays, however, this may not be an issue. GIMP is available for download at https://www.gimp.org.
Paint.NET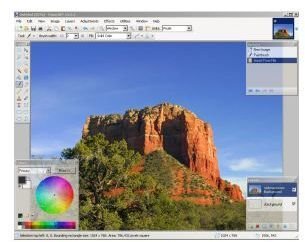 Paint.NET is noted for its intuitive interface, rapid start-up time, transparent window feature, and overall user-friendliness. It has an active user base continuing to expand the program's features through an array of creative special effects plug-ins. It is currently not as powerful an alternative as GIMP in terms of color spaces and support for high dynamic range imaging, but it has come a long way from its origin as an intended replacement for the Windows Paint program.
One significant disadvantage of Paint.Net is that it's only available for Windows, as it depends on Microsoft's .NET framework. Windows 7, Vista, and XP SP2 users can get Paint.NET at https://www.getpaint.net.
There is a wealth of information on both GIMP and Paint.NET, including reviews and tutorials, available here at Bright Hub.
Other Freeware
GIMP and Paint.NET are by far the strongest free applications to consider among the raster/bitmap image editors. Another program, Artweaver, has its share of fans, but the free version is not to be used for commercial work. Should you consider a scalable vector graphics program as a complementary tool, Inkscape can be quite useful. Inkscape, which more closely resembles Adobe Illustrator than Photoshop, is completely free with no restrictions on usage.
In the final analysis, it all boils down to determining the best application for your needs. Giving these free alternative image editors and graphics creation tools a try costs nothing. It may be worth your while to check them out and see if one can get the job done and save you the cost of Photoshop.