How to Create a Photoshop Cartoon Effect: Making a Caricature in Photoshop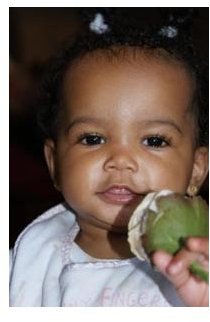 The Cartoon Look
Are you a cartoon or caricature artist trying to achieve that cartoony look for your client? Adobe Photoshop is the answer to give you the cartoon effect you desire. Making a caricature in Photoshop has never been easier.
Photoshop offers an array of tools to give cartoon artists the effects they need. If you want to make a caricature from a photograph and then give it a quick animated cartoon image background, we will show you the simplest way to accomplish this task. Most sites and book reviews on Adobe Photoshop cartoon effects are detail oriented, but it's best to keep everything as simple as possible to start.
Creating the Caricature from a Photograph
Let's start with a closeup, or a head shot, of the person you would like to draw a caricature of. For this tutorial, you want to have the person sitting against a mostly solid background. I will start with this picture of a baby girl. You may choose something similar.
Baby Girl
Now, we will just need to apply a simple filter to create our cartoon style drawing. From the File menu, click Filter/Artistic/Colored Pencil. You want to slide the pencil slider width to 9 and the stroke to 11. Don't worry about the paper brightness. These settings should give you something that looks like the picture below. You may find that you have to play around with the settings to achieve the cartoon effect you are going for. When done, click OK.
Caricature of Baby Girl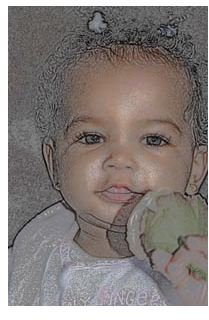 Try to keep in mind the resolution and size of your picture for the desired effect. This picture is 2592 in width by 3872 in height at 72 dpi. Now, you want to take the lasso tool and select around the baby's head and shoulders only. Then go to Select/Inverse selection, so that you can pick the background. Hit the delete button and the baby should have a white or solid background. This prepares the image for us to add a background.
Here are the before and after shots of what we have done so far.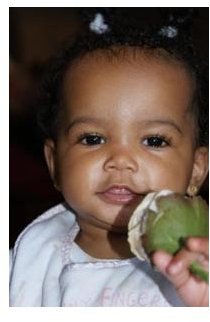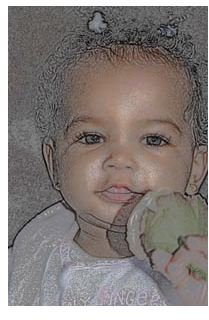 Adding a Cartoon Effect Background in Photoshop
We want to give this caricature a simple cartoon background. The following technique will allow you to create a simplistic background in seconds, especially if you are on a deadline. We will create balloons around this baby with a blue sky.
We'll start with a gradient layer by picking a foreground and a background color. I've selected a light blue and a deeper blue. Add a layer in the Layers palette area for the sky. Select the gradient tool and fill the area with your base sky. You should now see a blue and white gradient around the baby.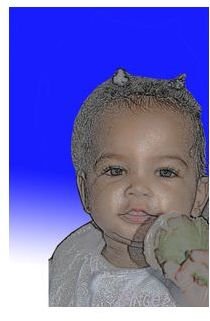 On a new layer, let's draw the basic balloon shape with the Selection Tool. Choose a shade of red and press Shift +F5 then Enter to fill the area with the cloud's flat red color. Go to Layer/Layer Style/Bevel and select Emboss. Slide the Direction slider to 136 pixels and the Direction Soften slider to 4 pixels. Now you have your first balloon. Duplicate this balloon and use the move tool to slide it down. Fill the second balloon with an orange flat color. Add another layer and simply freehand the strings of both the balloons. Congratulations, you have completed your first photo caricature in Photoshop, complete with background!