The Top 5 Free Online Photoshop Tutorial Sites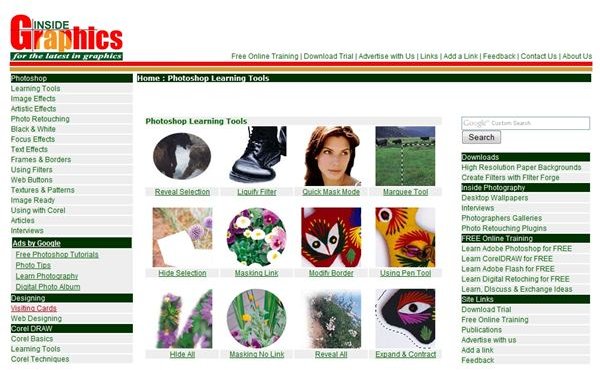 Photoshop has become a standard in so many industries that its name has entered into colloquial phrases such as, "that image looks photoshopped." If you are new to Adobe Photoshop, you may need some help getting started. Yet with so many features and options, even intermediate and advanced user can use some help from time to time.
If you want to start using Photoshop, this list of the Top 5 Free Online Photoshop Tutorials is a great place to begin. Read to learn where you can go to learn Photoshop free online.
1 – Insidegraphics.com Photoshop Tutorials
Although not dedicated solely to Photshop, Insidegraphics.com does provide some great Photoshop tutorials aimed at the beginner. Rather than start the student off with a bunch of theory and design elements, these tutorials take an experiential approach.
If you are impatient to begin learning Photoshop, this is the place to start. Walking the student through with lots of screenshots and text, Insidegraphics.com's tutorials make no assumptions about the current knowledge of the student.
2 – Lunacore.com Photoshop Training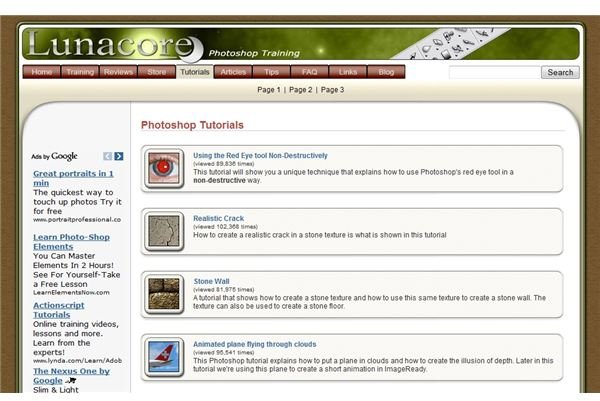 Dedicated entirely to Photoshop, Lunacore.com has a comprehensive selection of tutorials to keep you busy for a long time. These tutorials are particularly detailed, leaving no stone unturned when it comes to producing the finest results.
If you want to be more than just a casual user of Photoshop, these are the tutorials for you. Lunacore.com's no-nonsense approach to learning Photoshop will get you off and running with a great foundation for more complicated lessons in the future.
3 – Graphic-Design.com's Photoshop Tips and Tricks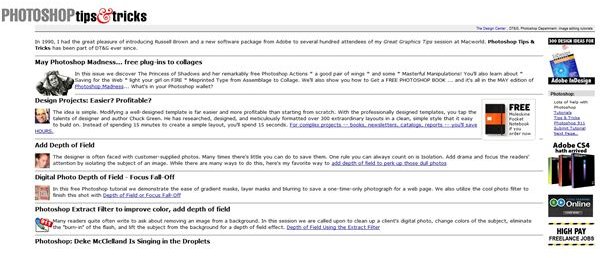 If you are an intermediate learner, consider Graphic-Design.com's Photoshop Tips and Tricks. More than just a collection of tutorials, this site offers news, information, and tips from people who use Photoshop for a living.
Its blog-like atmosphere and layout make exploring the site and seeing the possibilities of Photoshop come alive as enjoyable as learning the program. After you've mastered the basics, make Graphic-Design.com an often-visited site for intermediate and advanced lessons and information.
4 – Photoshopstar.com Photoshop Tutorials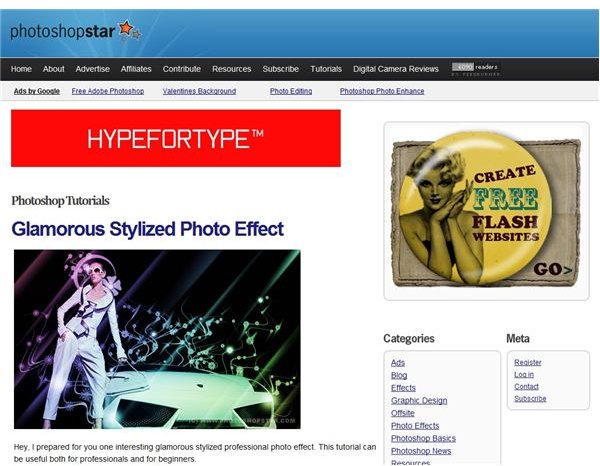 Proving that learning something new does not have to be boring, Photoshopstar.com's Photoshop tutorials will take you on a ride from beginner to competent artist. Taking an experiential rather than sequential approach to learning, these tutorials allow you to jump around so you can experiment with what interests you the most. In fact, exploring the possibilities of Photoshop at Photoshopstar.com is an adventure in itself.
5 – Photoshop101.com Photoshop Tutorials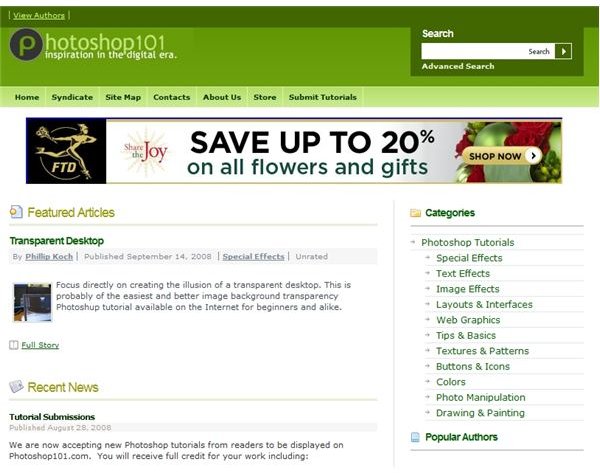 One of the toughest parts about learning Photoshop is knowing where to begin. The tutorials at Photoshop101.com were carefully selected to build on current knowledge. What you don't know, you will learn as you go. Particularly good about these tutorials is how comprehensive and yet simple they are to follow. When you've mastered Photoshop, this site even encourages you to submit your own tutorials so you can pass on your knowledge to other Photoshop hopefuls.
Conclusion
This list of the Top 5 Free Online Photoshop Tutorials will more than get you started with the number one image editing and creation software on the market. Each one has something different to offer the student including few assumptions about what knowledge you have or don't have about the application. Start with one and if that one doesn't work for you, try another. Eventually, you will find a free online Photoshop tutorial site you like so you can work your way through to mastery in no time.