10 Serif PagePlus Tips & Tricks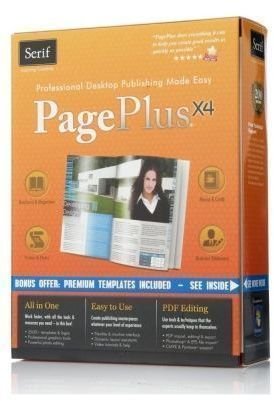 Benefits of Using Page Plus
PagePlus is, at its core, a free downloadable application for desktop publishing from Serif. Like most desktop publishing applications, you can create and manipulate text, graphics, and layout design but there is one area where PagePlus really goes beyond the standard. That area is in the creation and manipulation of PDF files. You can pull any PDF from online, or your own files and completely edit or enhance the PDF itself and then republish it for print or online distribution.
For more information on other desktop publishing tools, check out Ten Best Free and Open Source Desktop Publishing Programs and Top Free Print Ad Design Programs.
10 Tips and Tricks
Among the PDF capabilities that are inherent within the PagePlus system, there are other ways in which you as a user can make this application work for your needs. Here we are going to take a look at the top ten tips that make PagePlus stand out for desktop publishing.
1. Select any image and remove the unwanted areas just by using the paintbrush tool. You no longer need to select, enlarge, and scroll the mouse slowly over the image to separate what elements you want and what elements you do not want.
2. Click and drag to the left or the right from the header and the program will automatically delete or add columns, depending on your design and what you want to be removed or added.
3. When you start a new creation, use the package feature and all fonts, graphics and linked images will be saved. Using the package features allows you to send of the "package" file to a printer that will included everything they need to print out your work as intended.
4. When creating a new logo, just use the LogoStudio feature. Open your image and add text effects and predefined shapes. Using this feature will also help you to reuse your logo without having to resize or rework the logo when being added to business cards, invoices, letterheads or for the web. One logo, one file with multiple manipulation abilities.
5. If you get overwhelmed with the layers that normally build up while creating something PagePlus will still save the workable layers in the background but you can turn the layers windows off. Doing this can help you focus in on your main image.
6. Once your image is created, look at your printing options and select how or what type of printing will be used. When you select the printing format, PagePlus will automatically show you how your work will look when printed without switching between RGB and CMYK. This is also where using the package tool comes in handy, once selected and sent off to a printer you can be sure your work will print the way that you expect it to.
7. If you don't know where to start with a new project, have a look through the templates. PagePlus offers 117 different base templates for business cards, letterheads and invoices. Open a template, add your text, pick some color options and your done in a few seconds.
8. Use the text frames feature and you can jump text from one location to another in newsletters and logos. Doing this eliminates the need to retype, resize and re-font the same text over and over again.
9. Assign different colors and borders just by clicking the icons in the ChangeBar. You no longer need to open multiple graphic windows with the application to manipulate an image.
10. Have a question while working on a design element? Just click on a Wizard. PagePlus has over 300 wizards ready to jump in and help you while you are working. You don't have to search for help in an index tutorial anymore.
Now, PagePlus does offer many more feature packages that expand on its free download starter application. There are the PagePlus Bumper Pack, TypePlus, FontPack, and the ArtPack, all of which can be purchased at $40 per upgrade. Moneywise the PagePlus application gives the desktop publisher the ability to create and in some cases go beyond what is offered with industry standard applications such as InDesign. There are even things you can do with PDF files in PagePlus that you cannot do using Adobe's Photoshop.
For more information on the latest release of PagePlus visit the Serif website. You may also want to check into downloading the free PagePlus starter application.