Free Calendar Maker with Holidays: Create a Stylish One with HP Creative Studio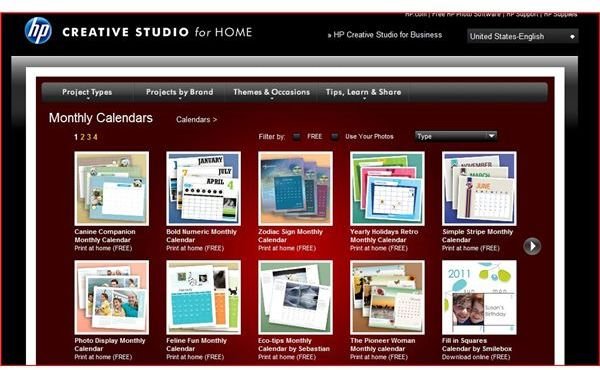 HP Creative Studio Allows you to Design a Personalized and Free 2011 Printable Calendar with Holidays
Looking for a free calendar maker using a template you can choose from a large variety available? HP Creative Design Studio is an excellent method for this. Calendar templates are available online to assist you in making a custom calendar that suits your needs and purposes while notating those ever-important holidays. If you'd like to check out all your options first, check out the thorough source listings at Online Resources for Printable Calendars and Free Templates. However, a highly recommended option to create your own calendar is waiting for you at HP Creative Studio and the explicit directions to access those templates to customize with your own materials are right here, below.
Templates are the frameworks that have all the necessary components available and ready for you to customize with text, pictures, and graphics. There is no sense in trying to create a calendar from scratch when a template makes it so much easier and less time consuming because the grunt work is already done for you. And the more templates available, the more options you have to choose from.
The free calendar design templates I found available on the HP website had a good variety and they were easy to browse through and customize. Get started by going to the HP Creative Design Studio Click on the large selection of free templates they have available which keeps your money in your pocket and exactly what you want on your calendar. Keep in mind that they also have a premium selection of templates if for any reason the free ones don't suit your needs.
Once you have found the calendar of your liking that matches your needs you are only a few easy steps away from using your creative juices in the design phase to the favorable end of customizing it exactly to your specifications.
Download the template by clicking on the actual image or the file name below it.

Save the file to your PC or Mac by following the directions pertaining to your browser and operating system. As a PC user I used the right click option to "save target as."
Open the file and follow the directions provided to insert your own text and logos.

Insert the free HP Photo Editor available to download here which makes it really easy to upload your logos, images, and photos.

Download your creative verve onto this project.
HP also gives you recommendations for the best paper to use for your flyer and methods of obtaining it. Print the finished product with the suggested paper and see what this effective method of advertising can do for you. If this doesn't sound like the most appealing option, perhaps you'd like to check out How to Make a Calendar Using Microsoft Publisher instead.