How to Create a Pamphlet in PageMaker from Scratch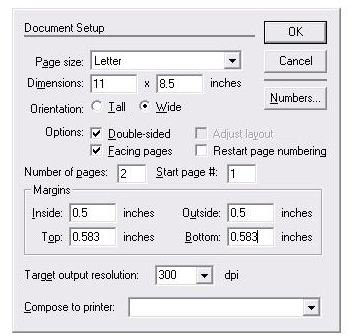 Creating and printing your own pamphlet or brochure using PageMaker provides a relatively inexpensive way to showcase your product, business or event. This tutorial will walk you through the steps to follow if you want to create a pamphlet in PageMaker from scratch using PageMaker's powerful DTP tools. For the purposes of the tutorial, we will design a tri-fold, 11 x 8.5, double-sided pamphlet.
Setting up Your Document
Click on the File menu and select New… This will open the Document Setup dialog box. For the purpose of this tutorial, we will make the selections below:
Click on the Page Size drop-down menu and select Letter.
For Orientation, check Wide.
For Options, check Double-sided and Facing pages
For Number of pages, type in 2
.
Enter these values into the Margins section:
Type 0.5 into the Inside and the Outside text boxes.
Type 0.55 into the Top and the Bottom text boxes
Click the OK button
Setting up Your Column Guides
Set the number of columns for your pamphlet by clicking on the Layout menu, and then selecting Column Guides… This will open the Column Guides dialog box. For the purpose of this tutorial, we will enter the values below into the text boxes:
Type 3 into the Number of Columns text box
Type 0.75 into the Space between Columns text box
Click the OK button.
.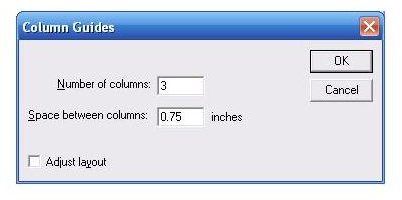 Now go to the second page and repeat the process to setup your column guides. You can move from one page of your document to another clicking on one of the numbered icons in the bottom left-hand corner of your screen.
.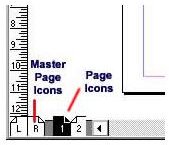 The final result will be a grid such as the one in the image below. The column guides create three panels, and the Space between columns value provides sufficient room for folding to create a tri-fold pamphlet. It is now ready for your text and images.
.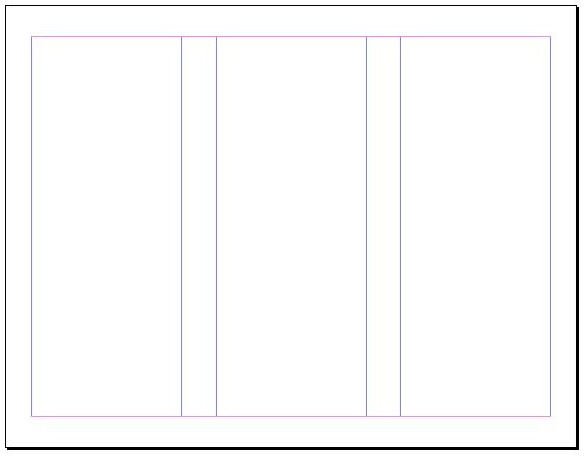 Enter your Text and Images to Create your Pamphlet
Type in your desired text and place your desired images.
Once you are satisfied with the final pamphlet design, you are ready to print. Click on the File menu and select Print. Click the on Print button to print your pamphlet.