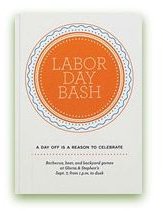 Celebrating Labor Day
There are many holidays that are uniquely American and Labor Day is one of those holidays. The holiday began as a tribute to the American workforce, to celebrate the contributions of the blue collar crowd that keeps the country running on a daily basis. Officially celebrated on the first Monday in September back in 1884, the Labor Day holiday has grown in meaning every time America has gone through tough times and the current recession is no exception.
So, why not take some time this year and put those DTP skills to work by celebrating those who work to keep the rest of us going. Here we take a look at a few DTP projects with links geared towards this often overlooked holiday.
Martha Stewart Online
Martha Stewart Living online suggests throwing a Labor Day party and gives complete instructions for invitations. They offer three free down-loadable templates to create your party invitations. Choose from the simple orange circle party invitations, shown to your left or two other themes with variations on color that you can change in your own desktop publishing program.
Beyond invitations, she also offers a collection of red, white and blue themed templates under the Holiday's menu for Memorial Day and the Fourth of July. Some printables in those categories can fit the bill when creating items for Labor Day. To check out the full collection that is available for free, visit www.marthastewart.com and click on the Holiday's tab on the menu bar.
Hoover Web Design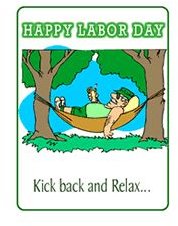 Hoover Web Design also offers a selection of free printables for Labor Day, this time in the form of cards. The selection offered includes 11 different designs all depicting the celebration of the American workforce's day off. Choose from a sunset tropical theme or a backyard BBQ theme, all of which you can change in your own desktop publishing graphic software.
In addition to their Labor Day specific printables, you can also use the wide selection of USA themed graphics. In order to do this, visit the main web site at www.hooverwebdesign.com and click on the Free Web Graphics in the left side menu selection. Once on the graphics page, scroll down to the holiday link. Click on the Holiday Graphics and you will then be able to browse through the entire project collection that is offered.
Microsoft Template Gallery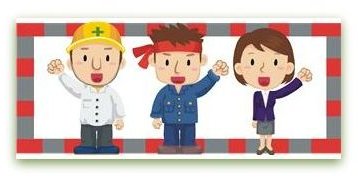 The Microsoft online image and template gallery is a great resource when looking for print projects focused on Labor Day. There are thousands of graphics offered and you don't need to have a Microsoft Office application in order to download and use them anymore.
An example of what they have to offer can be seen in the image at the left. To find this and other free images and templates, simply go to their template page at https://office.microsoft.com/en-gb/templates and search for Labor Day. You can also search for other American themed holidays and edit in your Labor Day text as needed.
References
Martha Stewart, https://www.marthastewart.com
Hoover Web Design, https://www.hooverwebdesign.com
Microsoft Template Gallery, https://office.microsoft.com/en-gb/templates/?CTT=97
Image Credit: © 2009 Martha Stewart Living Omnimedia, Inc.,© 2000-2010 Hoover Web Design