Publisher Tutorial: Make Your Own Postcards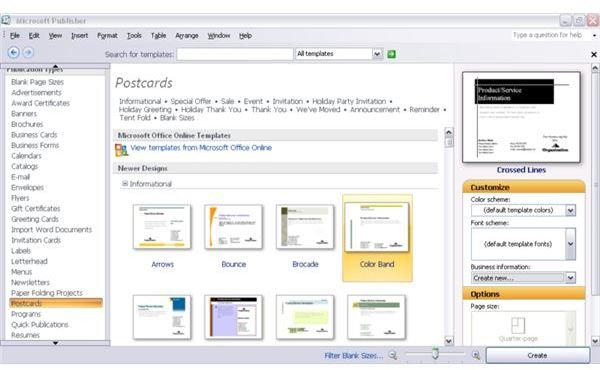 To begin, open the Publisher program. On the opening page, in the left-pane, under Publication Types, select Postcards. (The Postcard link is also located in the middle pane underneath the heading Popular Publication Types.) After clicking a link, your postcard template options will appear in the middle pane. Located at the top are links representing different occasions:
Informational
Special Offer
Sale
Event
Invitation
Holiday Party Invitation
Thank You
Holiday Thank You
We've Moved
Announcement
If your reason for sending a postcard is listed here, click it and the corresponding templates will appear. If your reason is not listed here, begin scrolling down the middle pane to view other options. If you continue to have problem finding a postcard template to meet your needs, you can view more templates online. To do this, simply click the View templates from Microsoft Office Online link (also located at the top of the middle pane).
To take a closer look at any template, click it and a preview will appear in the left pane. Also located in the left pane are a Customize box and an Options box. Your choices are as follows:
Customize. Here you can alter the color scheme, font scheme, as well as add business information.
Options. This box allows you to change the page size and make changes to side two of your postcard.
After experimenting with your options and finding a template to your liking, click Create. Your chosen postcard template will open. Located in the left pane are formatting options. If at anytime you would like to return to the previous screen to change templates or other attributes, click the corresponding link.
Also located in the left pane is the link Publisher Tasks. Clicking this link will provide you with various options concerning Creating your publication, Distributing your publication, and Following up. Although it's not required to use Publisher Tasks, giving it a try will definitely prove to be useful for future tasks.
Learning to take full advantage of the postcard templates Publisher provides can be very beneficial to the individual who finds pleasure and contentment in doing things the old fashioned way.
Publisher Postcard Template Gallery