Custom Wedding Invitations by Wilton - Planning a Wedding has Never been Easier (or as Affordable!)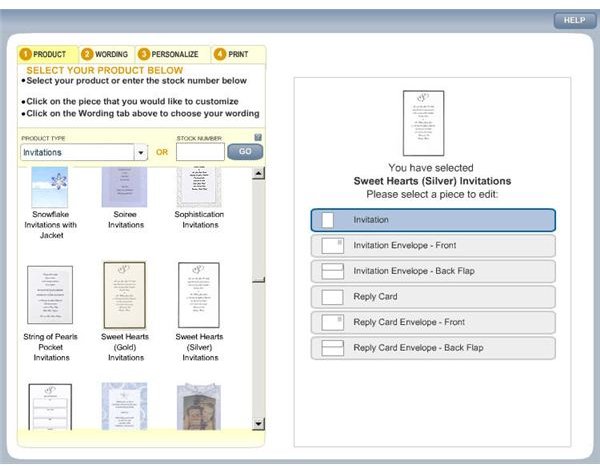 Classy Custom Wedding Invitations Don't Have to Mean Big $$
In less than a month I will be exchanging vows with the man of my dreams. We've had months to plan this wedding and I thought everything would be under control this close to the big day. Boy, was I wrong! It doesn't matter how prepared and organized you think you are, there's always more to do and things you nearly forgot about. Oh,.and I won't even mention the budget. That was thrown out the window long ago! Despite the chaos of wedding planning, there is one area that went smoothly and stayed within our price range. Thanks to Wilton, our custom wedding invitations turned out beautiful and cost less than the postage to send them. No kidding!
Cost, Quantity, and Where to Buy
Wilton's invitation kits can be purchased at several different retail stores, such as Wal-Mart or Michaels, or from Wilton's website. We decided on the Sweet Heart Invitation Kit and ordered ours from eBay, but paid the same price we would have from Wilton's website.
For $24.99, our invitation kit included 50 invitations with mailing envelopes and 50 reply cards with envelopes. The kit also includes three test sheets.
Personalizing Your Invitations
As soon as I received the wedding invitations in the mail, I visited Wilton PrintWizard. Here I was able to select my product and the sections I wanted to personalize; for example, invitation or reply card.
(Click on images to enlarge)
The next step was to decide on the wording. Wilton provides you with several examples that you can use. If you aren't happy with their wording, you can always use your own. The examples are great to help get the creative juices flowing.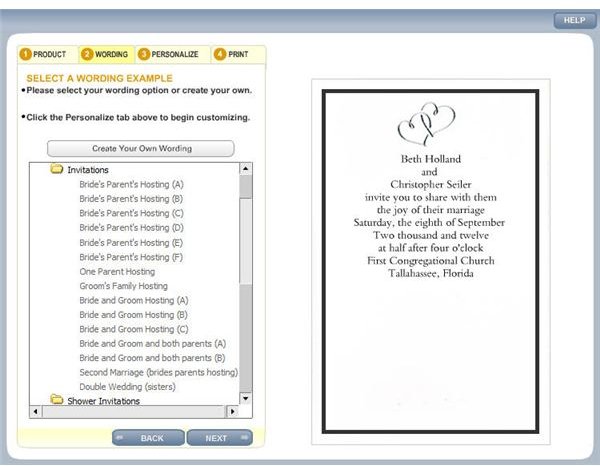 Once we decided on the wording, I was able to customize the invitations even more by changing the font type, size, and color.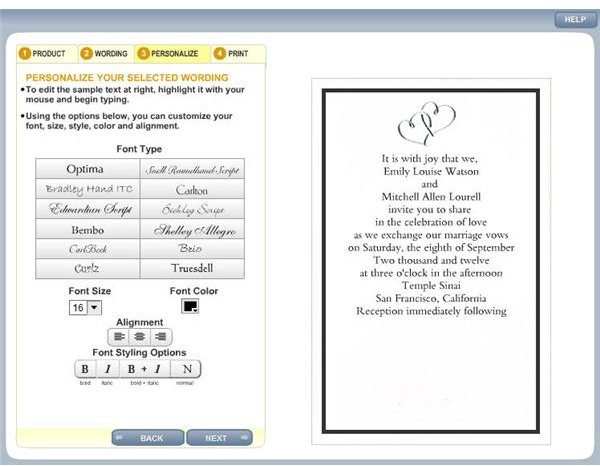 Printing the Custom Wedding Invitations
Happy with the wording of my invitations, all that was left to do was print. As previously mentioned, Wilton includes three test sheets in its kits, and for good reason. I highly recommend using these test sheets before printing the final invitations. When I printed my first test sheet, I wasn't happy with the font size; for the second test sheet I was happy with the color. Third time's a charm. My third practice print turned out just the way I wanted. I loaded my printer with the blank invitations, selected "Print," and within minutes I had professional-looking custom wedding invitations at a fraction of the price (and time).
Below is a scan of our custom wedding invitation and reply card. The scan doesn't show the silver the way it really looks, nor does it really show how the boarder and hearts "pop out" from the paper, but it will give you an idea of how our custom wedding invitations turned out.
The Results of Our Custom Wedding Invitations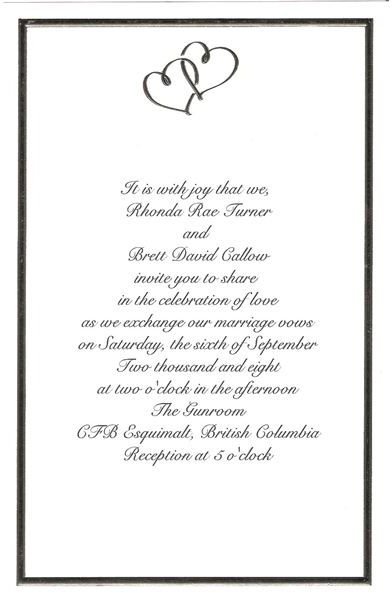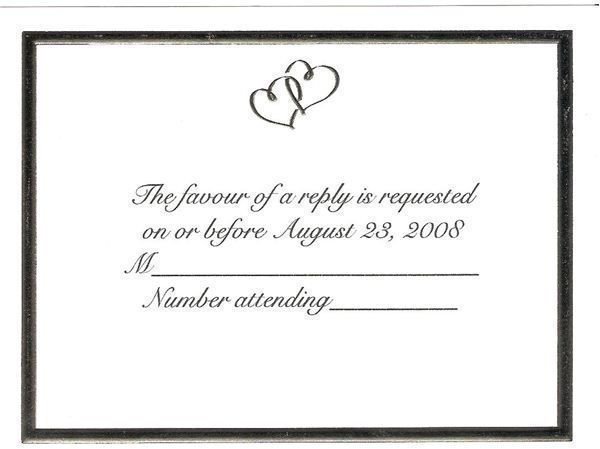 Not All Fun and Games
My experience printing custom wedding invitations, I'll admit, didn't go without a few minor mishaps. I had some real issues when attempting to print the envelopes. Despite my printer having the option to print envelopes, it didn't seem to like the idea. The little reply envelopes kept getting jammed in the printer or the text would come out crooked on the envelope. At one point, the printer sucked up three envelopes at once and it seemingly "ate" the envelopes (it took a while, but I found the missing envelopes under the printer. How they got there, I may never know).
This obviously isn't Wilton's fault. However, I've decided to mention this quirk because after speaking to different people with different printers, it doesn't seem to be an issue that's unique to my printer alone. Some printers just don't do well printing envelopes.
I managed to print enough reply card envelopes that were usable, but gave up on the idea of even attempting the task of printing the invitation envelopes. I got a fancy pen and did it the old fashioned way.
Conclusion
In addition to the custom wedding invitations, I was able to order matching wedding favor trinkets, place cards, programs, and a wishing well gift card holder.
To the reader, I'd like to make clear that I am not being commissioned by Wilton to write this piece. In fact, I have never been in contact with anyone even remotely associated to Wilton. Sometimes we're just lucky enough to stumble upon a great product with a great price.