Ten Free Summertime Typefaces

Free Fonts for Summer DTP Projects
Summertime means funky, vacation-inspired fonts for your desktop publishing projects. From birthday party invitations to open house flyers to pool side placecards, a fun and lively typeface can heat up your next DTP layout. Here are ten great summertime free fonts I found at www.1001freefonts.com. Download these beauties as Mac or PC versions to add some sizzle to your summer projects.
1. Airstream
Nothing says summer vacation like a classic road-trip font. Airstream is a fun take on the retro RV, two-lane diner fonts of yesteryear. It's a great headline typeface for summer advertising, food and travel events, or picnic invitations. Airstream is a bit hard to read as it gets smaller, so save it for larger text. But, it looks great in upper and lower case!

2. A Papa
This typeface looks like a combination of 80s vinyl graphics and tiki hieroglyphics. Try it for everything in between. I can even see it used in kids' party favors as printed iron-on transfers for pillow cases or t-shirts. (This one is only all caps, and no numbers.)

3. A Yummy Apology
Sometimes a good curly-Q font fills the summertime bill, and this one is a great option. Try it for summer open house events, or spa, nail and hair salon promotions. The hand-drawn quality makes it a great option for personal stationary as well.

4. Cajun Boogie
Doesn't it live up to it's name? The letters in this font have just enough shimmy shake to give your DTP projects some pizzazz, but the serifs keep it nicely readable. Cajun Boogie also has a bit of island flair for those summer luau promotions. (This one is only lower case.)

5. Carnival
What's summer without a trip to the cotton candy stand at the traveling carnival. This font gives that same feeling of carefree fun. I like the open version, but it also downloads with a solid version. Use this typeface for a circus or carnival themed party, Vacation Bible School promotions or headlines for community festivals. (This one is only upper case.)

6. Cheeseburger
This is a great chunky font option for summer newspaper ad headlines or flyers. It has a fun cartoon feel. Be careful as it gets smaller because of the small spaces within the letters. (Lower case just shows up in the vowels on this typeface.)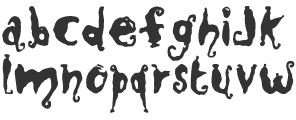 7. Close to Me
This typeface is another curly version with a decidedly hand-drawn, grunge feel. I can see this font used for a great outdoor concert poster or flyer. (This one is all lower case.)

8. Juice
This font has a nice marker look that reminds me of old hand-written price tags or white board notes. It could be used to give sales events a great retro look, or to add a casual feel to summer office events. Watch the readability on this typeface, particularly the lower case.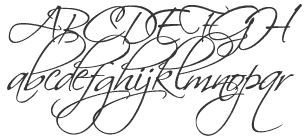 9. Scriptina
This typeface is a very nice script with a less formal summertime flair. It downloads with a set of alternate options for specific ending or repetitive letters. Try it for those summer bridal shower invitations, placecards and even gift tags. It would look great as a custom monogram for your favorite bride-to-be.

10. Sixties
Summer of love, here we come! This font has all the details of a hand-painted Volkswagon bus on the way to a Grateful Dead concert. Use it with lots of color, and you can't go wrong!