How to Create Animated GIFs for Presentations Using InsightPoint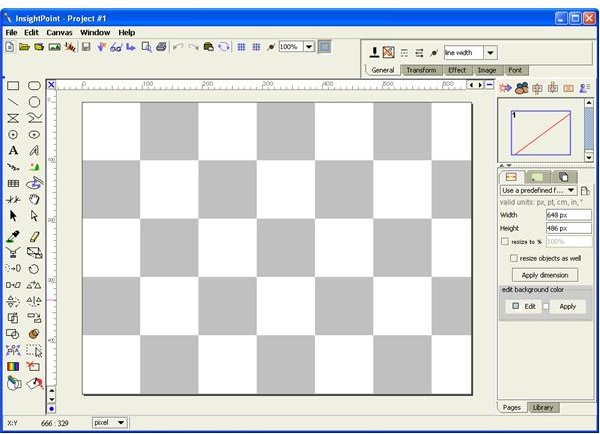 Creating an Animated GIF File Using InsightPoint
InsightPoint can be used to create presentations, illustrations, graphic designs, and slideshows in SVG format. The SVG format has several advantages: it is basically text-based and is a high-quality vector graphics format. You can create time-based animations, also known as animated GIFs, using InsightPoint. The resulting file will be of compact size and can work in all platforms. Let's look at the steps for creating these animations:
Screenshot-1
Animated GIF files can be easily created by InsightPoint using your own photos and images. Select "New" from the File menu to start a new project. You can enter the size of the resolution, size of the page, and background details here. You can also add a title page here.
Screenshot-2
The next dialog box is used to enter the details about the person and organization creating the document. The data in the title page can be changed using the "Edit Meta Tag" from the Edit menu.
Screenshot-3
You can add photos and images to be shown in the GIF file from the File menu. You have to import the photos and images to your project. Select Import Files and Folders to add Photos and images into your project file. You can use the File Dialog Box to choose the files and folders.
Screenshot-4
The selected files and folders are added to the Project file. You can view and change the order of the images added in the project by changing the layers.
To create an animated GIF file, select the "Deploy Slide Show" option from the File menu. You can create three types of presentations using InsightPoint. SVG Slide, HTML Slide and Animated GIF are three types of shows that can be created. Select the Animated GIF Show. You configure the animated frames in the dialog box displayed.
Screenshot-5
You can change the border color and border patterns using the dialog box displayed when the Border Paint option is clicked.
Screenshot-6
After configuring the frames, you have to choose the file name and folder for saving your GIF file. You can preview the GIF file by choosing the "Preview" option in the file menu.
Screenshot-7
You can add predefined objects and text to your frames using the Tool Box. The added object can be transformed using the object properties tools displayed at the top left corner of the main window. The status of each change can be seen in the status bar.
Screenshot-8
The created GIF file can be seen in the specified folder and can be viewed using any application that can view animated GIF files.
Images