Microsoft Word 2007: How to Use the Drawing Toolbar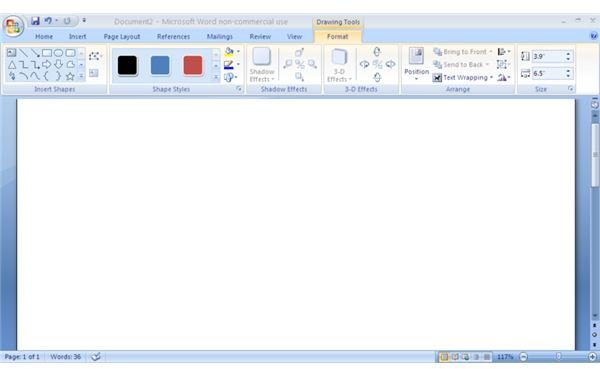 Creating and Designing a Drawing Canvas
First, you must create a drawing canvas before you may begin drawing. To do this click the Insert tab. Next, click Shapes. Now click New Drawing Canvas. The Format tab will appear and above the Format tab you will see the words Drawing Tools. You should also notice the options on the Ribbon have changed.
These options are categorized into five sections labeled: Insert Shapes, Shape Styles, Shadow Effects, 3-D Effects, Arrange, and Size. Below are brief descriptions of the capabilities of each.
Insert Shapes
Here you can add lines, basic shapes, flowcharts, and even text boxes to your canvas with just one click.
Shape Styles
Allows users to choose how they would like to fill the canvas (or shape). Choose a canvas outline or an entirely new canvas if the current canvas isn't exactly what you want.
Shadow Effects
If you would like to add shadow effects to your canvas, this option gives a variety of choices ranging from Drop Shadows to Prospective Shadows. There is also a tool that allows the user to nudge the shadow up, down, left of right. If these options aren't to your liking, Microsoft also provides additional shadow designs.
3-D Effects
This option is a lot of fun! You can experiment with different 3-D effects that allow you to make changes to your canvas color, lighting, surface, direction and depth. There is also a tool (very similar to the nudging feature of shadow effects) that allows you to tilt your 3-D effect up, down, left or right.
Arrange
This option helps to position the canvas. Methods of positioning can range from text wrapping, alignment, and rotation.
Size
This feature allows users to adjust the width and height of the canvas. Be aware making these changes can also change the height and width of text or image, therefore, making the two appear distorted.
Once you are completely satisfied with the drawing, click OK to save your changes. If you would like to make changes later, simply click on your canvas, the Format tab will appear and the options will be readily available to you.
Microsoft Word Drawing Tool Images