Use Photoshop to Make Thank You Cards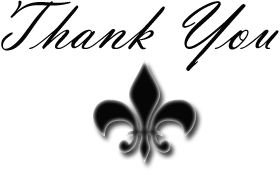 An often overlooked aspect in the Internet age is the simple giving of Thank You cards. Creating your own cards with Photoshop can be a fun and inexpensive way to let your clients know just how much you appreciate their business or in thanking friends and family for holiday gifts. Here we are going to go over some simple steps that will get you on your way to making your own professional looking cards right from your desktop.
Start off by creating a new file and setting the size to 445 x 312. For the background color you can set anyone in which you choose but for now just set the background color to white. White background are a great way to convey you message in a clean and simple way while saving you and your printer in the output for colored ink.
Next, you can add a simple graphic using your Costume Shape Tool. While scrolling through the image shapes, choose one that is simple in a clear defined outline. Once you have chosen your graphic from the Custom Shape Tool options, create a new layer to place you graphic in. Set your foreground color to black and draw the shape inside your open document. To do this, just select the Pen Tool and right click anywhere inside your document and click Make Selection. The Make Selection dialogue box will pop up with the default settings of Anti-aliased checked and Operation New Selection checked and click the OK button as these are the setting you will want to keep for your graphic. Once you graphic is in place on the new layer, fill the selection with black to finish the silhouette look.
Now that you have your image graphic, chose the Text Tool selection. Insert the Text Tool on your file where you feel that it would look best. Play around with the fonts and sizing under the Text Tool to choose one in which you think will look the best on your card. Once you have selected the type of font style and size, type in Thank You.
You now have a clean and simple Thank You card template to use when needed. Keep in mind that this basic card is made for printing on one sheet of card stock. The card will come out only with print on one side of the card.
As an example, using the guidelines above for a Thank You card the following is the one design that I use the most. Click on the image to get a better view and feel free to right click and save.