St. Patrick's Day Templates for Publisher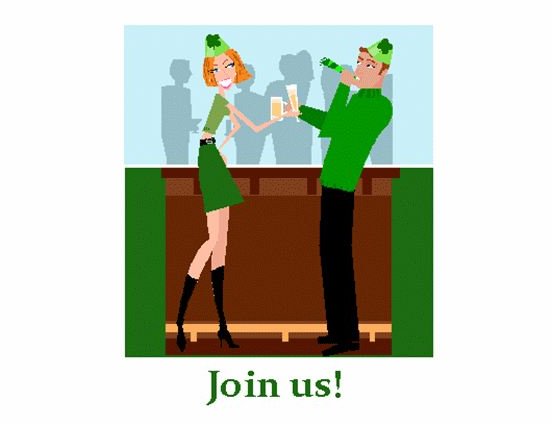 Publisher Templates for St. Patrick's Day
Microsoft Publisher is a great desktop publishing tool that enables you to create a variety of graphic printouts. One of the most useful and cost effective ways to use Publisher is by creating your own holiday-themed publications. With St. Patrick's Day just around the corner, we are going to take a look at various free templates for the Irish holiday.
First up, we have a St. Patrick's Day party invitation template from Microsoft's Publisher Templates. The invitation features a happy looking man and women decked out in green and at a party.
The downloadable file size in 130 KB and was created for use in Publisher 2007. Instructions and download information can be found here: St. Patrick's Day Party Invitation.
The Microsoft Publisher Template gallery also offers three different St. Patrick's Day sticker designs both set for Avery print outs. The first design features a simple Happy St. Patrick's Day! message surrounded by four

leave clovers. The second design features a Kiss Me, I'm Irish! message on a dark green oval background. The third Publisher sticker design features a pot o' gold, four leaf clovers and the Irish flag with the Erin Go Bragh! message.
Each sticker design can be used with Publisher 2000 through Publisher 2007. For instructions and download information on each holiday sticker follow the links below:
Next we have a St. Patrick's Day themed Publisher template for stationary. This stationary theme features a frame of four leaf clovers with a top row header of teddy bears. There are three teddy bear couples that have a four leaf clover decorated, green derby hat for the boy teddy bear and a four leaf clover styled barrette for the girl teddy bear. You can download this template under the month of March left header at: St. Patrick's Day Stationary. Also, through this link your will find Publisher templates for a Luck of the Irish Game to entertain the little ones.
Last but not least, we have a festive St. Patrick's Day template that features the well known look of the Irish leprechaun and his pot'o gold. The template is called Lucky Charm Card and enables you to add a family photo on the inside showcasing just who your lucky charm is.
This card template was created by J. James and the full use instructions with template download can be found here: Lucky Charm Card.