Make Your Own Thanksgiving Cards Fast Easy Cheap - Great Project for the DIY Crowd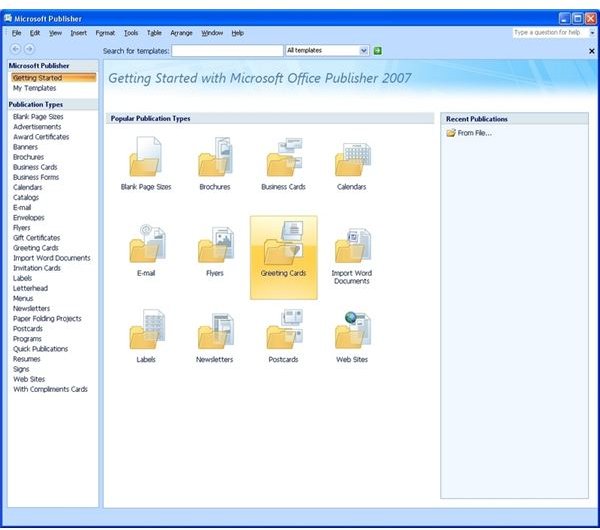 Quick Fast Easy Free Thanksgiving Card Coming Up
Basic Thanksgiving Card
The easiest way to make a Thanksgiving card is to just grab a template and go with it. Microsoft Publisher 2007 has a couple of Thanksgiving card templates built right in. Just start a new file and choose to use Templates instead of blank. You'll find Greeting Cards.
Inside Greeting Cards is a Holiday section. Obviously, this is where you will find the Thanksgiving card templates.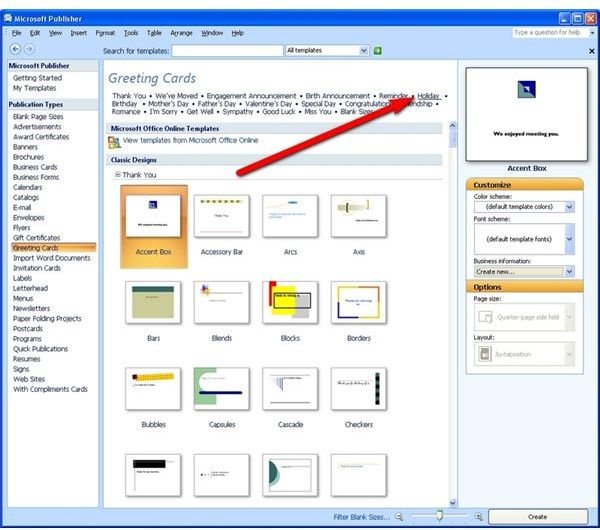 Pick one of the Thanksgiving templates and we are in business. Now, using a generic Thanksgiving card template is no better than buying a generic Thanksgiving card off the shelf, so we are going to want to give our card a little tweaking.
To keep creating your Thanksgiving card quick and easy, you want to go with the less is more theory for modifications. Still a couple of little personal touches is all it takes to turn a generic card template into a personalized masterpiece.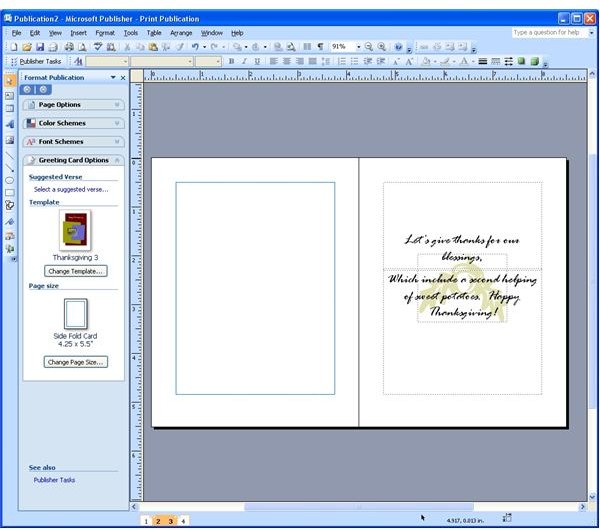 Personalizing Your Thanksgiving Card
They say a picture is worth a thousand words. They aren't wrong. Nothing will personalize this Thanksgiving card template as much as a personal picture. A picture of you, your family, the family dog, last year's Thanksgiving table, or whatever you like will set this card apart as a individual creation.
Adding a photo is a core desktop publishing feature, so let's do it. We'll drag the text and background graphic down to give us some room. Use either the Insert menu or the Picture icon in the toolbar to add the photo. Then we add our Microsoft Clip Art Gallery photo of a family.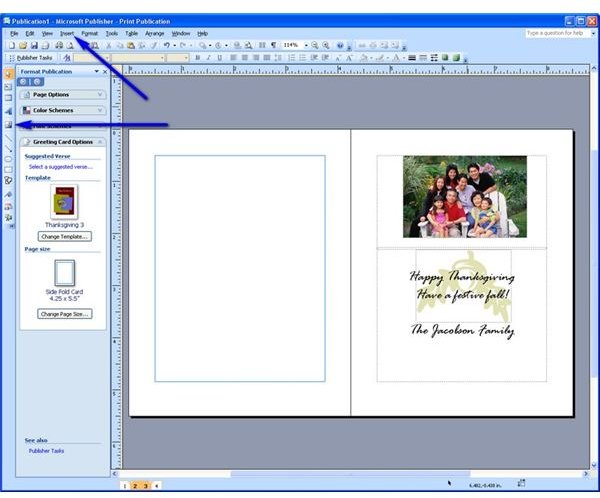 There you have it. The world's quickest, easiest, personalized Thanksgiving card. Aren't you glad that you are the one in the family who knows about desktop publishing software? Pitty the poor fools trying to do this from scratch in Microsoft Word!
One last bit for a really nice touch. Don't forget to do a little something with the back. It doesn't have to be big, in fact, it is best if it is not. After all, you don't want people focusing on the back. A little quip or quote or maybe another small picture can add just that little extra fun to your card and take it from nice to "Hey, Uncle Mike, great card."