The Best Free Minimalist Mini Icon Sets

Basic Icon Sets
Icons are visual shorthand, conveying complex concepts in just a few pixels. Used judiciously, they give the reader an instant visual cue, and we find ourselves using them when developing web sites, hacking WordPress themes, and even for a fresh touch in print design.
Mini icons are 16 x 16 pixels or smaller, meaning there's little room for frou-frou if they want to pack a big punch. Rather than fight the small size's limitations by pushing multicolored designs or foisting fancy glosses or shadows upon them, the very best mini icons say it plain — form following function.
These four minimalist mini icon sets are the best of the best, chosen for web and blog utility and ranging in size from 10 x 10 to 16 x 16 pixels. They're either gray or one color, and its simple to modify them to whatever color you like in Photoshop.
1. Minimalist Pixel Icon Set from Nclud
Nclud's minimalist pixel icons
There are only 26 icons in this 10 x 10 set, but they're all worth it: What other set provides ninja and afro icons, all in grayscale glory?
Click any image for a larger view.
2. Mini Icons 2 from BrandSpankingNew
Continuing the grayscale 10 x 10 icons theme, here are 113 more, courtesy of BrandSpankingNew.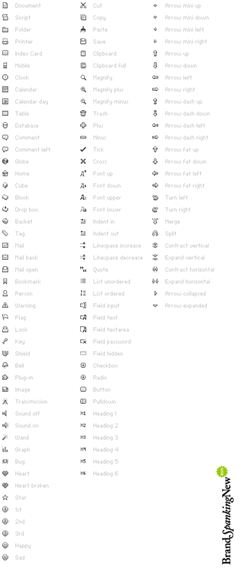 3. Web 2.0 Basic Mini by Axialis Software
Scroll to the bottom of the linked page for Axialis' Web 2.0 Basic Mini icon set. Downloadable in PNG, GIF, or ICO formats, the set features 172 different icons in green, blue, and orange. These icons are border-free and slightly rounded, with a subtle gradient completing the web 2.0 look. I'm also partial to the Light Grey sets and the Colored Buttons sets.
These icons are licensed under the Creative Commons Attribution License, which means you must credit Axialis when they are used or link to their website.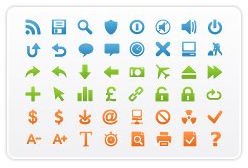 4. Bitcons
Some Random Dude's set of 121 16 x 16 icons includes objects, actions, media controls, media, browser, web, date/time, blogging, emoticons, and arrows.
Bitcons has a sister set called Sanscons which are CSS-ready: you can apply background colors and shapes to these white icons through CSS styling, which really opens up extensability.