5 Free Envelope Templates for Microsoft Word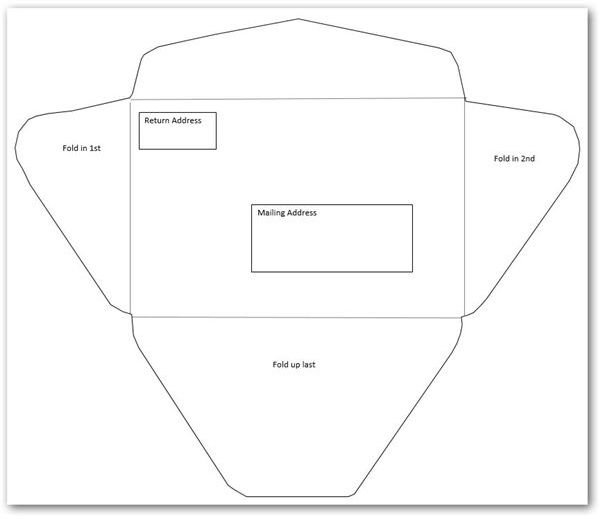 Standard #10 Envelope
This is your run-of-the-mill, letter-size envelope. The template includes text boxes into which you can type your return address and the recipient's mailing address, though you may want to remove the borders of these boxes prior to printing.
To do so, click on the box to select it. Click the Format tab under Drawing Tools, click Shape Outline in the Shape Styles group and select No Outline. Alternatively, you can delete these boxes if you want to handwrite on the printed envelope.
This template also includes basic instructions, showing the order in which to fold the flaps. Once folded, you can glue or tape them together.
Download: Number 10 Envelope
Square Envelope
This envelope is also standard letter size, but its square outlines may make it easier to cut and fold. This template also includes folding instructions, but does not have text boxes for address information. If you would like to add these, simply click the Insert tab, click Text Box in the Text group and choose Draw Text Box. Draw boxes wherever you need them.
You can make smaller versions of this or any other envelope template here by dragging the shape to the size you prefer.
Download: Square Envelope
Mini Envelope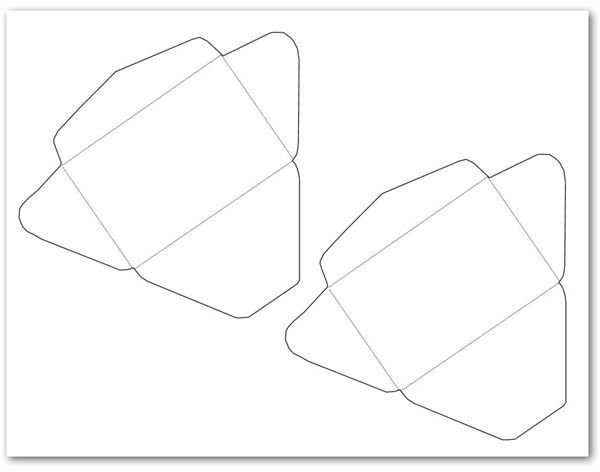 With the same basic shape as the #10 envelopes, this miniature version prints two to a page. These envelopes might be ideal for gift cards, notes or messages on presents.
While there are no instructions on these envelopes, they are the same as the standard-sized envelopes: fold the sides in first, fold the bottom up and glue or tape. After inserting the contents into the envelope, fold the top flap down and seal.
Download: Mini Envelope
Coin Envelope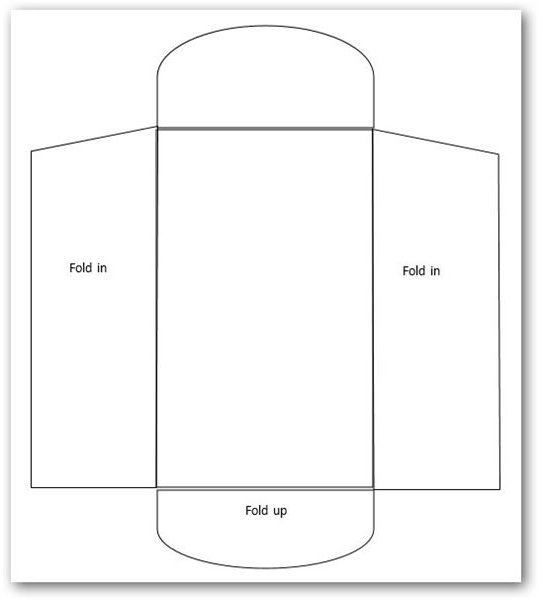 If you need to reimburse an employee from petty cash, carry loose change or give the tooth fairy a little help, you might appreciate this coin envelope template.
The envelopes print two to a page. To use, cut them out, fold the side flaps in and glue or tape, fold the bottom flap up and glue or tape, and seal the top flap after filling the envelope.
Download: Coin Envelope
Decorated Standard Envelope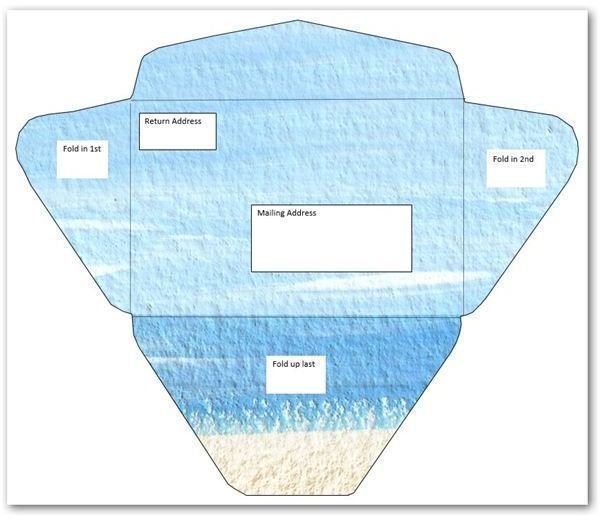 Sometimes, you want something more than a plain, white envelope. For those instances, try this envelope template, which uses the same basic shape and size as the standard #10 envelope template.
The template is filled with a parchment-like blue and tan image, but you can change it to use any image, texture or pattern you choose. To do so, click on the envelope to select it. Click the Format tab under Drawing Tools and select the Shape Fill dropdown in the Shape Styles group. Choose Picture, Gradient or Texture and fill the envelope with the design of your choice.
Download: Decorative Number 10 Envelope
Creative Ideas
While you can certainly print these envelopes as-is and handwrite names, addresses or other information on them or type the info on them prior to printing, you are not limited to boring, white envelopes. You can also use these templates to make envelopes from a variety of types of paper.
Decorative stationery that fits in your computer printer is one option, but you can use virtually any type of paper to make envelopes. Print the template you want to use, cut it out and trace it onto scrapbooking paper, giftwrap or even magazine or newspaper pages. These fun and pretty envelopes are ideal for giving gift cards, leaving notes for your loved ones or just carrying items in your purse, such as coupons or receipts.
You might be tempted to give up store-bought envelopes altogether.