Three Downloadable Food Journals: Pocket Journal, Refrigerator Journal & Excel Sheet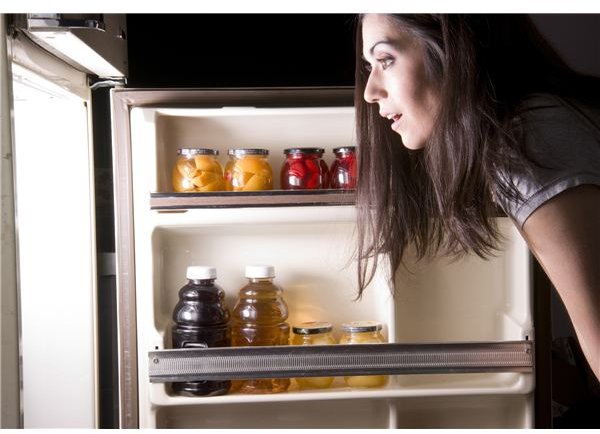 A food journal can help you pinpoint problem areas, such as those BLTs (bites, licks and tastes) you absentmindedly consume while cooking, feeding the kids or cleaning up after a meal. It might help you discover that you aren't eating as many servings of fruit, vegetables or even healthy fats in an average day. A food tracker can also help prevent overeating. Writing down your snacks and meals prior to munching them gives you the chance to stop and consider whether you are making the best food choices.
Use one of the three food journal templates offered here to keep track of calories, fat and any other details you choose. Keep one in your pocket, hang one on your fridge or use the third directly from your computer. Another option is to use all three in tandem, jotting down your meals and snacks on one of the two printed journal pages and then typing them into the Excel template at the end of the day.
Purse or Pocket Journal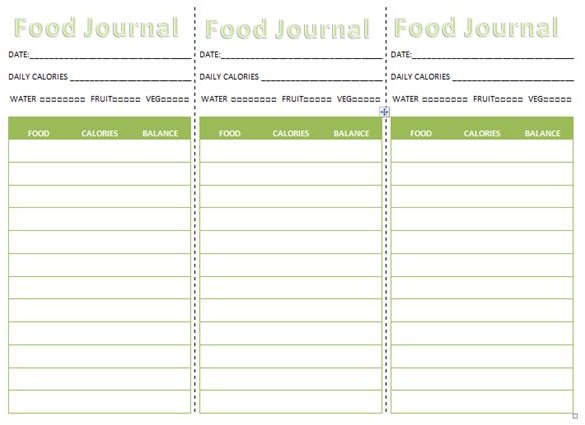 If you feel as though your busy lifestyle is an obstacle preventing you from eating healthy, this journal may be the tool you need to stay on track. This food tracker template is for Microsoft Word and prints three journals to a page. They are narrow enough to fit in your wallet, checkbook or other convenient area so you can record the food you eat no matter where you are.
The "Food Journal" title is a WordArt object. You can change the shape, style and other aspects of this object by clicking to select it and choosing options on the Drawing Tools Format tab.
In the second section of the sheet, you can enter the current date and your daily calorie target. There are also boxes you can check to track the number of servings of water, fruits and veggies you take in over the course of the day. In the main section of the journal, log your food and calories.
In addition, you can change the appearance of the journal by selecting a different color or font scheme on the Page Layout tab.
Refrigerator Food Journal
You likely eat at least some of your snacks and meals in your own kitchen, so it makes sense to post a journal on your fridge where you can easily access it.
This is an MS Publisher template and prints on a full page so you can easily write on and view it. Print the date near the top of the page and jot your meals and snacks on the lines in the column on the left. On the right, write the calories for the corresponding food items, totaling them at the end of the column.
Check boxes across the bottom of the page allow you to track specifics such as water and healthy fats. Of course, you can customize these to suit your dietary goals. In addition, you can change the appearance of the journal by selecting a different color or font scheme on the Page Design tab.
Excel Food Journal Template

Maybe you want a tracker that does a little more work for you. If so, that's where the final template can help. This MS Excel worksheet has several useful features.
Title, day and date sections label the top of the sheet. Along with the column headers, these items will remain across the top even when you scroll down the page, as the panes are "frozen."
The journal is in table format with headings including time, feeling and description, enabling you to record your emotional state and spot times of day that you may struggle more. In fact, the Feeling column includes a dropdown list, so when you click in a cell in that column you can choose an option, such as Hungry, Stressed or Tired.
Other columns include calories, carbs, fat, protein and more. You can change any or all of these to suit your needs. Enter your goals for each category in the cells in the Daily Goals row. Excel updates your totals automatically in the Daily Totals row.
Whether you print a journal and take it to go or prefer to sit down and type in your information, tracking your food can help you reach your health and weight loss goals.