Print Yourself or Hire a Professional Printer?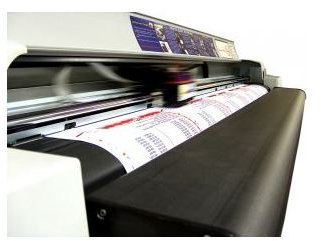 At first, it seems like a no-brainer: why pay commercial printer prices when you can print out the same projects in your home or office for a fraction of a cost? Especially when you have a color laser printer and/or a larger-format printer, you really are equipped to produce some print jobs in house.
Weigh the Pros and Cons
Sometimes printing in house just doesn't pay. Think about the following when deciding where to get projects printed.
Materials costs - Professional printers work on volume. When printing in house, it's easy to gloss over and forget just how much it can cost, because we've usually already paid for the materials and have them on hand.
How does the cost of ink cartridges or toner impact your total project cost?
Paper is another factor, especially once you get into printing more than a few dozen copies.
And what about your machinery itself? How much wear and tear will printing in house affect the lifespan of your equipment?
Do you have a contingency plan ready in case your printer breaks down mid-project? Repair and maintenance costs can add to a project's budget.
When you print projects commercially, all of these considerations are already included in the cost.
Labor - What is the labor cost involved? How many people will be working on the printing project and for how many hours? Do you really want to fold 500 brochures? Do you really want to collate 100 10-page presentations? Sometimes you can afford the time and effort to put print projects together in house, but sometimes it's just not cost- or time-effective.
Design considerations - Can your project even be printed in house? Consider the following.
Can your printer print on the paper stock you want to use? Heavy or light weights, textures, and vellums can be a challenge for home or office printers.
Does your job call for die cuts? Sometimes a design includes specially-shaped pages, particularly on covers, or has a circle or other shape punched out of the cover for a "peekaboo" effect. Unless you want to spend a lot of time getting to know your X-Acto knife, this is best handled at a commercial printer.
Document size: Can your printer even print the size you need? A 8½ x 11 booklet is actually made of 11 x 17 pages. Even if your printer can print tabloid (11 x 17), if your design has bleeds (color running to the edge of the page) it has to be printed on a bigger sheet, like 12 x 18.
Is your document double-sided? Even a basic brochure is printed on both sides of the page. Can your printer print double-sided? Are you comfortable flipping paper around yourself to do it if not? It can be pretty tricky.
Appearance - This ties in closely with the design considerations. Projects printed in house usually look like they were printed in house. We've all been handed business cards that were obviously printed on home printers. This is absolutely ridiculous, considering you can get commercially-printed business cards online for under $20.
How Professional Do You Want or Need to Appear?
If you want to project a level of professionalism, get materials intended to land clients or spread word about your business commercially printed. This includes business cards, letterhead, invoices and marketing materials. In some endeavors, appearing professional isn't as much of a consideration. People won't fault your candle-making hobby business for having inkjet-printed business cards – but they'll be inclined to think more highly of it if they're professionally done.
Any internal materials (things clients won't see) can probably be done more cost-effectively in house. Look at your materials and labor costs to be sure. Anything done to promote your business that presents the "face" of your business should probably be done by a commercial printer.
Quick Print Shops v. Commercial Printers v. Online
Quick printer shops have high-end digital printers and copiers that excel at producing uncomplicated, short run (somewhere in the thousands is probably about where the line is) business and even personal materials at an amazingly low price point. Commercial printers are what we usually think of when we think of printing: cavernous warehouses staffed with humongous offset presses (and sometimes a web press) that provide every service you can think of, from specialized die cuts, different bindings, stamping, embossing, varnishes and more. Commercial printers will be more expensive than a quickie print, but their quality control is top-notch and they'll do pretty much anything that's physically possible.
Quick printers will probably be your go-to shop for everyday printing needs like flyers, tri-fold brochures, simple booklets, business cards and folders. They're also a very simple way to make something professional-looking. When I designed a media kit for my graphic design business, I wanted it to be colorful and simple. I simply had it printed at a quick print shop on glossy paper for pennies a copy, and it looks fantastic and makes a professional impression.
When it comes to longer print runs, unique folds, special effects like embosses or varnishes, and bigger projects like catalogs or books, you'll probably want to be talking to a commercial printer. They'll be more expensive, but that's because they can handle jobs the quickie printers can't. And when you need their expertise, the price is worth it.
Online printers share a niche with the quick printers, though you ought to consider them more limited. I've used online printing for business cards and found that they, like quick printers, will even do something a little more involved like a spot varnish. Online printers are cost-effective and tend to have particularly helpful submission processes, whose hand-holding is actually pretty welcome. They do have downsides, though.
You can't proof a project other than before printing via PDF (though I believe some do offer costly real proofs), turnaround takes longer than with a local printer, and you may not have as easy a time communicating with a human. I will say, however, that when I spoke to my online printer, they were knowledgable and it was just like dealing with a local company. For service and turnaround comparable to local, you'd be cheaper going locally. If you can wait a few days more for your job, you might want to try online printing.
In the end, it comes down to ability and will. Is this project even feasible to do in house (ability)? If it is, is it worth it in time and materials (will)? Will it positively or negatively impact my clients? Weigh your options, and make an informed decision.
References
Image courtesy miljan, sxc.hu
Author's professional experience.