5 of the Best Spiral Binding Machines for the Desktop Publisher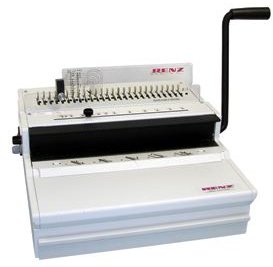 If you are a desktop publisher looking to expand your services to include book binding, or you have clients who would like you to prepare business plans, reports and presentations for meetings, seminars or classes, you need to know what to look for to get the best product.
There are several ways of book binding available on the market. Spiral binding, otherwise known as coil binding, is a commonly used format due to its affordability and relative ease of use. The spiral binding machine is also smaller and lighter in most cases than other heavy-duty book binding equipment, and as such are perfect for binding books.
Looking for An Efficient Office Spiral Binding Machine?
Coil Binding from Rhin-O-Tuff is an electric punch and bind with a demand motor that is really quiet. It also has one of the best warranties as it is good for three years and it is made in the USA. It is a compact yet heavy-duty machine that is ideal for creating reports and business proposals of up to 100 pages. With a simple touch of a button you can punch holes into 25 sheets at a time with a vertical method instead of a horizontal punch which reduces the risk of punching errors. When it comes time to bind it all together, there is a powerful and large coil roller that can be used to quickly zip the coil into place, then all you need to do is snip and crimp the coil ends. This model sells for on average around $1500-$2500 per unit.
E-Titan Eagle Coil Binding Machine
E-Titan Eagle Coil Binding Machine has been titled the best value when buying a coil binding machine. If you are looking for something that is user-friendly, quick to use and powerful for all your bookbinding needs, this machine is a great buy. It is a mid-level machine ranging in price from $1200-$2500. The body is made from die-cast hardened steel unlike many others that are made with plastic and punches up to 26 sheets of paper at a time. It also works with a foot pedal for doing the punching and insertion of the coil so you are free to work with the sheets with your hands. This creates oval holes which many find is easier for insertion of the coils when binding.
Combo Machines for Dual Tasks
The Comb and Coil Binding Machine is for those who would like to have a variety of bookbinding options available, as this machine is capable of binding for both coil and comb binding. It is a great price for those who are on a budget and can be purchased for around $400. Plastic comb binding is an excellent choice for presentations, proposals or any reports that may benefit from a wider spine or more pages that need to be held securely without fear of being ripped out by accident as could happen when using coil binding. If you choose to do comb binding this will enable you to punch 20 sheets at a time. If you are going to do some coil binding, you can punch 12 sheets at a time. This unit is smaller than the other office machines weighing in at around 31 pounds as opposed to 58. It also comes with a two year warranty.
Small Office Spiral Binding Machine
Small Office Spiral Binding Machine
The OfficeCoil46 is for those small business owners who work from home or only run a small office with minimal binding work to be done. It is reliable and user-friendly, but only holds up to 15 sheets at a time for punching. Due to its full disengagement-pin design is ensures that you will never have to worry about partial punching because the punched paper is always pulled free. It can be purchased for around $200, is very compact and about half the size of the larger office machines allowing you to put it on a desk, table or even a filing cabinet.
The Rubi Coil Small Office Binding Machine
The Rubi Coil Small Office / Home Office Coil Binding Machine is the smallest coil binding machine in the Rubi Coil line-up. It is very light weight and about the size of an office printer. It punches up to 10 sheets at a time and has a binding slot which helps in the inserting of the coil for a more efficient and faster bind. It can also be used for punching holes in materials such as PVC, Polyester as well as paper. This is the perfect tool to use if you are only planning on creating a minimal number of copies at a time of reports that are less than 100 sheets in total.
Save Time and Headaches
Whatever your needs may be for spiral binding machines, you should be able to find one online or in an Office Depot store near your home or office. These machines can save you a lot of time and headaches if creating volumes of manuals and reports for your employees, customers or clients. Most of these machines are safe to use and easy to maintain for cleaning and repairs.
References