Ten Versatile Black and White Borders for Any DTP Project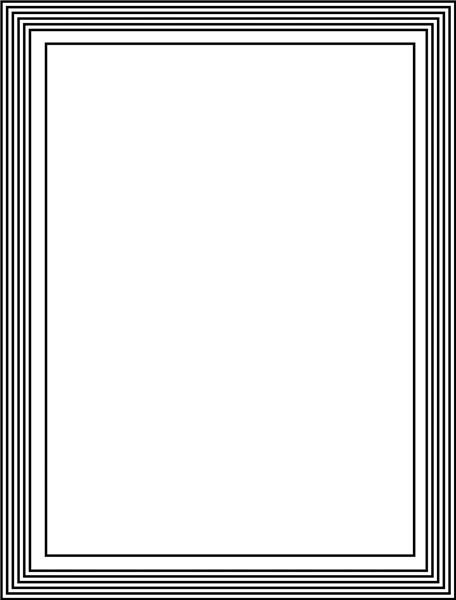 How to Use Our Borders
It is always nice to be prepared. These elegant borders are the DTP equivalent of having a "little black dress" to wear to fit many different social situations. Use these borders for all of your more elegant affairs: Bridal showers, rehearsal dinners, and black tie events. Use them for corporate announcements, grand openings or open houses. For the most part these borders are appropriate for almost all situations. Because of their simple lines and elegance, they are never out of style.
To use these borders, go to the media gallery download links at the end of the article and download the borders in their original high resolution versions – the images shown in the article are low res thumbnails that I don't recommend using. The borders are scaled to fit letter size .25" laser printer margins, but are all resizable to fit a half inch margin for use on an inkjet, a half page or even a quarter size page for smaller DTP projects. You can use these borders on any kind of desktop publishing papers that you wish, but to add a bit of elegance, I would recommend using paper in either a 67lb white or ivory vellum or card stock – anything much heavier than that may not even go through your printer!
Black Tie Borders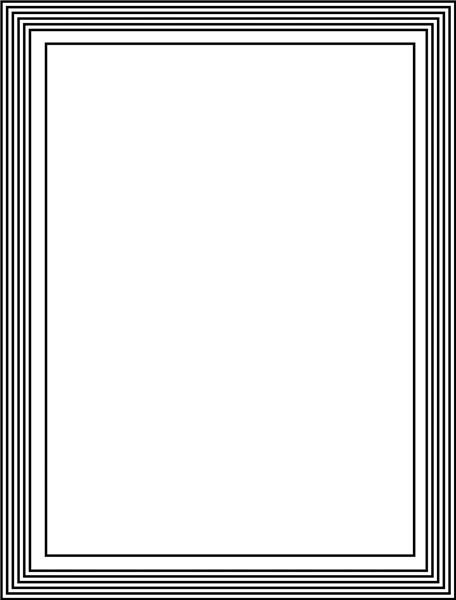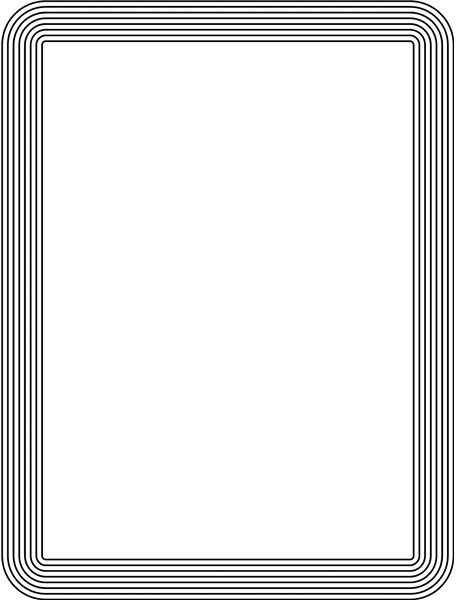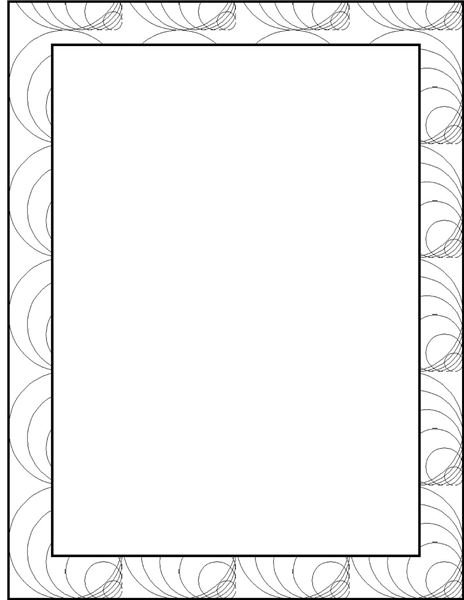 At the top of my list of black and white borders is the classic mitered corner border. This border is appropriate for a wide variety of occasions. Use this border to make your own wedding invitations, invite someone to a formal dinner or make a save-the-date announcement.
Equally as elegant as the mitered corner border is the rounded corner border. Again, this border's understated simplicity makes this a very flexible choice for a wide range of situations. Make this border into a graduation announcement, a retirement party invitation, or an estate sale.
The Spiral border makes an elegant invitation for bridal parties, engagement parties, or teas. Changing the black and white to a soft pink or soft blue in your desktop publishing program makes a nice invitation for baby showers, announcements or christenings.
Yipes, Stripes!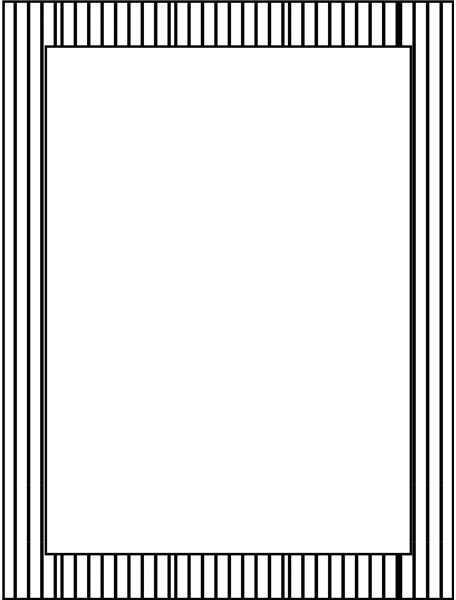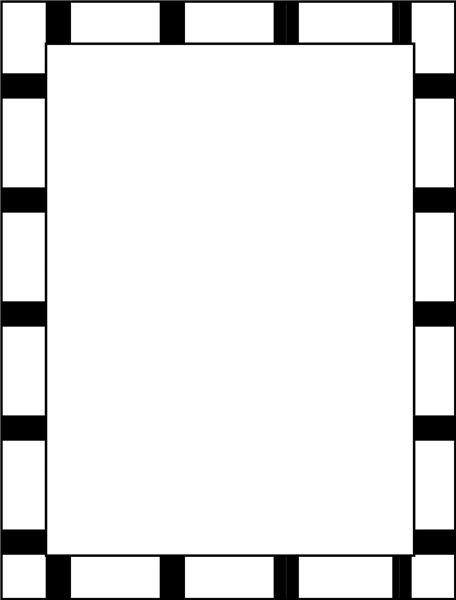 [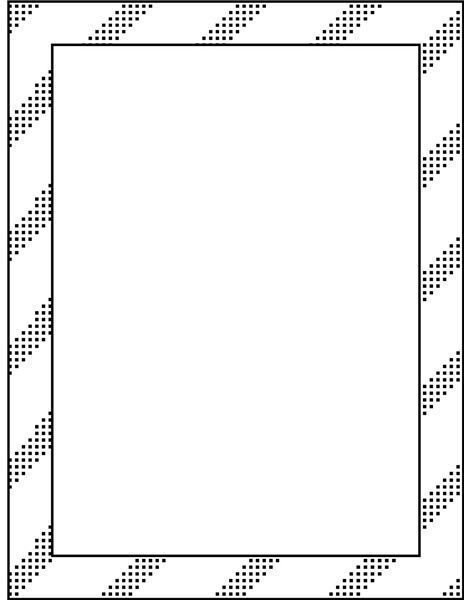 ](https://images.brighthub.com/media/E2243E_diagonal-stripesbig.jpg)Stripes are always a good choice for a variety of events. Stripes can be dressed up or dressed down, making them formal or informal, depending on your choice of font and color. Leaving them in black and white, they are perfect for a black tie event, a fundraiser, a museum opening. Colored in a bright color like red, orange or neon green and you get an invitation for a much more casual affair: birthday parties, barbecues or bachelor's parties. Because of their sophisticated and formal look they would also be ideal used for certificate borders.
X's and O's
[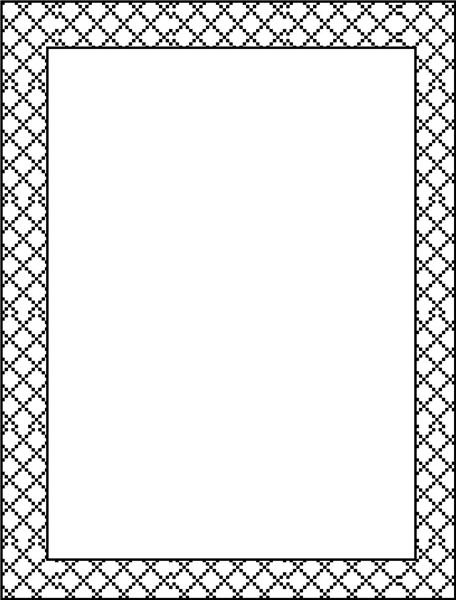 ](https://images.brighthub.com/media/892839_latticebig.jpg)[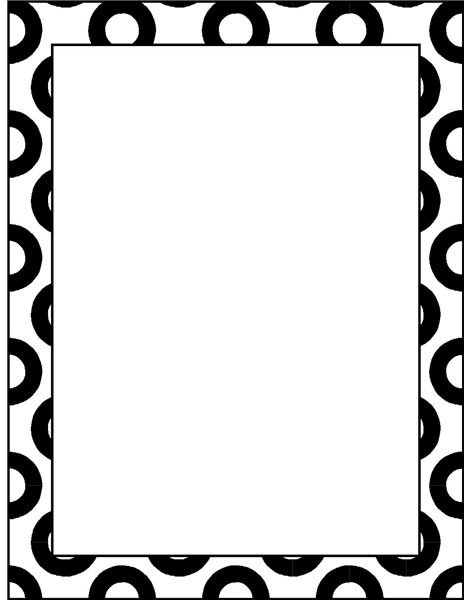 ](https://images.brighthub.com/media/CEB17B_o-sbig.jpg)X's and O's have their own meaning when they are left at the end of a love note but the meaning for the X's and O's in these invitations could be interpreted in a variety of ways, all depending on how they are used. They could all be dressed up as formal invitations with formal script and "black tie" by punching two holes in the top and pulling the ends of a ribbon through and tying a bow. They could also be dressed down with wacky fonts, wacky colors and used for more casual affairs. The lattice could be turned green and used for a garden party, the O's turned hot pink and used for a teenager's party, and the X's could be turned orange and used as a football party. That is what makes these borders so elegant—their versatility!
The World Traveler
This last border does not fit into any particular classification, but I included it because I think it represents a certain amount of sophistication.. A world traveler, this border could be used for invites to an art gallery, a dinner club, a book group. On the other hand, changed into a wacky color and a wacky font, it could also be used to invite your friends over for a toga party, the relatives to a family reunion, or your neighbors to a pool party.
Using Corel Draw
All of these borders were made using Corel Draw pre-set fill patterns. With Corel Draw's preset fill patterns, there is a choice of two-color, full color or bitmap pattern fill. In addition, the bitmap pattern maker allows you make your own custom pattern or it allows you to import any one-bit bitmap art into the fill feature to make your own custom fills.
So how does this feature help in making borders with Corel? Corel's ability to stack objects on top of each other allows users to place an opaque white filled rectangle on top of the pattern-filled rectangle, thus making a border and an area for type.
If you have any questions about using these borders or you have a need for a particular kind of custom border, please let me know in the comments below and I will try my best to help you either with an answer or a another article with more borders.
Have fun!
Links to Borders in Media Gallery
References
Borders by Patti Hale
Reference: Corel Draw