Free Invoice Template for Word: Easy to Use Download File with Tips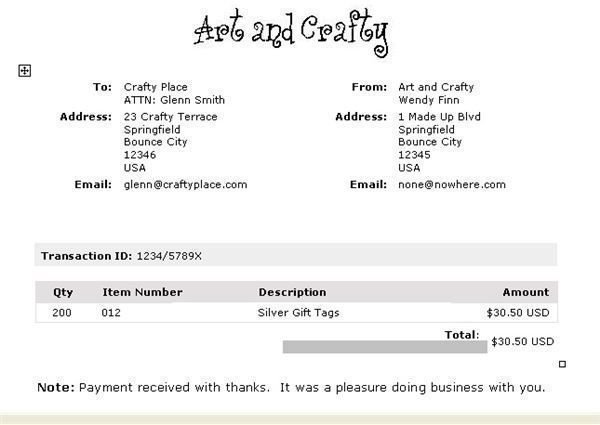 A Real Time Saver
When you're exhausted from doing all that work, the last thing you need to worry about is how to design an appropriate invoice. Do not fear though, as help is at hand in the form of invoice templates for Word. You don't have to be a whizz on the computer or even great at math to come up with a nice looking invoice. There are, of course, ways to make your invoice more visually appealing, but the bottom line is that your customer needs to know you want paying, how much they owe you, and when they have to pay. Luckily there are some great ready-made templates you can use, including the following example that you can download from Bright Hub. It's in Word format and is super easy to use.
How Can I Use This Template?
I've filled in some make-believe information in the example you see here, just to give you an idea of what the final invoice should look like. But, the Word document download will be blank, just leaving you to fill in the appropriate information. All the fields are just simple click and type affairs, so everything should look aligned and clear when you are finished.
Download: Invoice Template for Word
I've purposely left a large space at the top of the document so you can either type in your business name or add your business logo. To add your logo in Word just click in a blank space at the top, then Insert > Picture > From File, and then select your logo from wherever it's saved in your folders.
The rest of the process is as simple as clicking in the appropriate place and typing in your details – don't worry about the address fields at the top of the page if you think they look misaligned, all will correct itself when you've typed everything in. The only thing to look out for is when typing in website or email addresses as they will likely turn themselves into active hyperlinks, with blue text and underlining. How do you get rid of that? Simply right click, and select remove hyperlink.
Customizing to Your Needs
In our example, we took a simple transaction involving a product with a specified price and a quantity to come up with our total figure, but what if you don't deal in products? The headers can easily be changed by just clicking in the field box and typing in different information. So you could have a charge per hour rather than a cost per unit, if you're in the service sector rather than in production.
There is an extra column hidden in this document for you to use too. As it's not being used you won't notice it if you don't type anything in it, but if you need an extra column to include a color or a model number, or the name of the mechanic, for example, then you can use this column – it's hidden between the Qty and Item Number column. Extra lines are easy to add just by using field return in the usual way.
Can I Get Word to Work Out the Totals for Me?
So, what if you have a lot of information to include on your invoice, and you are flicking between a calculator or Excel, and then into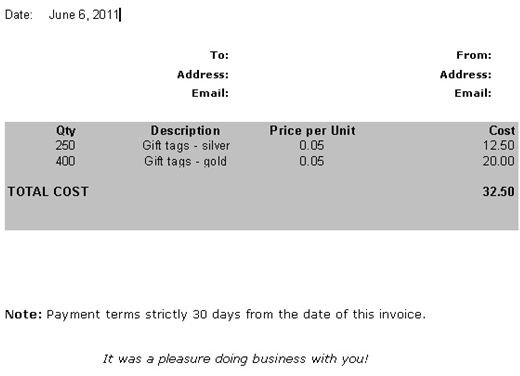 Word to type in the information. Not only is this time consuming it could also lead to errors. There is a really easy way to get a Word invoice to work out the totals for you too.
All I did, to create this invoice, was to delete the main table from our previous template, and instead replace it with an Excel spreadsheet. You will likely see the Excel symbol in one of your toolbars in Word, simply click on it, and then choose how many columns you want. It then works just like an ordinary Excel spreadsheet. Once you've filled in the information you click out of it, and hey presto, it appears seamlessly in the rest of your invoice.
I used it to work out the product totals by multiplying the quantity by price per unit, and then finally using the =SUM feature, to arrive at a grand total. So everything all adds up with no need for a calculator or switching between applications.
Using Different Templates for Different Situations
Of course you may have some invoice templates already in your Word program, without even knowing it. It will depend on your version of Word but if you select File > New > General Templates, you will be faced with different types of templates from memos to web pages, and maybe some invoice ones too.
However, if you don't see any in there, the Microsoft Office site has got you covered. They have loads of different styles to choose from although they aren't easy to customize. A link is included in the references if you want to take a look.
What Else Should I Include?
There are of course other useful pieces of information that you might want to add to your Word invoice template, depending on your needs. Payment terms and "how to pay" information should be included at the bottom of the invoice, or marked as paid if this invoice is working like a receipt. You might also want to include discounts, and a customer reference number, to encourage repeat business.
There may also be other legal requirements you need to include in an invoice such as taxes, depending on your business or where you reside,
Always end with a friendly "It Was Great Doing Business With You!"
Don't dismiss Word for some of your other business template needs either – it's a more versatile piece of software than you might imagine.
References
Word Invoice template in this article was created by the author, and advice is based on personal experience.
Invoice templates, https://office.microsoft.com/en-us/templates/CL102207654.aspx