5 Great Resources for Retirement Party Clipart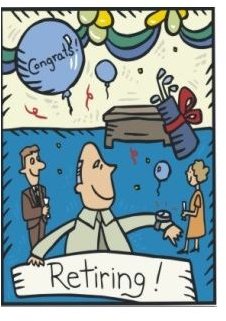 Are They Really Free?
It's not an easy task to track down free retirement party clipart, as so many of the resources you'll find are paid-for options. This is fine if you have the budget and are likely to use the images again, but for a one off retirement celebration, paying 20 dollars for a single image just doesn't make good sense – you could buy a lot of your printed stationery for that price anyway.
So, I have managed to round-up only free images for you to use, and there is a good range to suit most needs. Although you can click on the images in this article for a larger view, the all-important download links for the original images are included at the end of the article.
Retirement Party Scenes
There's a lot of detailing in these clipart images from the Craft Cafe, which is why I've made them my top choice. Rather than mere clipart they are in fact more detailed designs that you could easily use in their entirety for a greeting card to wish the retiree all the best in their non-working life, or to adorn the all important retirement party invitations.
When you download the file what you actually get is seven different designs in a zip file. Don't worry though, as although there are several images the download does not take long. The beauty then of course is that you have a whole range of clipart to choose from. Select one as your central theme, or pick a few of them to brighten up the party venue. If this image with the golf bag isn't appropriate for the guest of honor then there are plenty more you could choose from.
If there's one particular image you like above all others then use it for the invitations, posters with funny captions at the party venue, and even cup or cake wrappers.
Retirement Cake
Despite its name, the website Free Clipart Network has a scant amount of images that are actually free for use. However, although this was the only retirement clipart that I liked from their free selection, you can of course take a look around while you are there for some other great designs. Rather than paying per image you can actually set up a weekly subscription which you may consider worthwhile; it's only 15 dollars and you can download as many images as you want.
I particularly liked this retirement cake image not only for the design, but also because it's very versatile. Being black and white you could color it to your needs in a DTP program, or even get the grandchildren of the person retiring to personalize it with their own artwork. You could enlarge the image and use it as a banner over the door and use the white space to add the retiree's name, or just use it as a simple but effective retirement invtiation.
Microsoft Retirement Images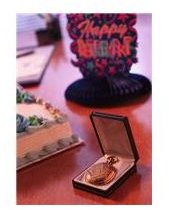 One of the best places you'll find for free retirement clipart is the Microsoft Office site, which is full of great designs for almost any project you can think of – there's a lot of choice too.
I've split the Microsoft selection in two, this section is more on general retirement images that you can use for a party invite or banner, and the one below is more involved with images of retirement parties that can be used. If you click on the links at the bottom of the page there is a small amount of overlap, but both are worth checking out. They also both include photos as well as the usual cartoon-based clipart.
This image, for example, includes a cake, gold watch and a greeting card in the background. So this could adorn the front of your party invitations along with some suitable retirement wording or you could use it as a feature in a scrapbook page, or a congratulations card.
Retirement Party - Microsoft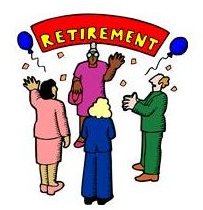 I really love this cartoony retirement party scene, and there are others to choose from too, if this one isn't to your tastes. Would work equally as well on a "You're Finally Leaving - Good Luck in your Retirement" card, or as a stand alone image for the front of a retirement party invitation.
When using funny or off-beat images make sure you accompany with a suitable font, rather than an elegant script font that would be more suited to the image above. Birthday fonts are a great match for a clipart image like this one; you can even get ones that spell out the name of the person retiring in balloons.
Come and Party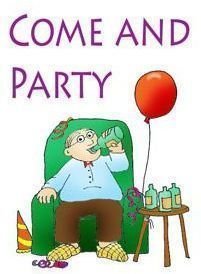 OK, so clicking on the link below will only take you to this image, rather than to a whole selection of freebies, but it was such a great design I just had to include it. It's obviously going to be more suited to a male that's retiring and celebrating with a party, but you could always get creative with your photo editing software and draw on some curly hair and add some earrings to transform him into a retiring lady!
This clipart speaks for itself, and the design does all the work for you – you don't even have to think about what to put on the front of this retirement party invitation. Just print out as many as you need and add the who, when, where and wait for your guests to arrive.
Retirement party clipart tends to be jovial and fun, but choose an appropriate image accordingly – if it's a more sedate office party then maybe a more classic image is for you. Whichever way you go, I hope you've found a suitable image for your project. Don't forget to print out an extra invitation to use in a future scrapbook page!
References
Retirement party scene - Craft Cafe
Retirement party - Microsoft