Free Printable Engagement Invitations: Unique Designs to Download Now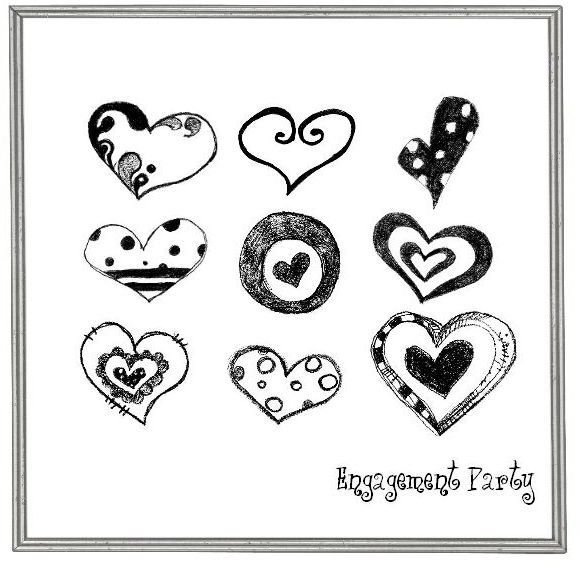 Start Using Our Great Designs
Using free printable engagement invitations isn't just a great way to save money on an occasion that is already costing you a pretty penny, it's the best way to inject your personality into a design too. Although you can use these designs as they are, I've also offered advice on how you can customize it to your needs, or even create your own invitations.
All the designs here were made using the CraftArtist program, and there is a free download of this software if making your own invitations is something you want to try – a link is included in the references section at the end of the article.
Clicking on an image will give you a larger view, but to get the higher quality design use the links provided at the end. All invitations are in JPEG format which can be used in any software and resized according to your needs.
Doodle Hearts
Not only is this engagement party invitation a modern alternative to the usual hearts and flowers, by printing it yourself you will also save on ink costs as it's a purely black & white design.
The idea is to print it onto a square card, but as it has a silver effect frame around the whole design you could easily make smaller and use on a regular rectangular shaped card.
All of these doodled hearts were ready-made digital embellishments in the CraftArtist software, but the great thing with the trend for doodled elements is that they can be irregular and that's fine. So basically you can easily doodle your own designs either by hand or digitally, and still get great results.
Make sure you use an appropriately off-beat font for a design like this as an elegant script font wouldn't really suit the theme.
Pair of Champagne Glasses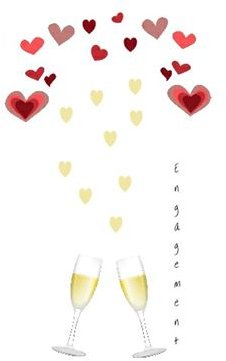 A lot of the detailing on this invitation is lost in this small sized image, so click on it to get a larger view.
A pair of champagne glasses are tilted towards each other in celebration, with heart shaped golden bubbles rising up from the glass. Pink, red and purple heart confetti rain down on the scene. This design is best used on a slim format card, but it's versatile to any format. If you have trouble finding envelopes to fit your chosen size of card, it's actually pretty easy to make your own envelopes using free templates.
If you use this invitation in a regular size or square card you can make it a more comfortable fit by resizing it, or use a digital frame around it to balance out the proportions.
Vintage Style Heart Design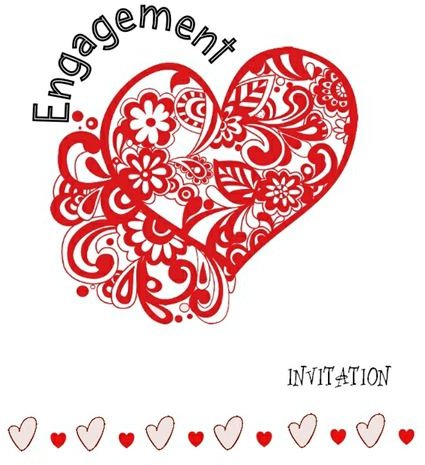 This was a fun design to create, using a combination of ready-made embellishments, and adding some extra touches to make it unique.
The main vintage style heart that dominates this invitation was actually a rather bland looking beige element that I recolored to the more traditional and eye-catching red. The large hearts in the line up across the bottom were ready-made but the smaller hearts breaking up the line were created using the quick shapes drawing tool, and were color matched to the main heart by using the color picker tool.
The 'Engagement' text was arched over the heart by drawing a heart shape around the main heart and using it as a text path. The original heart I drew was then deleted. Although this is easy to do in CraftArtist, many other programs offer the same feature, and you can get similar effects using the WordArt funtion in Word, although it can be difficult to get the dimensions correct.
Hand-Holding Robots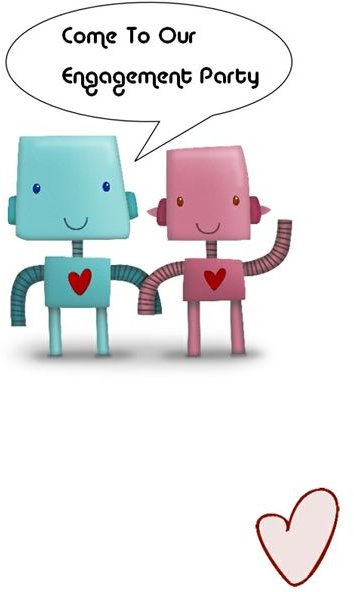 If you're tired of the hearts theme when searching for your perfect free printable engagement invitation, this robot design is a really alternative and fun choice.
The hand-holding robots with heart tummies were already in the software package, even including the shadow detailing. A speech bubble is easy to draw using the quick shapes tool, and I picked an appropriate font to add the text 'Come to Our Engagement Party'. Already the more friendly approach will have your guests more receptive to your invitation.
Although this had the shadow detail already included, adding a shadow detail is as easy as a button click and is a great way to add detail and depth to your design.
The digital heart embellishment was a ready-made one, but if you can't find one you like you can always use wedding dingbats to create your own with a simple tap of a character key.
Trio of Cute Cupids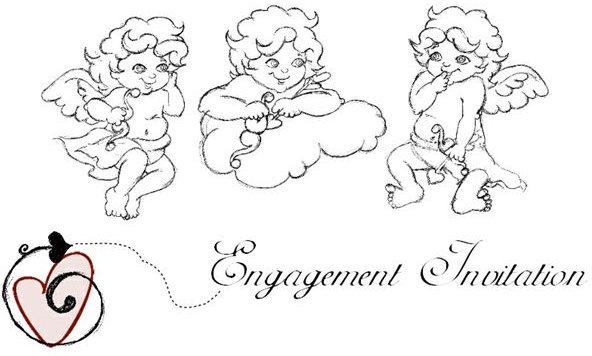 Who could resist an invitation to your engagement party with this trio of cute and cheeky cupids. These superb sketch designs of cupids can be found in the CraftArtist software, and as there were three, and elements work better when grouped in odd numbers, I just chose all three.
The heart and swirly arrow were separate elements that were pasted together and resized until I like the way it looked. I then drew a freehand line from the arrow to the text and changed the line style to dashed, so it created the feel of movement. To accompany the classic cupids, I selected an elegant Edwardian script font and resized it to balance out the whole design.
References
All designs here were created by the author and are made available to download for personal use only.
Square Design Doodle Heart Invitation
Engagement Invitation with a Pair of Champagne Glasses
Red Vintage Style Heart Engagement Invitation
Click here for a free version of CraftArtist.