Fun Microsoft Word Templates: Fortune Cookie Slips for Party Favors, Gifts or Romance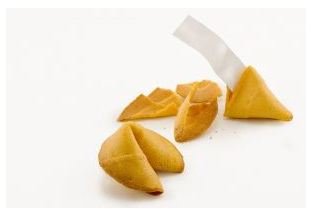 Selecting and Using a Template
Fortune cookies are simple cookies made using egg whites, flour, sugar, vanilla and butter. The best part of these unassuming desserts is not their lightly sweet taste nor their crispy texture, but rather the tiny slips of paper folded within them. Making your own cookies is a fun idea for a homemade meal of Chinese food, a personalized party favor or a unique way to present a heartfelt message to a special person. The Microsoft Word templates provided here make it even easier for you to do so.
To view an enlarged image of these templates, simply click on the corresponding graphic. When you have decided which template you would like to use, click on the correlating link in the References and Resources section at the end of the article. You will need MS Word 2007 or 2010 in order to use and print the slips. You can also use Word 2003 if you have installed the Office Compatibility Pack.
Party Favor Ideas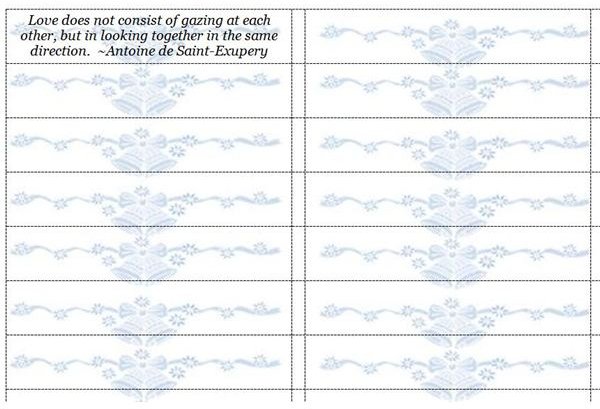 You can create custom fortune cookies for virtually any type of party or gathering. For example, you could type the bride and groom's names and wedding date onto the first template, which features a background of blue ribbons, flowers and wedding bells. Tuck them inside of fortune cookies, dip each cookie into melted chocolate and then coat with sprinkles matching the wedding's colors. You could also opt to type in wedding-related quotes, such as "Love one another and you will be happy. It's as simple and as difficult as that. ~Michael Leunig" or "Love does not consist of gazing at each other, but in looking together in the same direction. ~Antoine de Saint-Exupery"

Similarly, you can use the second set for baby shower favors. Type quotes about babies, such as "A baby is God's opinion that the world should go on.~Carl Sandburg" or "A new baby is like the beginning of all things-wonder, hope, a dream of possibilities.~Eda J. Le Shan" into the segments of the form, which is decorated with a recurring hearts and umbrellas theme in pink, blue and white. Once you slip the papers inside, dipping the cookies in melted pastel candy coating will make for an easy yet adorable shower gift for guests.

Making custom cookies is not limited to special theme parties, though. Pass out cookies with cheerful notes on slips made using the Confetti Background template following a dinner party, birthday get-together or holiday gathering.
Romantic Fortunes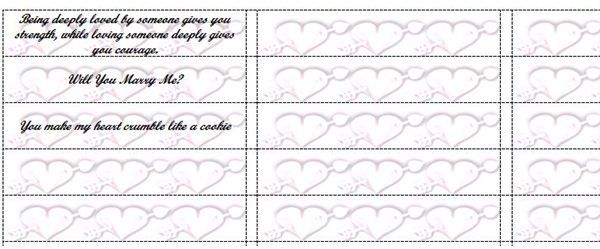 Surprise your significant other with a silly, sweet or sexy special message the next time your order dinner in. Swap out the generic fortunes in the delivered cookies with your own meaningful messages printed on these romantic slips of paper. Use pet names, lines from your favorite songs and movies or famous quotes about love.
You could also use these papers to create a unique Valentine's Day gift or even to "pop the question."
This template features a page of identical blank slips with a washed-out hearts and arrows design in the background of each one.
Corporate Gifts, Classroom Treats and More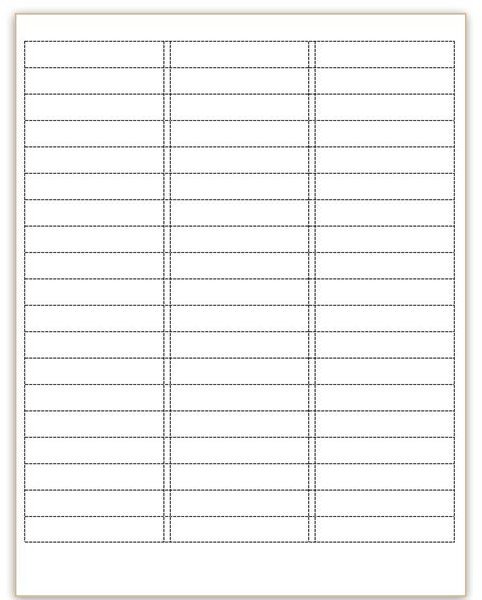 By no means must you use a decorative design to make your own fortune cookies. The final template is a page of blank slips that you can use in any way you wish. Insert your logo or business information into each field to use as marketing tools. Type in funny one-liners or knock-knock jokes and give them to your children or as a Halloween goodie. Teachers can use them as a fun learning tool, as well. Enter math problems or homework assignments and pass them out at the end of the day.
All of the templates here included dotted lines bordering the individual slips, making it easy for you to slice them apart neatly for a professional appearance. Feel free to fill them in with any type of fortune you choose and use them however you want. That's what makes them custom!
References and Resources
Template Downloads
Wedding Favor Fortune Cookie Templates
Baby Shower Favor Fortune Templates
Confetti Background Fortune Template
References
Smithsonian National Museum of American History, Origins of the Fortune Cookie
Quote Garden, Quotes for Weddings
All Great Quotes, Famous Baby Quotes
Resources
Microsoft Download Center: Microsoft Office Compatibility Pack for Word, Excel, and PowerPoint File Formats
Images
Fortune Cookie: sxc.hu/Linnell Esler
Screenshots provided by the writer