50th Wedding Anniversary Invitations: Free Printable Downloads & Design Tips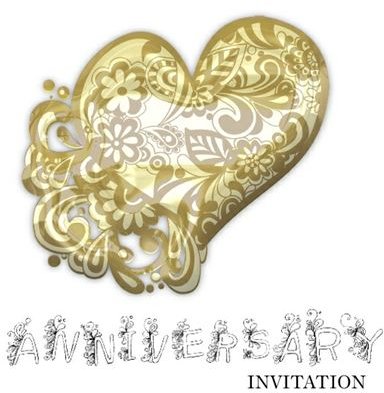 Celebrate 50 Years of Togetherness
I've created the following 50th wedding anniversary invitations using Serif's CraftArtist software, but the free downloads are in JPEG format which means you can use them in pretty much any software program you care to mention. The all important download links are included at the end of the article.
Along the way I've included details of how I created these designs should you decide to try and make some invitations yourself, or even just use some of the tips to customize the designs into a more unique one to suit your tastes.
Vintage Style Heart Design
This vintage style design has a modern feel to it that should appeal to all guests lucky enough to receive this invitation. It's been designed as a regular rectangular shaped folded card but actually would work equally as well if printed onto a square shaped card too.
The main heart feature is actually two embellishments laid over each other. I applied a gold materials effect to the first ready-made shape which took out all of the inner detail which I really wanted to keep. So I pasted another over the top, in exactly the same size, and this time used the transparency tool, so it kept the detail but let the shiny gold look of the base shape shine through.
Click on the image for a larger view and you will see a more ornate 'anniversary' text, balanced out with a simple font spelling out 'invitation.' The anniversary text was a ready-made embellishment but the invitation text was a simple 'add text' function.
Pair of Golden Champagne Glasses
There's no better way to celebrate such a grand occasion than with a glass or two of champagne, so make sure your guests know a big celebration is on the cards right from the off.
Most of this card was made using existing digital elements within the CraftArtist software program with a few tweaks here and there. To give a more realistic feel to the glasses I tilted one, and then copied in another, 'flipping' it to create a mirror image. The heart confetti that rains down was an embellishment that was copied and pasted a few times around the glasses. To make sure of a more balanced look I added in a few smaller hearts drawn using the quick shapes tool. To make these additions blend in, I used the color picker to select colors from the hearts that were already present and tilted them to give a more irregular and realistic look.
A more modern handwriting font was used under the frame that says 'Golden Wedding Invitation', to suit the overall modern design.
Floral Invitation Border with Yellow Roses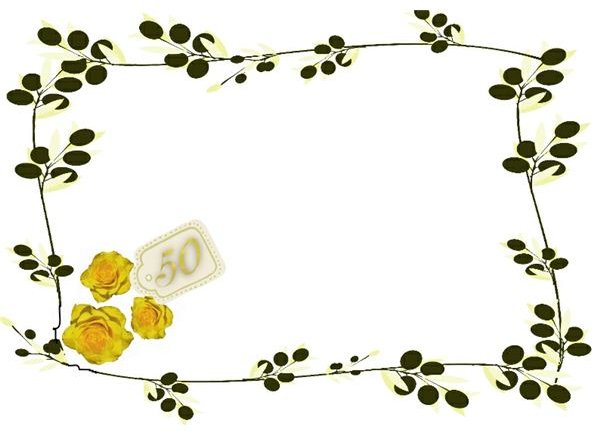 The beauty of this design is that there is very little else to do on your part, as it was created with a postcard-type invitation style in mind. So all you need to do is print this onto a suitable size card, after inserting the who, when, where details somewhere within the frame. Use an elegant font before printing if you have a lot to send out, or print out as it is and handwrite the pertinent details. Either way, as the template is in JPEG format, you can even use it in a regular program like Word, so you really don't need any fancy software.
The frame was recolored a little with added light gold color leaves. The yellow roses are actual all from one piece of clip art, but I resized, flipped and rotated each image so that they look different from each other. A tag poking out from the flower grouping features a '50' to show the wedding anniversary theme.
If this design isn't to your style but you like the idea of using a frame this way, then use a flower border and add some free clipart to create your own invitation.
Round Golden Frame with a Large 50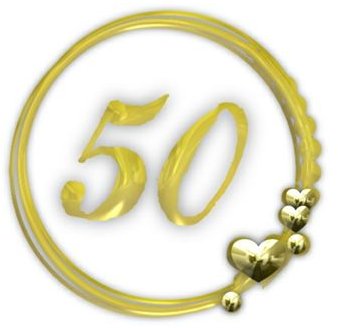 Proving that 50th wedding anniversary invitations don't have to be ornate affairs, this round gold frame design is actually pretty versatile in that there are several ways you can use it. Either print it out landscape and then make it into a regular half-fold card; print as a postcard and add details of the party on the reverse; or try something a little different. Try cutting a semi circular shape around the top third of the round border, and then fold across, but leave that top third section sticking up. The invitation has been created with this last idea in mind so there shouldn't be any need for moving the image or resizing, although this is simple enough to do in any software.
If you like the main design but want to add some more detailing, try customizing it with some wedding dingbat images to make the design more unique to you.
Golden Pair of Tea Cups with Heart Detailing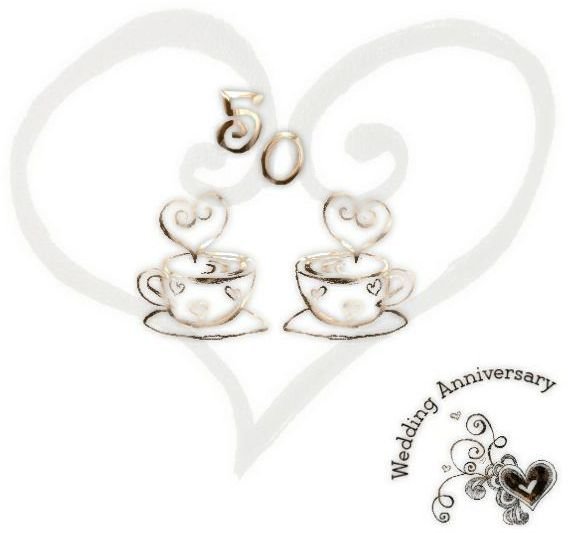 Those celebrating a golden wedding anniversary will appreciate the cup of tea/coffee images that are the focus of this invitation design. This design works particularly well as the cover design to a square invitation, but could work in a more regular shape, especially if you add a frame around it to balance it out.
The large heart detail was made to feel like part of the background by using the transparency tool to make it reduce back into the page, and letting the gold coffee cups shine through.
The arched 'wedding anniversary' text was created by drawing a circle around the flourished heart at the bottom corner, and using the text tool to use this circle as the text path. This is easy to do in CraftArtist but other software programs also have similar functions – even using WordArt in Word can create similar results.
For the party details you can use an ornate Edwardian script font, to add a traditional feel – especially great if you don't have neat handwriting or have a lot of invites to send out. Or you can print it out as is, and write out the details yourself.
References and Additional Resources
Golden Heart Swirl Wedding Invitation
Golden Champagne Glasses Anniversary Invitation
Fiftieth Anniversary Invitation Border with Flowers
Round Golden Frame Wedding Anniversary Invitation
Gold Cup of Tea Fiftieth Wedding Anniversary Invitation
Image credit: Yellow rose - OCAL/Clker