Top 10 Free Flower Borders To Download Now: Unique and Versatile Designs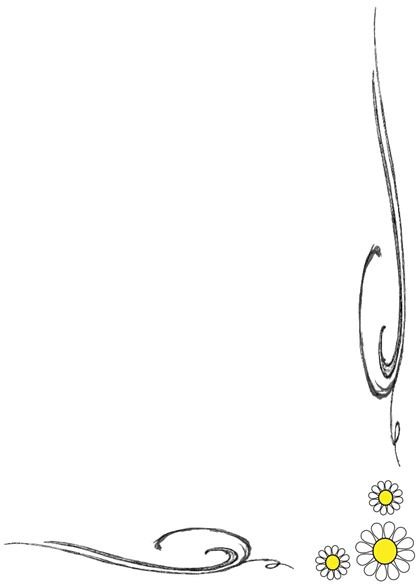 Bored With Borderline Borders?
A decorative border is a great way to enliven a page and add interest, even if it's a simple black and white design. The following free flower borders are a combination of designs I have created myself for download right here on Bright Hub, and a few great alternative designs from elsewhere on the web – all are free, easy to use, and are bound to attract attention.
I've also included some tips along the way for customizing your borders, or for creating your own – sometimes it's just an easy process of pasting together some free flower clipart. I've used Serif CraftArtist program to create all my designs which is a great place for beginners to start too as it's a really easy piece of software to use. There's a free version of this software you might like to try, and you'll find details of this in our links section at the end, along with the all important download links for our borders too.
Two Sided Elegant Daisy Swirl Border
Daisies are unique in that they are a fun image children love, or can be a subtle design to appeal to a different audience too. This border has been made to give an elegant feel by using a cluster of flowers at the bottom corner and an elaborate swirl design to the side and above so is understated too.
The daisy's petals were created by drawing an elongated oval and copying and pasting many times around a central circle, overlapping some of them here and there for a more natural look. The central circle was then color filled yellow to create a daisy feel. You can make things easier on yourself by 'grouping' all these elements together when you are happy with the finished design so you can then copy and resize it as if it's one object. The swirls were ready made digital elements that were sized, flipped and stretched accordingly.
Black & White Rosa Full Border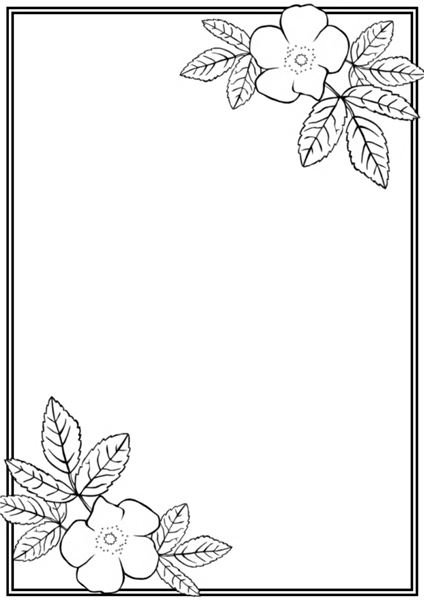 At the other end of the spectrum from the simple rose side border, is this full border with flower and leaf grouping. A striking design, but actually wouldn't end up using that much of your ink, so you get a great style statement for very little outlay. A detailed border like this is perfect for save the date announcements, where there isn't a need for a huge amount of text.
This border was achieved by using some free flower clipart and rotating it to make a better fit into the corners of the page. The double edged border was easy to create using the quick drawing tools in CraftArtist. Make sure you have left equal spacing around the page and that you send your shape 'to the back' so the lines don't intrude on the wonderful flower detailing. You could even add an autumnal theme to this border by adding some acorns or coloring to the edge of the leaves.
Pink Rose Side Border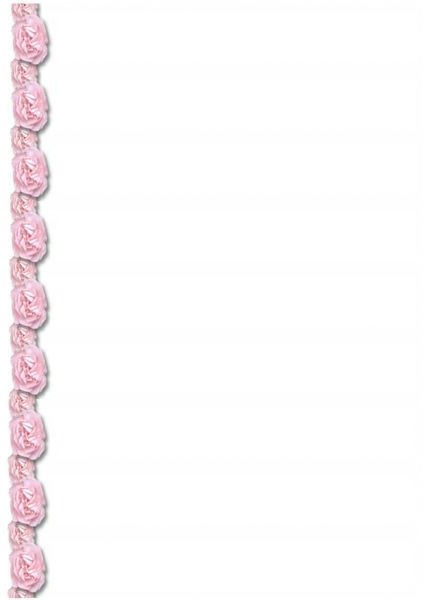 Sometimes you want something a bit more understated and unobtrusive, but that doesn't mean your border has to be dull. This pink rose border was created using some free flower border clipart, and was a pretty simple task of just copying and pasting until the right look was achieved. Be careful when using this technique that one end of your clipart matches up well with the other half to create a seamless border.
Absolutely perfect for wedding stationery, but is versatile enough for writing paper, a flower poster or even as a side border to a scrapbooking layout. Click on the image to get a larger look.
Hibiscus & Hawaiian Greenery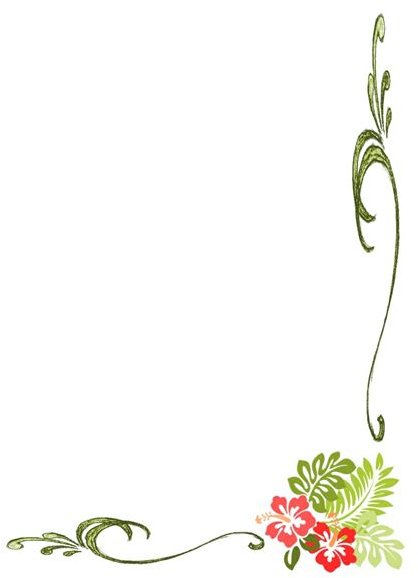 For something with a more tropical flavor, this Hawaiian themed border is fun, colorful but functional too. The great thing about two-sided borders is that you get a great frame to your page without it dominating everything else, leaving plenty of room for your text.
I found some superb Hawaiian hibiscus flower clipart, that was accompanied with the greenery so the hard work was already done. I then pasted in some digital swirls and used the color picker tool to make them match with one of the mid green leaves in the clipart.
Decorative Daisy Border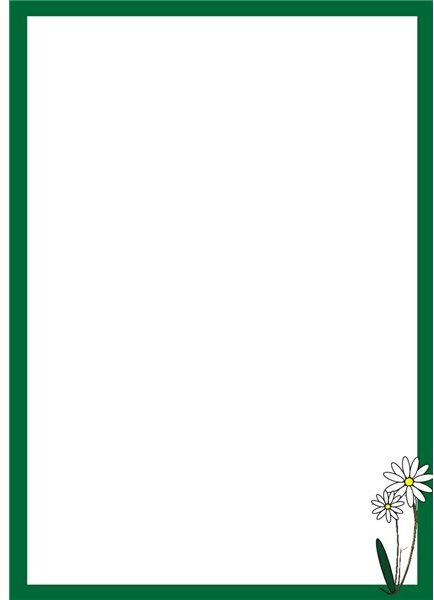 Sometimes the most simple borders are the best, and this one gets the flower theme across without being completely surrounded in flowers. This would make some great decorative notepaper, a small noticeboard poster, or even some stationery for a florist or gardening business. My personal favorite use for this border is for a thank you letter or card, as it really seems to suit that theme.
The green frame was just a rectangle shape with the line colored green and then made extra thick to create the border. The daisy was created using the same method as above, but this time I added a ready made digital stalk to the daisy and an oval shape filled green to create the balancing feel of the leaf.
Lei & Hibiscus Border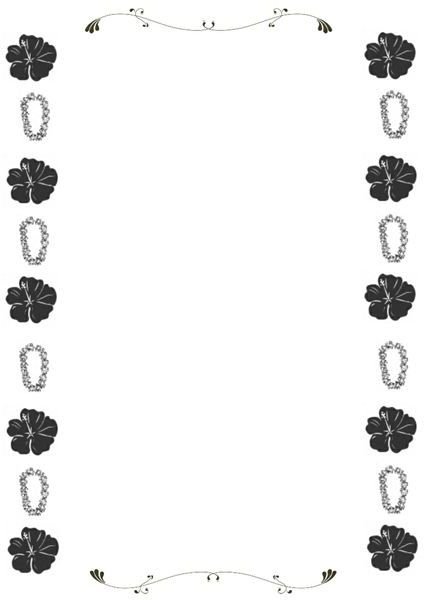 For a full-on feel of the tropics, this lei and Hibiscus flower border can't fail to make you feel cheery. Great for party invitations, especially summer BBQs, this will frame your text perfectly.
The leis and Hibiscus flowers are actually from a beach dingbats font collection, that was easy enough to incorporate into a border design using CraftArtist. Once you've achieved one pairing of dingbats you like, select them both to copy and paste into the next position to save some time and to make sure the spacing is consistent. The swirls at the top and bottom were digital embellishments simply copied and flipped to create a symmetrical feel.
Colorful Flower Side Border

Flowers are bright and beautiful so why shouldn't your free borders be like that too. This is a wonderfully cheery border that really injects some color into your projects, although still leaves plenty of room for you to write, type or scrapbook. The best thing about this border is that it only takes up one side of your page so is suitable for almost any project.
Use it as is or make it into a full border with a bit of cutting, rotating and pasting. Or try drawing a simple rectangle shape around the page to join up with your flowers - send the shape to the back so the flowers still shine through.
Circular Floral Border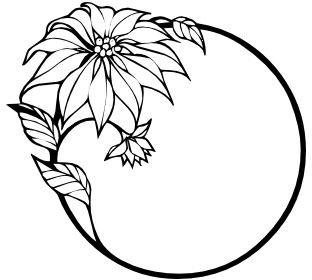 Who says borders have to be rectangular? This is an absolutely adorable flower border that not only offers something different in the way of shape, it is also a great one to use for Christmas projects too. The artist of this clipart refers to it as 'Christmas flower.' I don't think it's a poinsettia but it definitely has that look. Of course it's such a great image it's versatile to any time of year.
An effective design to use as a photo frame, or print onto an acetate sheet for a great scrapbook overlay. Use it as a feature on a greeting card and there would be little else to do – great room inside for a verse or quote.
Summer Flowers PowerPoint Border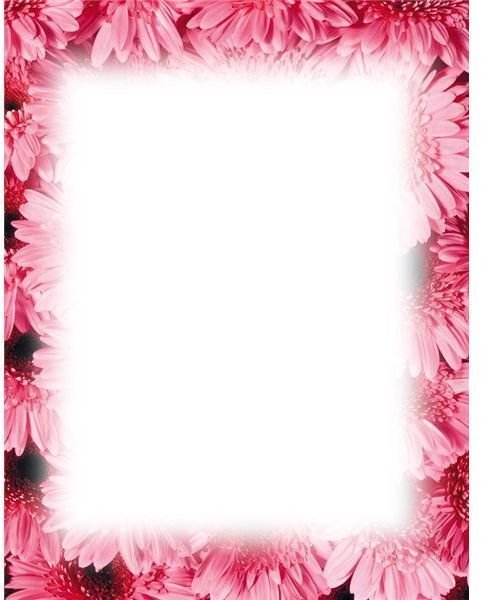 Want a superb floral themed border for a PowerPoint presentation? Then this is the ideal choice. Not all borders need to be for printed documents and this one comes all ready formatted in a .ppt file format to be easily used in your presentations. If you find the border too thick, you could always draw a white filled rectangle and position it over the top to blank out some of the border, just making use of the edge. Or take it down a notch by using it in a black and white scheme.
There are other offerings from the PPT Backgrounds website too, and you can also get these featured borders in JPEG file format for all your other DTP needs.
Two Sided Floral Garland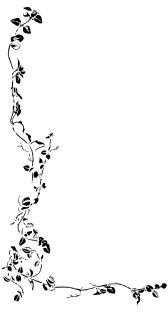 Free flower themed borders don't get much simpler than this, which makes them ideal for adding your own touches to – even left as it is, this two sided border makes an excellent addition to your projects.
This actually comes in a PNG format, which is easy to use in most DTP packages. But if you want to use it in other packages, then it can even be used in software like Word. Try adding your own flower embellishments to create more detail by using some floral dingbats for a truly unique border. Or you could even make this into a full border by copying and flipping the image, then pasting it in to meet up at each corner.
References
All Bright Hub downloads were created by the author using CraftArtist and are available for you to use for free, for personal use only.
Image Credits: