Fun & Fresh Scrapbook Page Ideas for a Hawaii Vacation: Lots of Tips & Images to Inspire You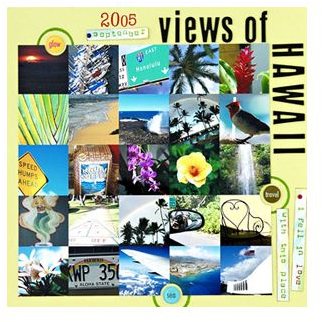 Lei Your Hands On Some Great Ideas
With so many great pics from your vacation it can be difficult to know which ones to scrap, which ones to leave out, and just what to do with them in general. Don't worry, you don't have to be ridiculously organized in this. Your scrapbook page should create the feeling of the great time you had, which likely included lots of relaxing in a chilled out atmosphere, so it stands to reason your layouts should be casual too. Take a look at some of these scrapbook page ideas for a Hawaii vacation and envision what you could do with your pictures.
This Is The Story of Our Vacation - Layout by Carrie Colbert
Vacations can often be tough to scrap as they take place over weeks and days, with many great events and memories to preserve. It's not like with a birthday party when it's just one single occasion. One way to get over this hurdle is start by making a storybook page – this isn't as complicated or time consuming as it sounds. This is also a great way of using those less than perfect photos as you only need them in a smaller size, so the quality isn't a big issue.
They don't even need to tell a story or feature people. Just random images that create the feeling of your Hawaii vacation are enough to create a great layout. There are 25 images laid out in this grid, but would even work with as few as nine images, depending on what you have on hand.
Hawaiian Beach Wedding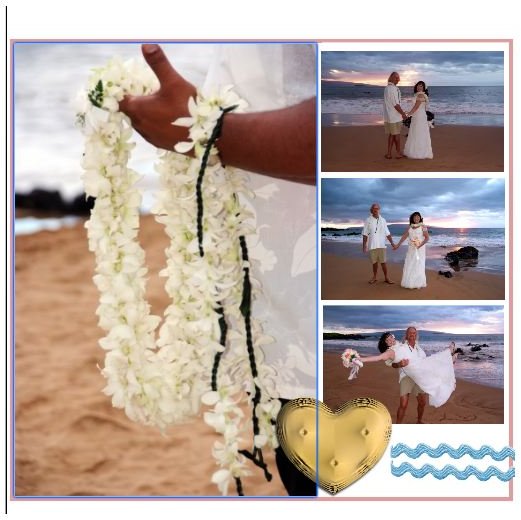 Don't feel like you have to use fancy background papers when you're scrapbooking. One great idea to use is to make the majority, or indeed all, of your page consist of one large image. Obviously you need to make sure that it's a pretty decent and clear image, but the effects can be stunning.
Here I've chosen an isolated and artistic shot to dominate the page, with smaller pictures down the right hand side. This helps to add balance and to tell the story too. This is another great advantage of scrapping with large images is that it minimizes the need for so much journaling.
The heart shape was made using a quick drawing tool in CraftArtist with a sand texture applied to it, and can be used for a date, quote, or a small amount of journaling. The blue rick rack finishes the look, giving an effect of the waves.
Don't Forget the Leis!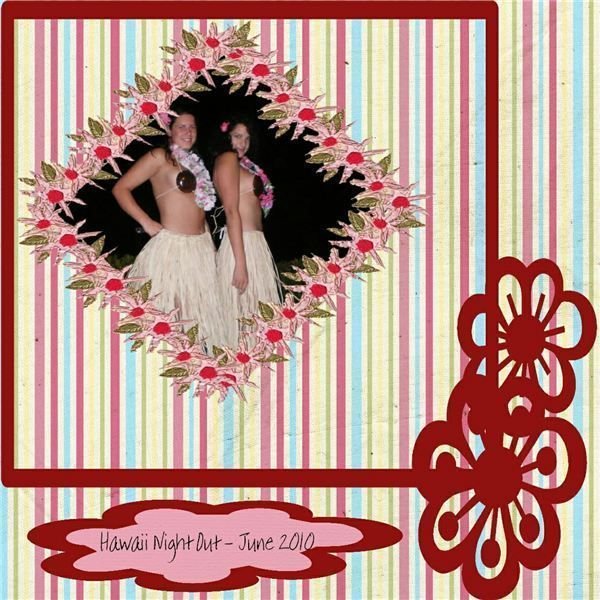 An intrinsic part of Hawaii's visual appeal is also the amazing flowers, of course even more vacation specific when these flowers are made into leis. Try using lei images to create frames, or island flowers to make up a Hawaiian themed border. You can have some real fun with these and layer them over the top of each other, or even use the frame in frame technique, as with this layout.
This look is not subtle! It's out and out fun and plenty of color, so pretty much anything goes – after all where else would pink and red be seen as a winning color combo.
This colorful idea to scrapbook your Hawaii vacation is a good one to use with darker or night-time shots, to really lift the image.
The font I've used here is a casual handwriting font to add to the fun theme – is also a great plan to use this type of font if your own handwriting isn't that neat.
Go For a Beach Panorama - Layout by Candi Gershon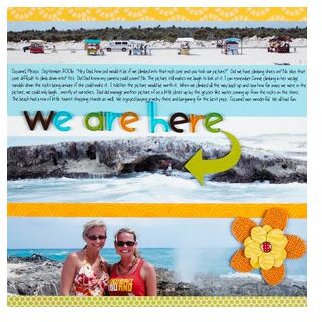 Hawaiian vacations means 'beach' to most of us, so let your images do the talking with a panoramic beach background. It's even easy to get panoramic pics taken on an iPhone using an app, so you don't need any special equipment in order to achieve this look. When taking the pics, remember to allow a good deal of overlap between them so they can be stitched together more easily using computer software (or a smartphone app), when you get home. But don't worry if you aren't technical in this area, simply get a regular pic you like, enlarge it, and then crop it to look like it's a panoramic image.
Here, the idea is to use a few of these panoramic shots laid across the page – using three works best. You then have room between each one to add some papers, embellishments or journaling about each pic.
One great tip to use is to pick out colors from the images to use in your papers and embellishments.
Ocean Color Scene Background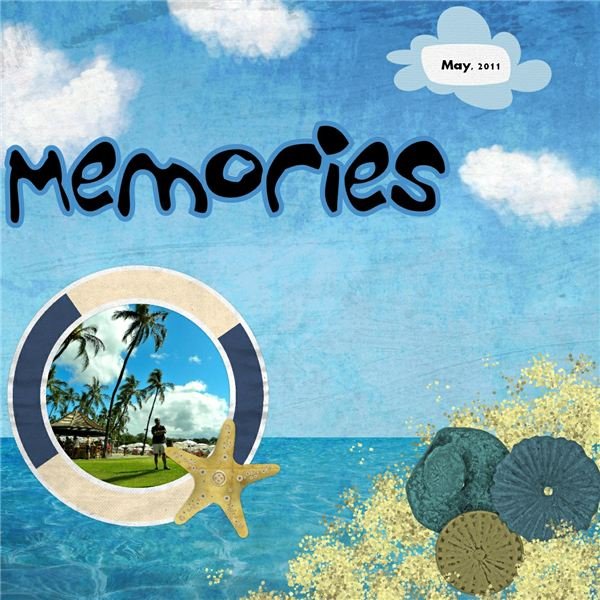 When most of us think of Hawaii we think of clear blue skies and the deep blue sea, and that beautiful sand, so it makes sense to add a feeling of these wonderful hues into your Hawaiian vacation scrapbook layouts.
This background paper comes in the CraftArtist Platinum software package, but takes so much work out of creating your own backgrounds. I added an extra cloud, with some white space to feature the date, so it's incorporated into the scene. The photo is framed a nautical way, and many shells rocks and starfish have been used to complete the beach theme – even the rocks have a blue tinge to them, so the color scheme is pretty much just blue and sand colors to emulate the scenery.
The textured sand effect to the bottom was a small embellishment that was copied and pasted repeatedly. Remember when you are using the same items over and again to rotate them after copying to achieve a less regimented look
Get Going With These Quick Vacation Scrapping Tips
Add to the fun feel by adding cartoon images (Lilo and Stitch are obvious ones), or make the subject of the photo into a cartoon by using

speech and thought bubbles to tell the story.

If you're stuck for color ideas, take a look at the photos you want to scrap and pick out some from there. It can be flowers in the background, someone's top, or anything that catches your eye.

Add a different feel to your backgrounds or photos by cutting them to unusual shapes representative of Hawaii - a wave pattern or a flower, for example, work well.

Create your own embellishments or scrapbook papers by using some beach dingbat images (pictured).

Scrapbook page ideas, for Hawaii vacations especially, shouldn't be too formulaic, so play around with unusual angles and color combinations – have fun!
References
All other scrapbook layouts are copyright of the author.
Image Credits: