5 Great Hawaiian Borders for Free Download: Templates to Use for Invitations, Scrapbook Pages & More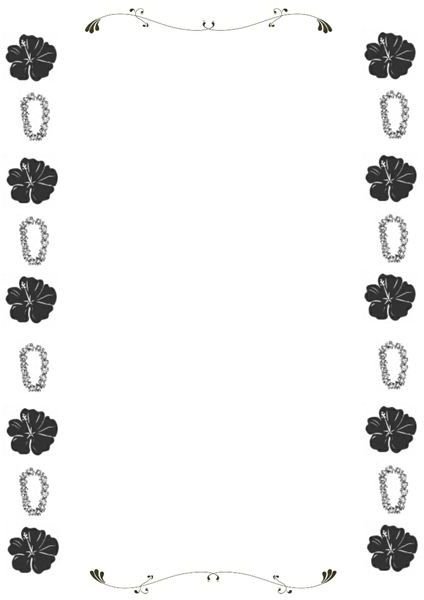 How Can I Get My Hands On These Fab Borders?
All of the following borders are unique designs created by the author using Serif's CraftArtist. You can download them for free really easily by clicking the relevant links at the bottom of the page. You can also get a close-up of the image before you download, by clicking on the images within the article. All downloads are in JPEG format so can be resized easily in pretty much any software program you have. Don't have DTP software? No problem, you can even use these Hawaiian theme templates in Word, by simply selecting 'insert > picture > from file'.
If you want to design your own invitation we've offered some great design tips along the way too. Why not take a look.
Lei & Hibiscus Black & White Border
For a classically simple take on the Hawaiian theme, this black and white border featuring leis and hibiscus flowers is just the job. The elegant swirls at the top and bottom of the page make this is a complete frame for the page while still leaving plenty of white space in the middle. Perfect for any Hawaiian project from scrapbook frames to using in your homework about Hawaii.
This border was easily created in Serif's CraftArtist program using some beach dingbats and swirl embellishments. Dingbats are a great way to achieve stunning visual results but take up less of your time as the hard work has already been done.
Hawaiian Luau Invitation Border Template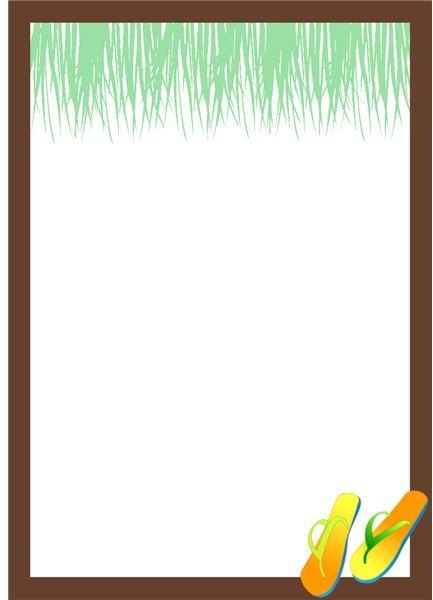 Make sure your friends know the theme of this party is Hawaiian Luau all the way. The grass skirt that frames the top of the page was created using a sand dune digital embellishment and recoloring it to a warmer green. It was then flipped and copied and pasted to create the line-up. When trying this technique be sure to stagger where you paste in the images, overlapping and moving some further up the page to make a more realistic look.
The flip flop detailing to the bottom makes this is a perfect Hawaiian invitation border. Templates on this page are all in JPEG format so can easily be resized even in a word processing program like Word, if you don't have DTP software.
Elegant Hibiscus & Hawaiian Greenery Frame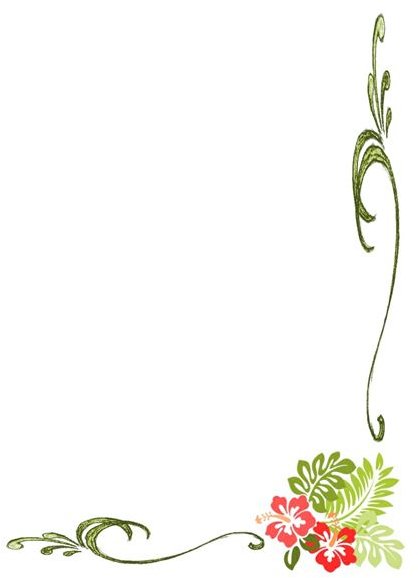 If you like your hibiscus flowers with a bit of color then this design can only please. The accompanying greenery and elegant swirls make this a stand out feminine choice. Try using it for swish notepaper, or for a menu or save the date template for a Hawaiian beach wedding.
The hibiscus arrangement was free clipart found on the web, and the accompanying swirls were embellishments in the CraftArtist program. The swirls were made to coordinate with the Hawaiian greenery by using the color picker tool from one of the mid-toned green leaves and then applied to the swirl – this is a great trick to try yourself to make sure everything on the page coordinates.
Pink Hawaiian Lei Square Border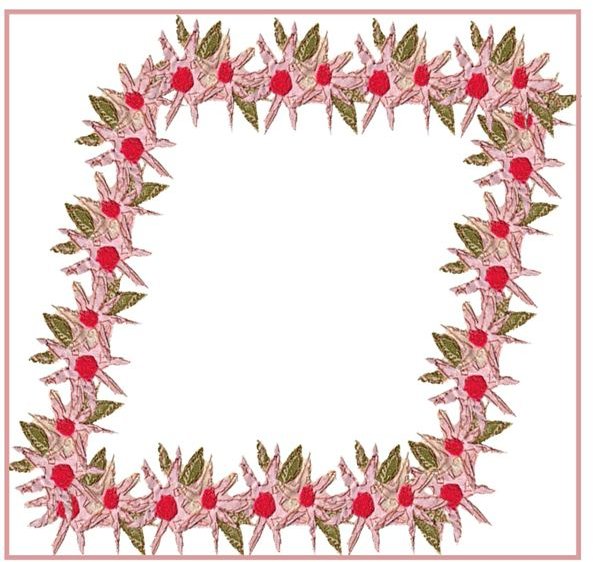 A lei frame is just too hard to resist when creating Hawaiian borders, and this one is a little bit different from the norm, so is bound to stand out for whatever purpose you may need it. Would make a striking frame to advertise a play like South Pacific, or as a cute border for a Lilo & Stitch themed birthday invitation.
The lei is slightly off-set giving a unique look, but the thin pink frame around it gives a feeling of stability.
Being square this would also be perfect for scrapbook pages of a Hawaii vacation.
Hawaii Tiki Bar Border for Invitations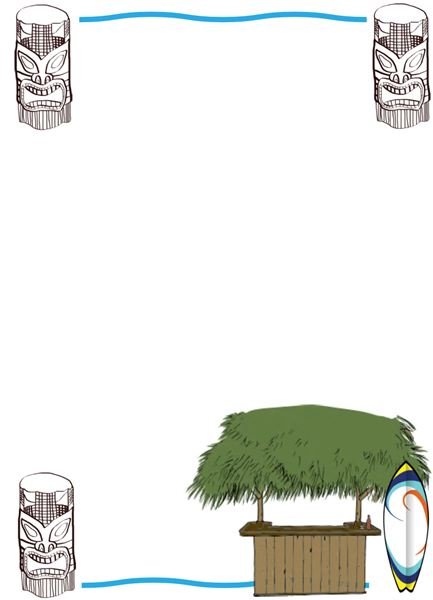 Everyone will know where the party is at with this Hawaiian invitation border. This template includes a lot of detailing so very little work is needed on your part – just add the place and the time and let the luau commence.
The tiki bar on the bottom right was kept purposely large; as the colors are quite muted it gives you some extra space to write on pertinent details to bring to your guests attention – RSVP by, or a telephone number for example. Use the surfboard to add a message like BYOB and you're all set.
The tiki masks complete the overall theme and the blue wave borders give a tropical beach idea. Who could refuse such an invitation!
References
All borders were created by the author using Serif's CraftArtist. They are available for free download for personal use only, by clicking the following links:
Lei & Hibiscus Hawaiian Border
Hawaiian Luau Invitation Border Template
Pink Hawaiian Lei Square Border
Elegant Hibiscus & Hawaiian Greenery Border
Hawaii Tiki Bar Border for Invitations
Image Credits:
All Clker images are in the Public Domain.