Sample Letters for Retirement Congratulations: Don't Be at a Loss for Words Again!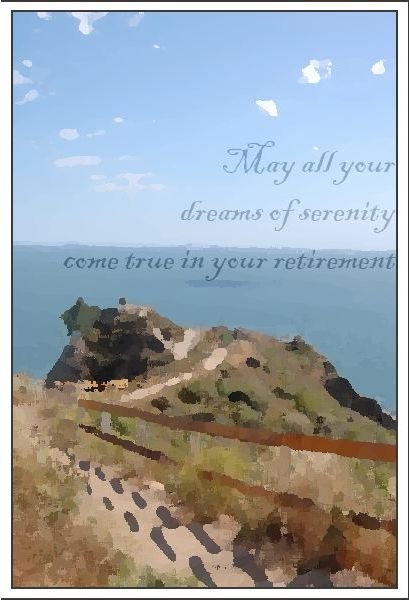 Choosing the Words That Mean So Much
A retirement is a special occasion for an individual. It is the culmination of many years of hard work and dedication to a position. While many outside of the bounds of retirement look at it as a joyous occasion, it's also important to remember that the person retiring might actually see the event as a bittersweet occasion – as it is also an end to his or her career. For this reason, it is important to be sensitive to the fact that some people - especially if they felt forced into retirement - might not be as excited about the occasion as you would be.
When it comes time to write your congratulatory letter, avoid gushing too much over the event; instead, it is better if you focus on specific memories. Do not get hung up on details, sample letters for retirement congratulations can help you get started. Once you have constructed a letter, you can then design the letterhead for it. How fun would it be to have a heartfelt letter on custom stationery?
When choosing what to say in a retirement letter, it's important to consider your relationship to that person. What is the dominant relationship? Is the individual your boss? A friend? A family member? Has the individual spoken to you of any plans for his or her retirement?
It's better to stay short and sweet if the recipient is in a professional setting. Saying something like:
Dear Angela,
I would like to extend my congratulations on your upcoming retirement. It has been a pleasure working with you for the past ten years.
I will miss your mentorship and our coffee breaks together, but I wish you all the best in your next ventures.
Best Wishes,
Sadie
For someone with whom you are close, you might choose to write a longer letter. Remember to focus on your experience with the individual in the work setting and focus on his or her accomplishments and what they meant to you in that setting.
Choosing the Delivery Method
While you could print the letter on plain paper, you could instead use custom paper or a custom greeting card. If the individual retiring is your boss, you could either use a simple border or you could use a simple, yet elegant greeting card design. If the person who is retiring is going to travel, you might consider creating a card for that person depicting the place(s) he or she will travel to. Alternatively, you might use luggage in the letterhead.
Not only should you customize the delivery method to the individual the letter is addressed to, you should also customize the card to the sentiments expressed. If you're keeping the letter short and sweet like the sample above, then you should also keep the paper or card simple. Focus on good principles of design. Remember to keep the delivery method in tone with the event. It should be slightly upbeat and cheerful.
Dreams of Serenity
You can download and print this dreams of serenity greeting card, then handwrite a sentimental note on the interior. The outside of the card reads "May all your dreams of serenity come true in your retirement." Often when someone retires, he or she will spend some time traveling.
I created this card using Paint.NET. The image on the card was cropped from a photograph I took at John Muir Beach Overlook near San Francisco, California. Rather than use the photograph straight on the card, instead I made it a little smaller than the card dimensions to give it a white border. I then used the "oil paint" effect to make it appear that I had painted the image. The text was created using "Blackladder ITC" on a separate layer. I then applied the "difference" layer effect to make it so that the color would stand out both on the sky and on the ocean.
Typewriter Stationery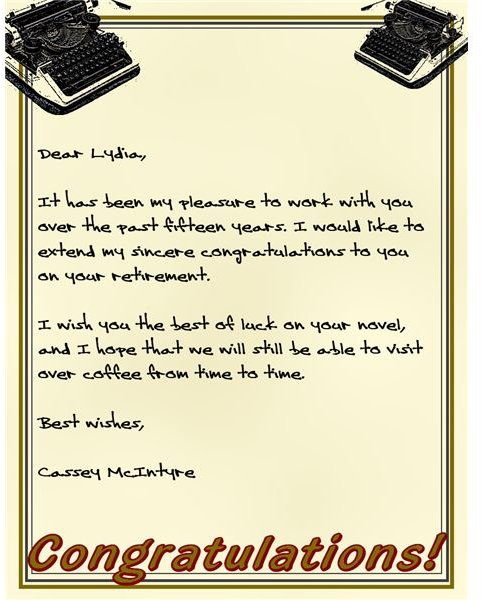 If you know the retiree well, then you can customize your stationery to his or her interests. For example, imagine that your coworker is hoping to work on her novel in retirement. For this occasion, you may wish to use stationery featuring a typewriter. The font for "congratulations" was created using "Highlight LET" in gold. I then used the paint can to color the interior of each letter burgundy.
The letter on the sample to the right reads:
Dear Lydia,
It has been my pleasure to work with you over the past fifteen years. I would like to extend my sincere congratulations to you on your retirement.
I wish you the best of luck on your novel, and I hope that we will still be able to visit over coffee from time to time.
Best wishes,
Casey McIntyre
In this letter, you both acknowledge the hobby of the retiree and extend your wish to continue your friendship into the future.
Hammock Card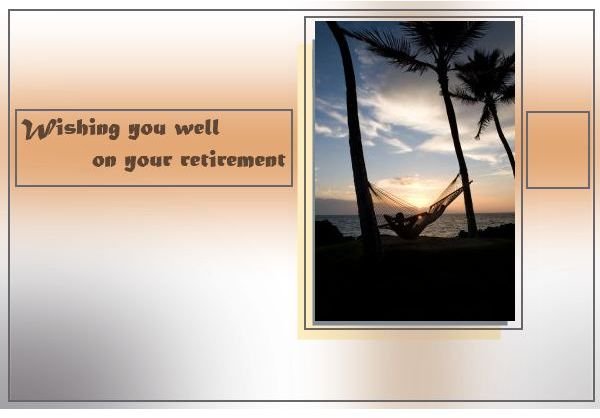 Retirement should be filled with relaxation and lots of naps (at least, that's what my retirement will look like!) If you are unsure of what to say to the retiree, you can say it with a card and a pithy note on the inside. This hammock greeting card helps you to express your sentiments to the individual with out requiring that you write a lot. Sometimes it's best to be brief.
To create this card, I stuck to geometrical designs for the background. Only, instead of leaving the boxes and circles sharp, I used the Gaussian blur to soften them. I then set the hammock image off center to create visual interest, added the text, and then used a 2-point line to create a thin border in key places.
When it comes to writing letters, you are only limited by your imagination. Even if you don't use any of these sample letters for retirement congratulations, I hope that you are walking away with ideas for your own projects.
References:
Paint.NET https://www.getpaint.net/
Typewriter image courtesy of sxc.hu/gallery/hisks.
Hammock image courtesy of sxc.hu/gallery/betacam