Like Business Cards With Geometric Logos? Check Out These Free Templates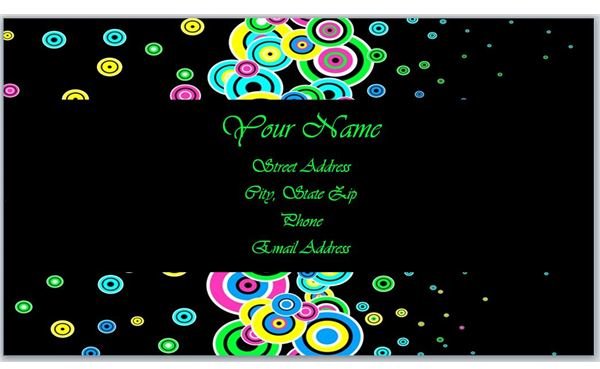 Using These Templates
The following templates were created using Microsoft Publisher 2010, and are compatible with Publisher 2003 or 2007 as well. To preview a template, click on the corresponding image to enlarge it. When you are ready to download the template of your choice, click the link for the download page and then click the Download button in the References and Resources section at the end of the article. Open the file in Publisher and customize it with your personal information. Each template produces 10 identical business cards per page when printed.
Bright Geometric Circles
If you prefer business cards with geometric logos and striking colors, this template might tickle your fancy. It features a black background behind a flurry of neon-colored circles. There is a wide black band across the center of the cards with sample text in vivid green, ready for you to replace with your own details.
Designer Circles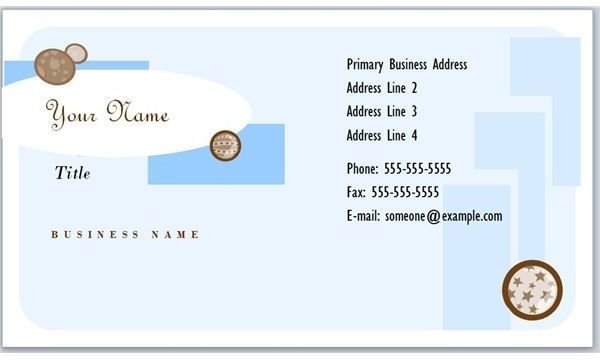 This business card features chocolate brown circles along with geometric logos in pale shades of blue. Each circle is decorated with a different design, such as dots, stripes or stars, adding interest and appeal. Replace the sample text with your name, which is contained in a white oval, and other contact information.
Geometric Diamonds in Circles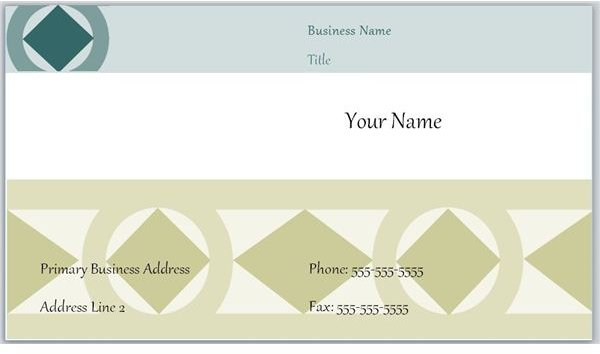 The geometric logos and colors used on this template call to mind a southwestern theme. A sandy tan band runs horizontally across the bottom of the cards and has a repeating design of alternating diamonds and diamonds within circles. A teal bar across the top of the cards features a single circle and diamond combination along with text boxes for your business name and title. Replace the sample text with your own information and print.
Geometric Pipes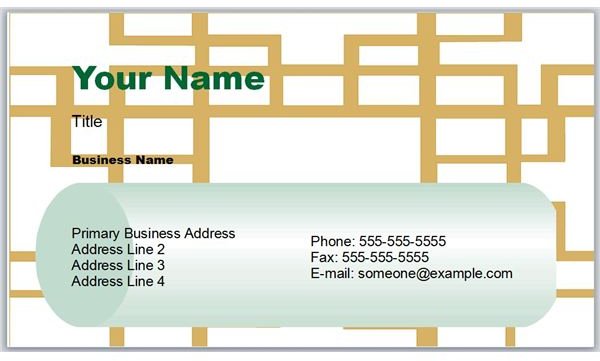 The pattern on this set of business cards resembles water pipes or latticework. Gold bars run vertically and horizontally in the background and an oblong can shape in pale green near the bottom of the card displays your contact information.
Hypotrochoid Designs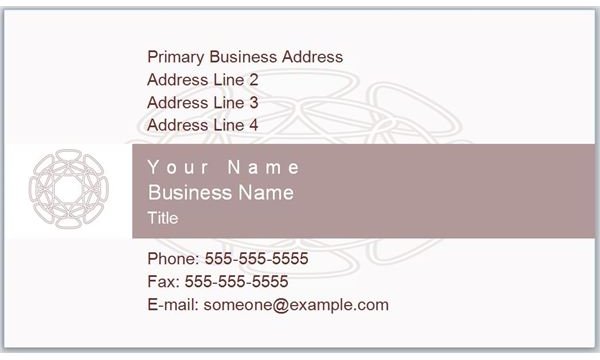 The hypotrochoid designs on this business card template are simply a series of identical ellipses drawn together in a circular shape. These designs embellish this mauve-toned card that features sample text to replace with your name, title and other information.
Business Card With Purple and Green Shapes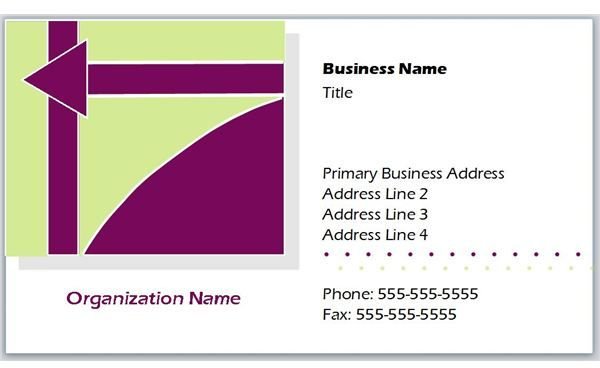 Eye-catching is a fitting term for the brightly colored geometric logos decorating these business cards. Purple and green arrows, rectangles and other shapes stand out against a shadow that lends a 3-D effect. Your business name is in coordinating purple, while the rest of your information is in basic black.
Yellow Rectangles and Monogram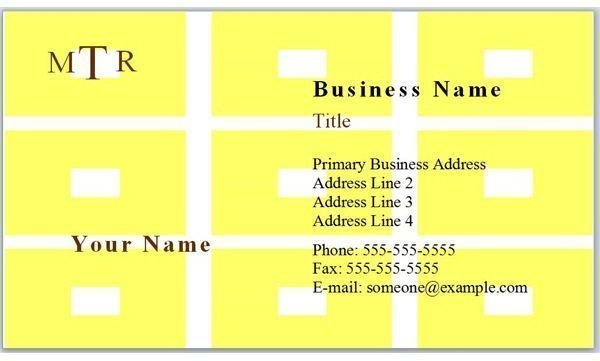 If the bright yellow hue of the repeating geometric logos on this business card is simply too loud for your taste, you can easily change the color scheme and apply a more subdued shade. The template also features a monogram that you can customize; each letter is in a separate text box, so you will need to change them one at a time.
Business Card With Retro Shapes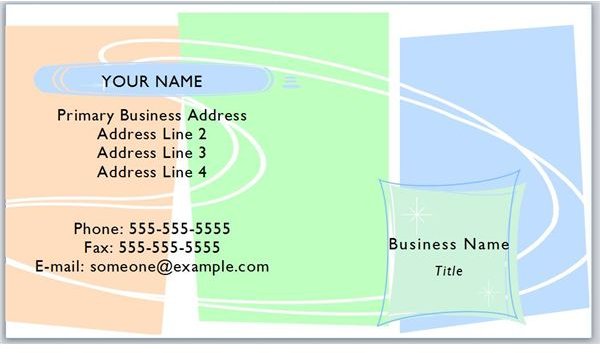 The geometric logos on this card template have a decidedly retro-inspired flavor. Pale blue, green and peach-colored shapes adorned with starbursts and swirls display your contact information with personality.
Slanted-Look Business Card Template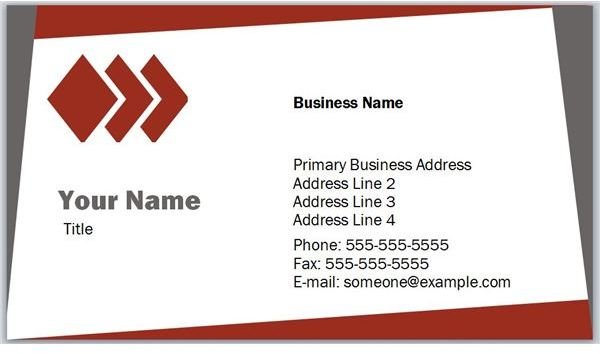 Triangles in brick red and dark gray border the edges of this business card, providing its quirky, slanted appearance. A geometric logo of three corresponding diamonds pull the card together. Replace the sample text with your name, job title and other information.
Business Card With Starburst and Photo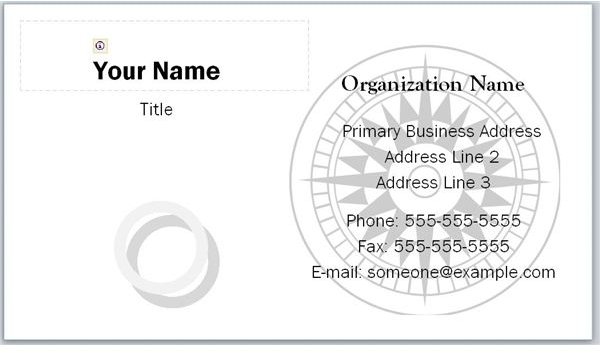 A starburst might not seem like a geometric design, but it is actually a composition of many. This business card features such a design as well as a gray circle photo placeholder. Click on the center of the circle to add your own picture to your business cards.
Choosing a Template
Choose a template that best suits your career and design tastes. Add customizations and change colors, if you like, to create a business card that is as unique as you are.
References and Resources
Download templates from this guide at these links:
Screenshots provided by the writer.
Microsoft Publisher Official Site: https://office.microsoft.com/en-us/publisher/