Learn Why Post-Retirement Business Cards Are Necessary: Download Free Templates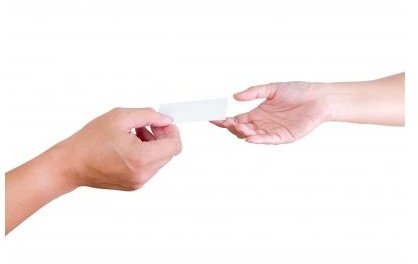 Uses for a Contact Card Once You Are Retired
Although you are technically no longer in business, there are many ways that you can use a contact card even after retirement. Perhaps you perform odd jobs on the side and want to have information at the ready to provide to a potential new "customer." Maybe you are active in a hobby, club or other organization and would like a simple way to share contact information with others who share your interests. You might even want to use them when you travel and meet new acquaintances or simply want something to drop into fishbowls at restaurants who draw business cards to give away free meals.
No matter whether you want to use a business card for one or all of these purposes or you have your own intentions in mind, you do not have to spend a lot of money ordering custom cards. In fact, you can make custom, unique business cards yourself quite inexpensively.
What to Include on Business Cards
You can include as much or as little information on your card as you wish. You can simply state your name and email address with a photograph or clipart image, or list contact info in great detail, including your spouse's name, summer and winter mailing addresses, home and cell phone numbers or email and web addresses. Although you can include all of these specifics, make sure your cards are legible and easy to read. For instance, you can print on both the front and back of them.
You can have fun with your cards and make them personal, as well. Insert an image that relates to your hobby, past career, pets or family. Type in humorous tag lines or a favorite quote. Incorporate text and images that speak of your personality. While you should print standard size business cards, you can use colorful text and images or even print on colored card stock. You can use any font or color you choose, but it is wise to print out a sample and make sure your choices are easy to read before you print a big batch and start handing them out to folks.
If you are simply not sure where to begin, following are three free business card templates that you can use in Microsoft Publisher. You can simply change the sample text to your own and print away or use them as a starting point to design a truly custom contact card.
On the following page, you can preview the available templates. Click on any image to open an enlarged view of the template, and click on the Download link in the References and Resources section at the end of this article to obtain the template that you want to use.
Continue to the next page to view and download business cards.
Free Templates You Can Download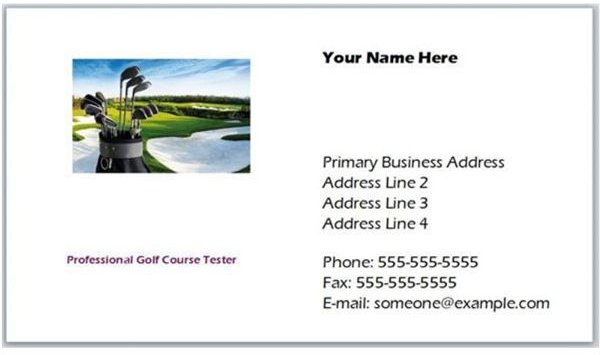 If you have a version of MS Publisher from 2003 to 2010, you can download any or all of these templates at no charge. Each template prints 10 standard business cards per page. When you make changes to the one card that displays in your Publisher window, all of the cards are modified automatically.
The first set of cards has a golf motif. In the upper left corner is a graphic of a golf bag with a course behind it. Beneath the image is a text box with the words, "Professional Golf Course Tester" in purple. You can change or remove this text if you choose. The right side of the card contains text boxes with sample text that you can replace with your own information. Download the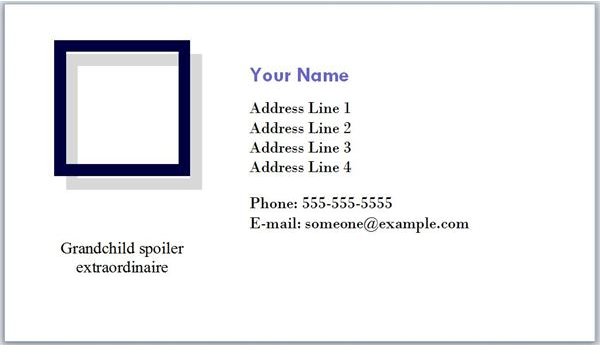 The next page of business cards is ideal for a doting grandma or grandpa. There is a blue frame on the left side of the card that you can use to add a personal photo of yourself or your grandkids to your cards. To do so, simply click on the center of the frame, which contains a picture placeholder. This opens the Insert Picture dialog box. All you have to do is go to the picture on your computer that you want to add and click Insert.
Below the picture is a text box with the tag line "Grandchild spoiler extraordinaire." On the right side of the card there are text boxes for your name, address and other information. Of course, you can add more info or delete some of these text boxes, if you choose.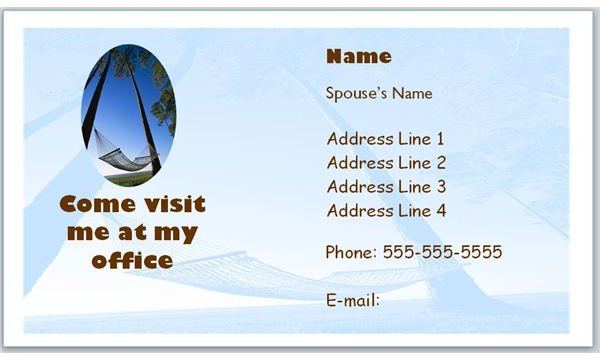 The third and final offering has an eye-catching design. The entire background of each card features a faded scene of a hammock between two trees washed over in a light blue tone. An oval-shaped version of the same scene in full color is in the upper left side of the card. Beneath the image is a text box with the words, "Come visit me at my office!" The right features text boxes for information such as your name and your spouse's name, email address and more.
No matter which template you choose or whether you decide to make a business card from scratch, show off your creativity and let your personality shine. Then you will be sure to want to use them.
References and Resources
Business Card Downloads
Download the Golf Course Tester Retiree Business Card Template
Download the Grandchild Spoiler Business Card
Download the Hammock Design Business Card
Images
Man Giving Card To A Woman: freedigitalphotos.net/tungphoto
Screenshots provided by the writer
Sources
Microsoft Publisher: https://office.microsoft.com/en-us/publisher/