Wow Your Guests: Unique Wedding Place Card Ideas to Make Even a Princess Bride Envious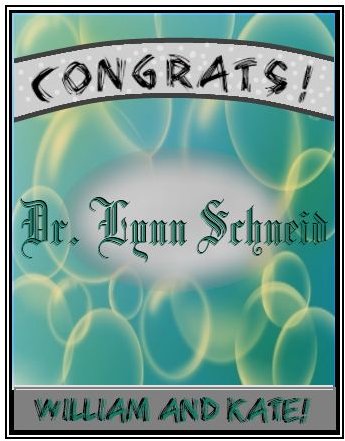 Why Look Into Something Unique?
Some people look for ways to add to the theme of their wedding through every detail, including place cards. Other individuals want to spice up an otherwise traditional wedding with the details. Whatever your outlook, it's your special day, and there's as many different ways to commemorate that as your imagination can come up with. However, sometimes imagination falters, and coming up with ideas for your wedding stagnate—especially if you've been planning the wedding for a while.
Rather than panic, it's important to retain a calm demeanor. There are lots of cool things you can do when it comes to place cards—and some of these ideas can also serve as take-home favors for your guests (think wine bottle labels, coasters, custom candy boxes). The important thing when it comes to deciding what you want to use in your wedding is to remember you can do anything. It's your day.
The template files for the images you see in this article can be found at the end of the article on the second page. Feel free to download and modify these images for your personal use.
Wine Labels as Place Cards
One do-it-yourself wedding trend involves creating custom wine labels. When creating your own wine labels, you can be as formal or as informal as you would like. There are two methods for going about doing this. You can either create wine labels with the names of the bride and groom on them, and then hand-write the names of each guest on the wine label, or when you create the wine label place cards, you can have the guest names printed as well.
When creating wine label cards, you can make ones that are fairly plain, yet elegant, or you can create labels that match the rest of your wedding theme. For example, should your theme be "fairy-tale," then you might wish to feature castles or knights and ladies on each label. Should you enjoy the bubbles wine label to the right, you will be able to find it in our media gallery for download. You can find links to remaining templates at the end of this article.
Name Tags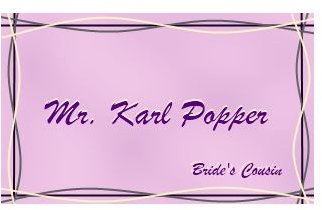 While it may seem like cheesy fodder of a conference, consider using name tags as place cards. Name tags can be created in Photoshop or another desktop publishing program, and not only do they help your guests know where they should sit, but they also help your guests to get to know one another. Let's face it, unless your wedding is small, it is likely that there will be people who are unfamiliar to others. By creating nametags (perhaps with the relationship to the newlywed couple also stated on the tag), you can help facilitate conversation amongst guests.
Coasters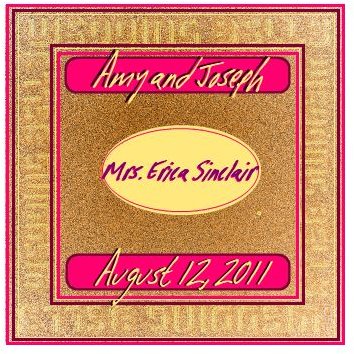 Before you roll your eyes, consider this idea—create a set of four coasters for each guest using your desktop publishing software. There are many ways to go about this, one method involves purchasing white tiles and either felt or cork. You would then cut the felt or cork just a little smaller than the tile and adhere it to the tile's back side.
Then, print your design, and using a decoupage technique, adhere your image to the tile. If you like, you could even create a photo-collage of the couple in your software and then print it out and use it in this way. Make sure you include each guest's name on the coasters, and you have both a place-marker and a lovely gift for each of your wedding guests.
Potted Plants
You can purchase small terra cotta pots for your plants and use acrylic paint to decorate them. Put a little soil or peat moss in each of the pots and plant seeds. You can plant wildflowers, marigolds, violets—any type of seeds that you would like—a few weeks before the wedding. Then, you can use toothpicks and stickers to create labels.
On the front of the label, you can print the name of the person who is to sit in that spot. On the back, you can print information on how to take care of the plant. You may then place the plants with the names on them in the proper places. One note: Make sure that your labels are large enough for your guests to read them.
Please continue reading on the next page for more great ideas for your wedding place cards.
Create Paper Art for the Wine Glasses
Another idea, borrowed from Martha Stewart, involves the use of printing tags in a shape and then clipping that shape just slightly so that it sits upon the wine glass. While Martha uses butterflies, you don't need to. You could print paper hearts, wedding bells, birds or other objects that are small and could be cut out onto card stock.
You can be as elaborate or simple as you would like when creating these. Martha keeps it simple, but imagine if you printed different bird species from clipart, and then printed the individual's name on the tail feather area. It could be fun!
Napkin Rings

While you could use silver napkin rings, or beaded napkin rings (you could even use alphabet beads, if you wanted to create fun and whimsical napkin rings), you can print custom napkin rings using your computer. Imagine how fun it could be to create a funky pattern on your computer, then on a separate type of paper, you could print the name of each guest.
Cut out each napkin ring and then glue the name strip onto the pattern strip. If you really want to get crafty, glue a ribbon around the edges (or use glitter!). When it comes to making name napkin rings, you can still have an elegant appearance to your table setting while ensuring your guests know where they need to sit.
Menu Cards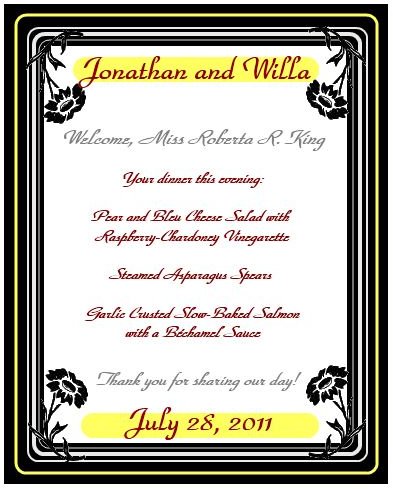 Another unique wedding place card idea involves making your menu card do double duty. You can create a custom menu card for your wedding—and if you have options like chicken or fish, you can note what that person chose on his or her card—and then include the person's name on the card. After your wedding is over, your guests can take the menu card home, should they wish, and include it in their own scrapbook or memory book of your event. You can even use the menu card to welcome the individual and thank him or her for attending your special event!
Custom Favor Boxes
Another great idea for a unique place card replacement is the custom favor box. Many people use favors at their wedding, and a favor box can be a great double-duty item. There are a few ways to go about creating a custom favor box. First, you could create a design and print directly upon the cardstock for the box. Alternatively, you could print labels that you then peel off and use on the box. Make sure to use the names of the bride and groom and the date. You can either customize the label in the desktop publishing program, or you could use calligraphy pens to write the name of each guest on the labels.
The Seating Map
Another alternative to the traditional place card is the seating map. At the entrance of the reception hall, you can have a custom-printed seating map where guests can look to see their assigned places. You can make this map as simple or elaborate as you would like. It should be noted, however, that the seating map may be ignored and people may sit where they would like, without regard to their assigned seats. It can work, however, if you appoint the guest book attendant to also be the person who helps people find their assigned seating.
Naturally, you could also have your guests sit wherever they want, but it is always a good thing if you could separate people who do not get along with one another!
References:
Martha Stewart Weddings: https://www.marthastewartweddings.com/photogallery/place-seating-card-templates
"Potted Place Card" https://www.marthastewartweddings.com/good-things/potted-place-card
All images courtesy of Ronda Roberts Levine except as otherwise noted; Bubbles background on wine bottle label courtesy of sxc.hu/gallery/avanzero.
You can download the following templates associated with each of our images in the media gallery: