10 Decorative Borders for Documents: Jazz Up Your Documents Easily & For Free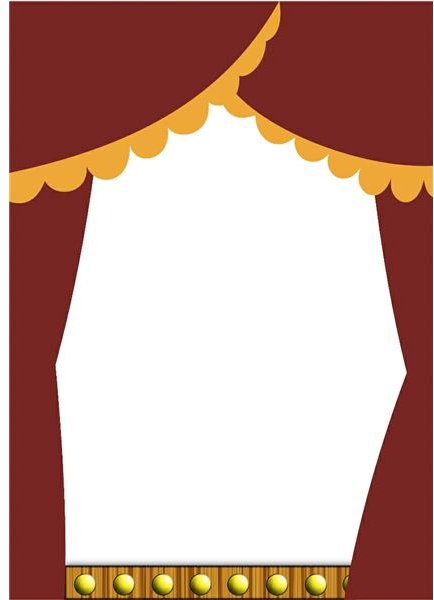 Choose Your Style
To a certain extent, which decorative borders for documents you use will depend on the kind of text we are talking about – reports, presentations, letters and posters all need a different approach. I think we've covered some great options here to suit most styles, and a good few which would be suitable for almost any project you could mention. The all important download links you'll need are included in our references section at the end of the article.
Proud To Announce
Although this is quite a striking and specific image for a document border, there are many uses it could be put to. You could use it in the business arena for making a grand announcement, unveiling a new product line, introducing a new member of staff, or highlighting to your workforce what they should be making their 'center stage' focus. Or you could use it for a more obvious purpose like advertising a play.
The main curtains image was pre-installed in Serif's CraftArtist package, that I sized to the page. I then drew a simple rectangle at the bottom, added a 'wood' materials effect and then drew on some yellow circles. The footlights were brought to life by adding some material depth to make them shine. This section was then 'sent to back' so the curtains flowed over the top.
Country Frame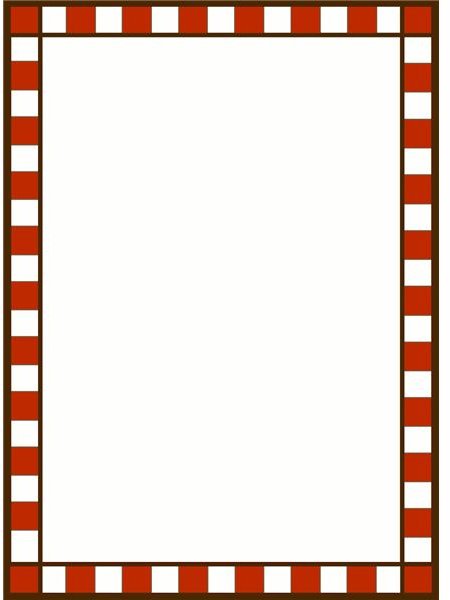 Just about as simplistic as you can get, this country-style border would be at home surrounding almost any document you could mention. Would be equally as striking if you printed it in black & white, giving a somewhat checker-board effect.
Why not add a relevant dingbat image to it, in order to make it more specific to your theme. Our guide on What Is a Dingbat, can help you with this.
Two Sided Daisy Border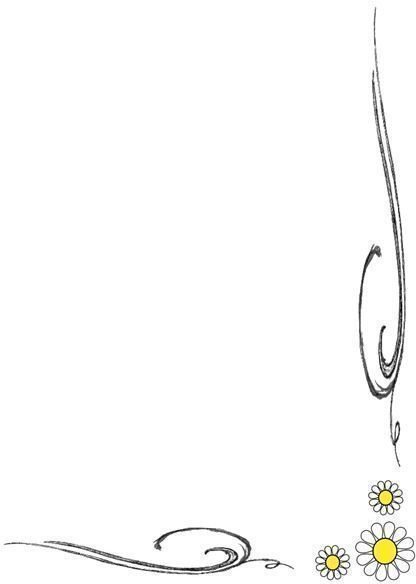 Although daisies are seen as a fun and fresh image, they are also very timeless and can add some subtle detailing and color to the page. This border only takes up two sides of your page adding an unobtrusive frame that also adds visual appeal, and leaves plenty of room for the main purpose of the page – your document.
The daisies in this frame were created easily using the quick drawing tools in CraftArtist – putting together ellipses and then overlaying it with a yellow color filled circle in the centre. The elegant swirls are taken directly from the embellishments in the software package, and stretched to size.
Burning Page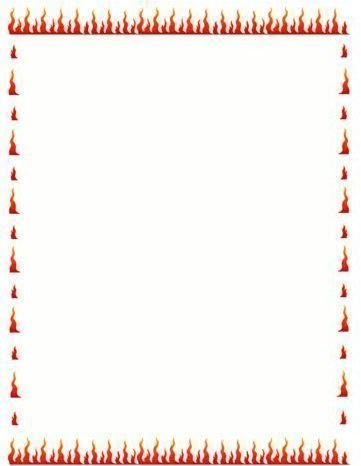 Emphasize a 'hot topic' or 'burning issue' that you want your employees to be advised of with this simple flames border that gets the point across. It is a full border, surrounding all four sides of the page while still leaving plenty of room for that all important text.
Bird Themed Frame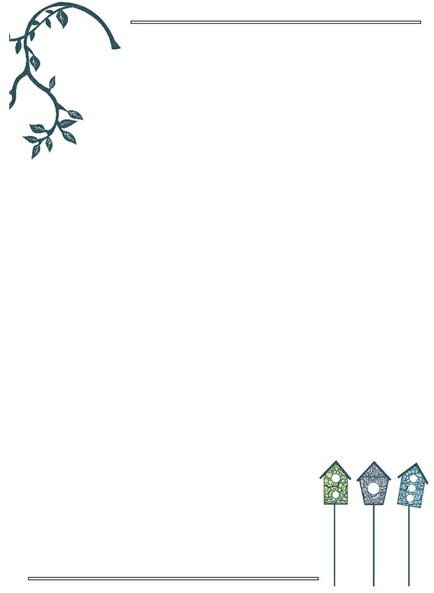 Bird theme decorations are a hot trend at the moment, and this decorative border for your documents stands out from the crowd, without taking anything away from your text. The embellishments in the top left and bottom right were found in the CraftArtist software, and were sized accordingly. To create a neat edge a simple narrow rectangle was drawn at the top and bottom of the page.
A border that frames just the top and bottom of a page is a great way of adding style and finish without it dominating the page. I'd advice clicking on the image for a larger view so you can appreciate the design more fully.
Filigree Square Border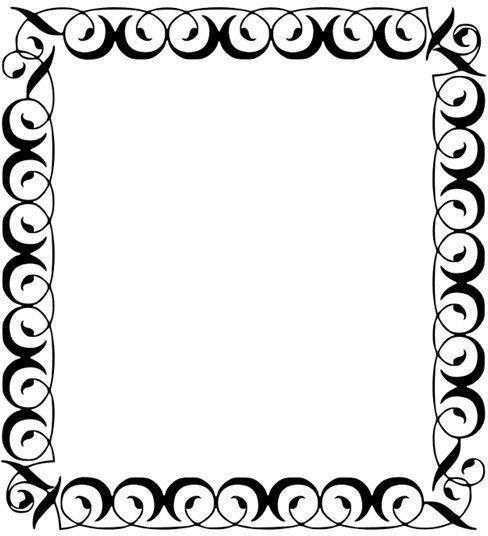 Decorative document borders don't come much more detailed than this ornate filigree design. It is also one of the few free printable frames that comes in a square shape – this is another great way of framing your words, by using an alternative shape to that of the page.
This comes as a PNG file so the quality is exceptional, and what's more it is not only free, you also get it without any watermarks with the company name on it.
Baby Blue Border With Candy Wreath
This is certainly one of the more detailed edgings you will find, but depending on the project could be just right for you. The classic bracket shape frame is given the pastel blue treatment, with some more subtle detailing appearing in the inner frame. To make this frame more unique, a candy wreath was added to the bottom right of the border with a textured white background – this area could be used for a date, a signature, a logo, or even a motto. You might also decide to use it as a certificate border if you wished to.
Swirls & Stars Border for Word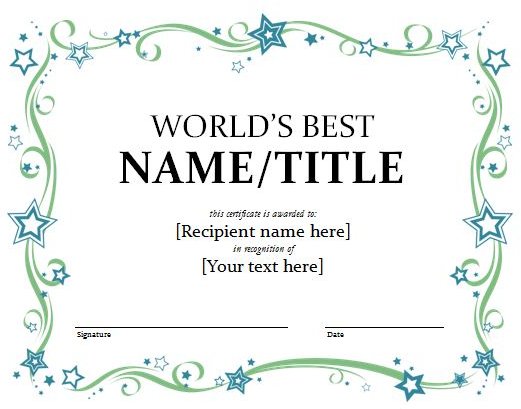 Although all of the decorative document borders you'll find here are easy enough to add into Word and use, it makes sense to source some that were designed specifically for that program.
Microsoft themselves have a great resource for templates, and this is one of the best I've chosen from their borders collection. Although designed for a certificate, the theme is such that the stars and swirls could be put to great use in any type of project. Being in Word, all you need to do is customize the text to your needs, so you aren't stuck with what is shown here.
Decorative Daisy Theme Border
For a border that definitely just acts like a conventional frame, this uncomplicated design with its elegant daisy motif at the bottom, makes this a stand-out choice for most of your needs. The definite edge of the green only serves to highlight your document, and the digitally drawn daisy softens the whole effect.
The frame was created simply, by drawing a large rectangle to surround the page, and altering the line thickness. The daisies were again created using a series of drawn ellipses, overlapping each other randomly with a yellow filled circle in the center. The stalk was a digital embellishment in CraftArtist that I amended to suit the daisy, an oval shape color filled green, creates the balancing leaf.
Harvest Design Border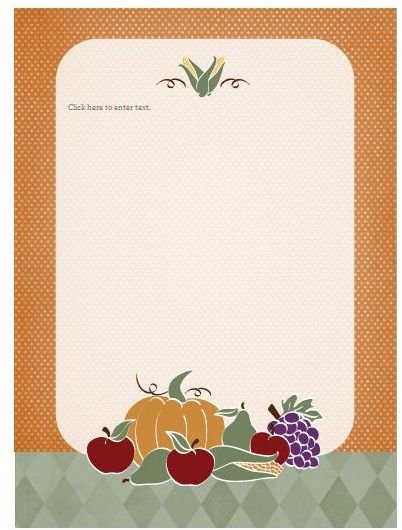 Although this border is called Harvest there are a many great uses you could put this decorative frame to. Of course you could use it to advertise a harvest festival, or harvest-time event, but you could also use it for menus or any document which refers to food. A cookery-themed event, or even a dinner party invitation could make good use of this border.
This is another Word template download, so again just click within the border to substitute your own words for those given.
References
Baby Blue Border with Candy Wreath
Country Frame - PD Clipart
Burning Page - PD Clipart
Filigree Square Frame - PD Clipart
[Swirls & Stars Border for Word](https://office.microsoft.com/en-us/templates/results.aspx?ck=1&qu=borders word&av=all#ai:TC010271010|) - Microsoft Office
[Harvest Design Border](https://office.microsoft.com/en-us/templates/results.aspx?ck=1&qu=borders word&av=all#ai:TC010271010|) - Microsoft Office