Free Templates for Wedding Seating Place Cards in Many Styles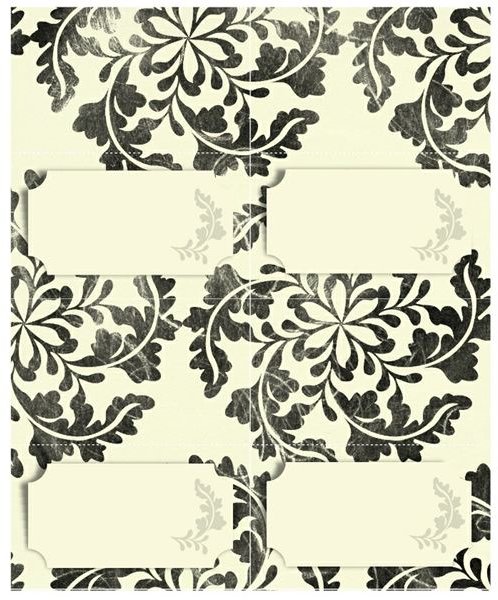 All the designs here have been created using Serif CraftArtist, and indeed there are even some readymade place card templates on this software you can use, that take a lot of the effort out of designing your own, should you wish. There's a link to download a free version of this software in our references section, but do not fear if you just want some templates to print and use right now, because we have those too.
There are five stand out designs for wedding seating place cards that should suit most themes and color schemes, leaving room on each for you to complete the name by hand, or to copy into a program of your choice where you can use a suitable font and complete the names on your computer before printing. The download links can be found at the end of the article.
Black & White Floral
This black and white floral design would be at home at just about any style or themed wedding—and it was the easiest to create too. All I did was start with one of the ready-made place card templates available in Serif CraftArtist and made a few adjustments to suit my tastes. The templates come ready set-up with four to a page, so printing is made even more efficient. Of course the advantage of this black and white design is that it will be more economical to print at home than some of the other designs too.
I ungrouped the plaque section and deleted one of the images, then applied a shadow to the plaque shape, to add a bit of dimension. I then deleted any text so it's pure white space, just waiting to be filled in. You'll find it easier to make adjustments to this design if you download a free version of CraftArtist (see references), but as it's a JPEG file you shouldn't have too many difficulties using it in other programs.
Bird Theme Place Card
Bird themed table decor is a hot trend at the moment, and if you have any kind of nature theme running through your wedding at all, then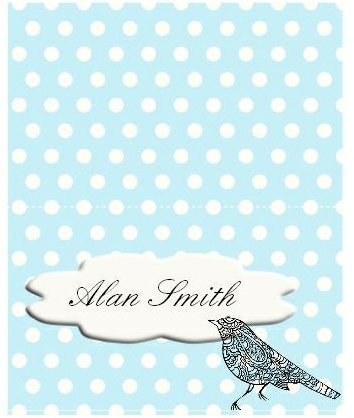 this might just be the perfect place card template for you to use. This wedding place card was again created in CraftArtist and is an easy one to create using the free version of the software as all the embellishments are ready included. A polka dot background was joined by a cloud shape that was drawn using the easy shapes tool. I then added some material depth to make it stand out, and added the bird embellishment to the side.
The image here shows the name field completed using a handwriting font, but the template download will be blank, with four place cards to a page.
Candy Polka Dots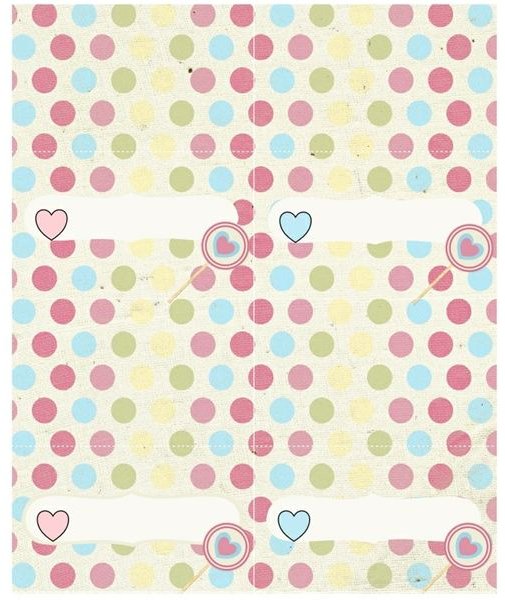 This cutesty candy-colored place card design won't suit every wedding style, but it is versatile according to many wedding color themes. You can either use this JPEG and print out the designs as they are, or import it into a software program (even one like Word would do), to type in the names of your guests using an elegant wedding font - it's neater and way quicker than hand writing all the place cards yourself.
I made a color coded heart for the place cards here, so you can have blue for boys and pink for girls - matching up with your wedding seating plan if you've used this method - but you can just as easily use them for either sex, or even change the color according to what meal the guest is to receive - a green heart for the vegetarian meal, for example.
Modern Red Flowers & Hearts Wedding Place Card
If you want to make a striking impression, especially if the rest of your wedding table decor is minimal and modern, this is a stand out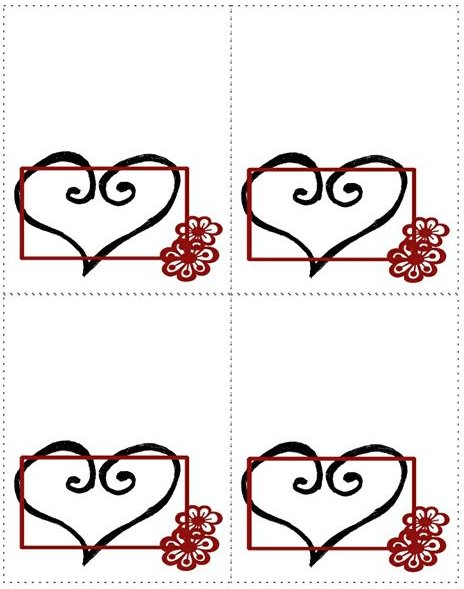 choice for a wedding seating place card.
Like all our other template downloads this one comes with four place cards to a page, and makes an impact without using up too much of your printer ink. The red flower frame in this place card template matches perfectly with the red floral border label in our wedding wine labels article.
Vintage & Fun Daisy Design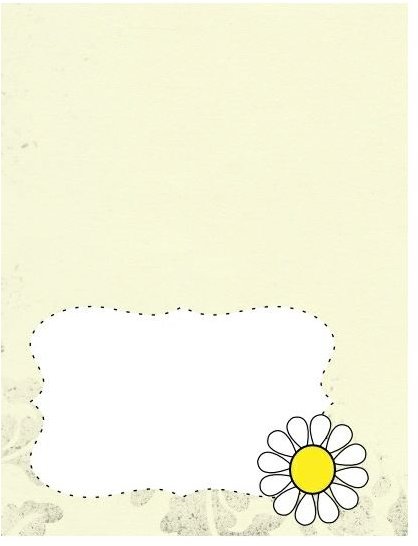 Daisy place cards are incredibly popular as they are easy to coordinate with other elements, are fun and bright, and add a lot of visual appeal all on their own. This daisy place card design has been designed so you create a pretty unique place card each time. I won't say no two are alike, but there are four different options here - all that can be printed on one page.
The vintage flower background gives a feeling of depth without taking over and as it's so different, each of the four wedding place cards will be a little bit different owing to this background. The plaque space left for the name has a dotted border intentionally, to give a kind of "buzzing" feel, that the bees and birds are out to investigate these wonderful daisies too.
The image here shows one place card so you can see the detail, but the download template will feature four place cards to a page.
Download Links to Templates
Black & White Floral Place Card Template
Bird Theme Wedding Place Card Template
Candy Polka Dot Wedding Seating Place Card Template
Black and Red - Hearts and Flowers Wedding Seating Place Card Template
Vintage Floral Background Daisy Place Card Template
References
All images have been designed by the author, and are free to download for personal use only.

All templates were created using Serif CraftArtist. There is a free download of Serif CraftArtist Compact that includes many great features for you to create your own wedding place cards.