Quality Food Drive Flyer Templates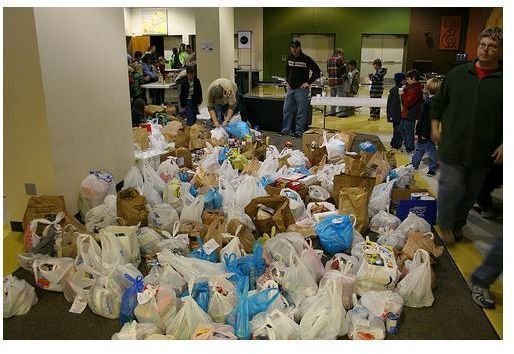 Food Drive Flyers
Food banks have been an incredible community service since the world's first food bank was founded by John van Hengel in 1967. Food banks are mainly used to store canned goods and non-perishable goods such as peanut butter, rice, and grain in case of emergencies and to be distributed to various community service programs such as soup kitchens and less fortunate families if hard times should befall them.
Since food banks are non-profit, they rely on the generosity of the community to continue to replenish their stocks of food should they run low. In order to do this effectively, they will often hold an annual food drive or work with organizations such as Boy Scouts, Girl Scouts, churches, and government organizations to collect donations of food to be stored or distributed through a community food bank.
Food drives are incredibly important service and it comes as no surprise that getting the word out that donations are needed is key. Many groups look to fliers which can be handed out and posted in public areas in order to spread the word on how people can volunteer or donate to the cause. Food driver flyer templates will no doubt help make an incredible task that much more manageable by giving a solid foundation for you and your fellow volunteers to get started with your project.
Color Code and Template Information
Each template includes all the essentials which are color coded for your convenience. The following explains each color in-depth.
(Note: In the included template pack the lines are on a separate layer which can be hidden or removed.)
Red: The red outlined area is where the title of your food drive will be placed, alongside any official logos. You could place the title over a banner or graphic of some kind if you so choose to add a bit of flair.
Blue: The blue area is where you would include the credits for the main body of people behind the food drive. This can be local government, youth groups, community service groups, etc. This section is optional if the title of your food drive includes the organization.
Purple: The purple box surrounds the important information you need. What all the food drive is asking for, where donations can be dropped off, and when donations will be collected. This is essential information you cannot leave out, but it can be moved around the food drive flyer template.
Yellow: Yellow is more of an optional biography for your food drive which can be cut down to make room for images if need be. This section gives some idea about the different goals and events that are a result of your food drive.
Black: It's always a good idea to include some additional contact information where volunteers and participants can reach your organization and get more information than what is provided on your flyer.
Orange: Orange boxes indicate open space where images and graphics would be best suited for your flyer. They can be exchanged for additional text or left blank at your discretion.
White: White boxes are where any miscellaneous information can be places such as sponsor logos, statistics, coupons, etc. that don't have to be on a flyer, but can help fill any empty space you might have.
Annual Food Drive Flyer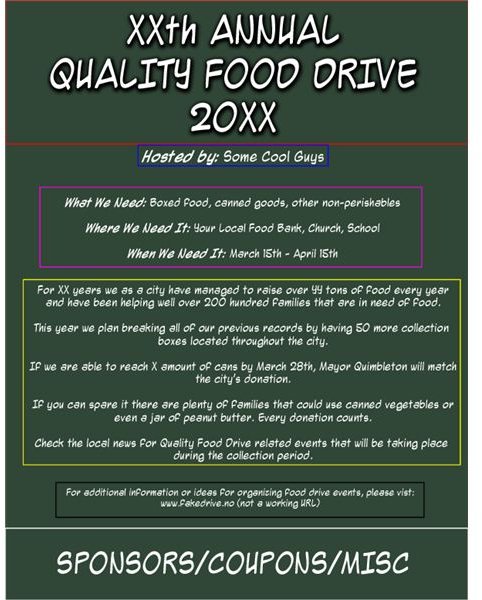 The first food drive flyer template I crafted was one that is sort of middle-ground for urgency and formality. This template is a great starter for food drives that have already been established as a yearly event and something that the whole community unifies on.
As you can see this template is very biography helping because it helps drive the cause and get people to attempt to best last year's results and was designed to include fun stuff like events and coupons. These elements can be reduced some in favor of graphics and logos.
If you'd like some fonts for your flyers, check out this article that will give you some tips for choosing the right fonts for flyers.
Urgent Food Drive Flyter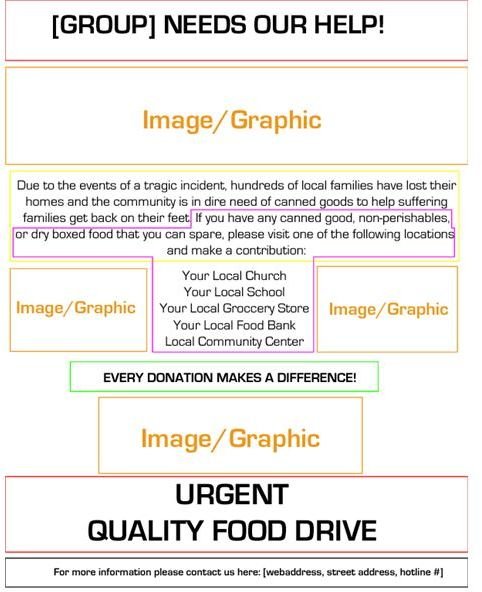 This template was developed with immediate action is required in mind. As you can see, it's very urgent by utilizing big, bold, powerful text to attract the attention of potential readers. It's quick and plain because it's a serious situation that needs to be addressed as quickly and cheaply as possible to get the notice out as quickly as possible.
The design is turned upside down because the title of the food drive is less important than the sense of urgency that needs to be created for a situation like this. It needs to grip people and get them to realize that helping with what's happening is a lot more important than who's organizing the help.
Graphic Heavy Food Drive Flyer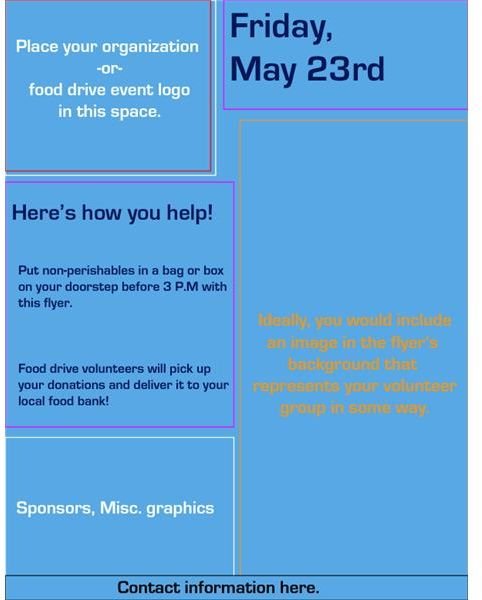 This food driver flyer template is incredibly simple because it is meant for more one-off food drive events such as leaving your cans out for pick-up or a day event dedicated to food donations. It is incredibly graphic dependent as you can probably see and will require you to give your organization's name in a logo design.
Otherwise, this template contains all the required elements such as the what, where, and when that is necessary. And the ability to further customize the flyer with more space for images.
Looking for more great templates? Free Flyer Templates should help you get started!
Credits
All images are used for promotional and educational purposes only and are listed in the order they appear.
Pack 53 Food Drive! by Jinx!
Annual, Urgent, and Graphic Dependent Food Drive Templates were created by Michael Guerrero.
The set of templates can be downloaded here.
Each file is .psd format, sized to standard U.S. Letter Paper (8.5in x 11in), and all layers are separate for easy editing and line removal.
Sources: History of food banks was researched at the follow websites:
Washington Post.com: John van Hengel Dies at 83; Founded First Food Bank in 1967
Independent study of various Food Drive fliers that were available on Flickr helped me in making the templates.