10 Top Business Card Designs & How You Can Achieve Them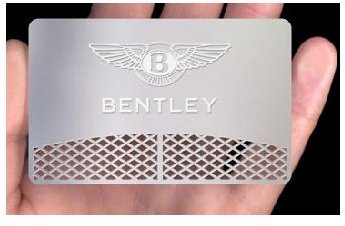 Little Card, Big Business
The best business card designs should stand out from the crowd, reflect you as a person, and reflect your profession. Make sure the pertinent information is included, but make use of white space too, so that the effect isn't crowded.
Colors for business cards can be as bright and patterned as you wish—we are no longer restricted to just black print on a white card. Black as a background for business cards is becoming very popular as they stand out so much more, as are different shaped business cards. Try something just a step off the conventional by choosing a square, or skinny card shape.
There are so many more options around now as regards materials you can print on too, transparent plastic ones and metal business cards have even started to appear (see pic, left). Why not make your design more unique by punching or die cutting a small shape out of the business card? You could make this a simple geometric shape, or one relevant to your trade; a house for a realtor, or a comb for a hairdresser for example.
Many of the following designs of business cards can be downloaded as templates for free and then adapted to your needs to make a business card with no fuss. Other designs have just been chosen to show you what can be achieved, although anyone with a DTP package should be able to achieve a similar design fairly easily. See the references section at the end of the article for the links you'll need to get started.
Plaid Business Card Design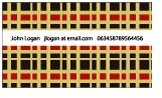 Business cards can tend to look similar to each other, so finding a unique business card design can be a hard task. This simplistic but striking looking plaid design is sure to stand out from the crowd. The only downside of this design is if you have a logo that you want to include, as this would then have to be printed on the reverse side of the card. The use of a small white strip against the plaid pattern would stand out from the usual plain and white designs though.
Color Bubbles
This color bubbles and circles design is in fresh colors, but not so bright that it would detract from the pertinent information. It comes in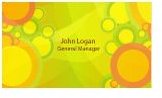 Adobe Illustrator format, so you can easily change the location of the text, however the central location does make you the star of the show, which is kind of the point. There is also an opportunity to incorporate a logo into one of the corners without detracting from the overall design. A top business card design for printing onto coffee mugs.
Tea for Two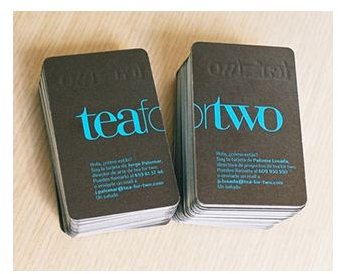 This business card design makes full use of the reverse of the business card as well as the front, which is a good policy to adopt. This business card has been designed as one and then split in two, which is a simple enough process to achieve yourself on any DTP package. You then print one half of the design on one side of the card, and the second half of the design on the reverse. This makes your business card stand out from the crowd as well as offering more information.
Flowers & Swirls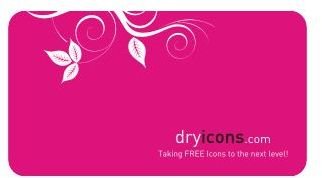 The business card design you choose should obviously be a reflection of both you and your profession, so this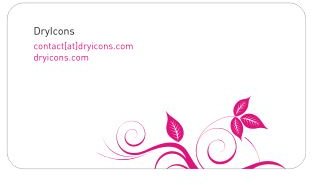 design won't be everybody. The very feminine feel to these designs would be perfect however for hairdressers, florists, and anything connected to the wedding industry. The use of white space and the simple graphic adds visual impact without taking anything away from the details on the card.
Zazzle Skinny Business Cards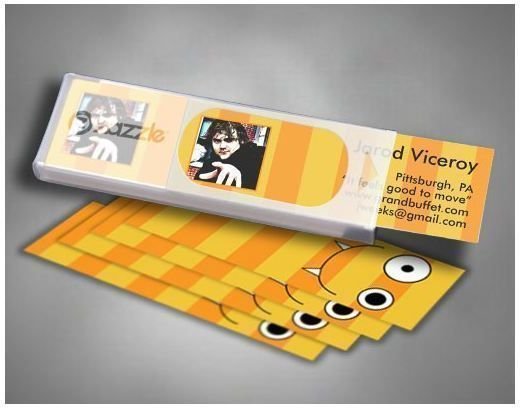 It's the unusual skinny business card shape that will get the recipient's attention first, but a striking striped design as well as a cute reverse design will also help this card stand out. Another benefit of the skinny design is that they are just begging to be used as a bookmark, so you and your product will always be on the mind of whoever is lucky enough to receive it, as well as possible exposure to others who see it, which can't be said of the usual business cards. You can use the easy templates and step by step program on the Zazzle website to achieve these skinny business card designs.
Detroit Opera House by Hundredeyes
This is one of those designs for business cards that proves they don't have to be small and rectangular, but that square designs look effective too—especially when printed at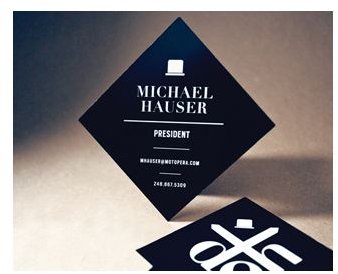 an angle. Printing at an angle is more effective on a square design because of the regular proportions, but is easy enough to achieve on a rectangular business card with a small amount of text, to make sure you stand out from the crowd—tilting the text box is an easy enough operation in most desktop publishing programs.
The obvious downside to this is that the card won't fit in normal sized card holders or wallets, but it is a way of making sure the recipient keeps good hold of it.
Stripes & Polka Dots
This collection of great business card designs is very versatile. Allowing you to choose the more subdued design with a border along the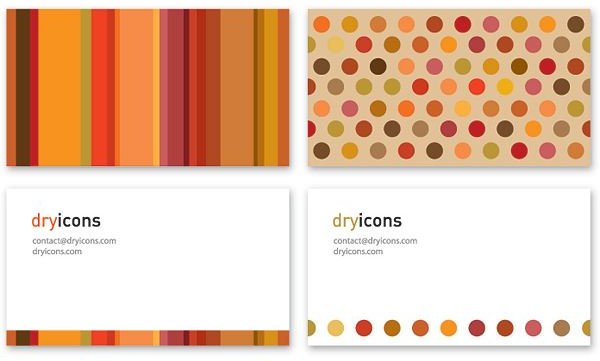 bottom, or to use the pattern for the whole card. You could then incorporate a white strip across the card to include your details. Choose whichever design suits your profession best. The full on pattern would be ideal for a textile designer for example, whereas the other option could be used for pretty much any profession, due to its classic design. You could also use the patterned template as the reverse of your business card.
Swirl Background
Finding top designs for business cards that could be used for any profession is a difficult task, without the card appearing dull. However, this swirl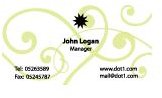 design adds visual interest and depth, while still very much remaining in the background, to allow the details to shine through. Space is left at the top of the card for a logo (where the star icon is on this example), and all the other details you could wish to have on a business card have their ready made place, making designing your own business card a breeze. Definitely one of the few cool business card designs to be found.
Trend Portrait Design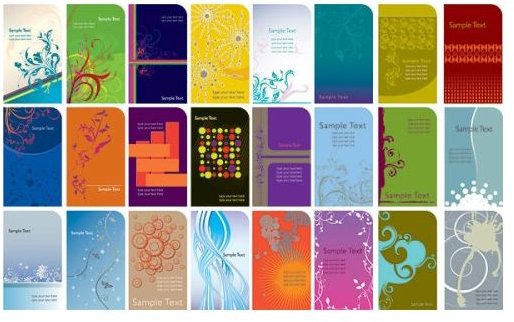 Another useful way of making your business card look unique, is to print it as a portrait image. These great designs all utilize this concept to full effect, as well as including some striking backgrounds. These won't be for everyone, but they have a fun approach suitable for many professions where it's important to be different and stand out. You can download the file with all these designs to have a play around in EPS format, which is supported by most DTP packages.
Black Minimalist Design
This minimalist design takes many of the latest concepts in designing a business card we've looked at above, and incorporates them into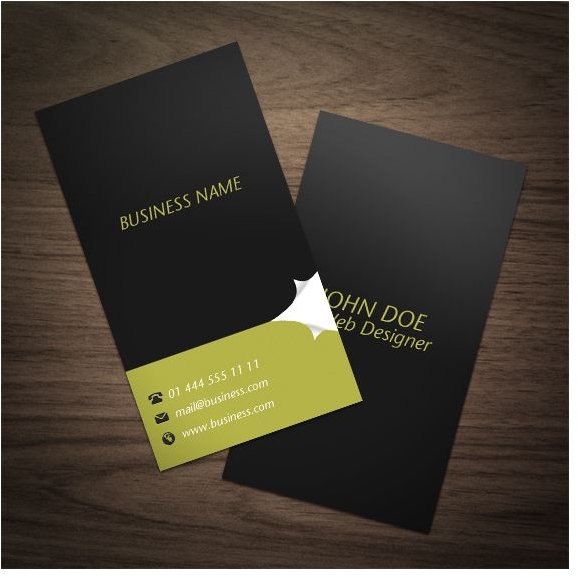 one of the top designs for business cards you'll find. The look is minimal but striking, and has all the pertinent information. It utilizes the trend of a black background but makes it slightly different with a gold band around the bottom. The use of a portrait mode of printing also makes it stand out. This design is available as a free business card template, where you can change certain aspects to suit you.
References
Image Credit: Metal business card by Plasma Design

Plaid Design - Vector Portal, http://www.vectorportal.com/subcategory/180/ifile/7858/BUSINESS-CARD-TEMPLATE-4.eps/detailtest.asp

Color Bubbles - Vector Portal, http://www.vectorportal.com/subcategory/180/ifile/7497/BUSINESS-CARD-TEMPLATE.ai/detailtest.asp

Flowers & Swirls - Dry Icons, http://dryicons.com/free-graphics/preview/dryicons-business-card-template/

Tea for Two - Creattica, http://creattica.com/business-cards/tea-for-two-business-cards/55011

Skinny Business card - Zazzle, http://www.zazzle.co.uk/custom/profilecards

Detroit Opera House by Hundredeyes - Creattica, http://creattica.com/business-cards/detroit-opera-house/55139

Stripes and Polka Dots - Dry Icons, http://dryicons.com/free-graphics/preview/business-cards-3/

Swirl Background - Vector Portal, http://www.vectorportal.com/subcategory/180/ifile/7820/BUSINESS-CARD-TEMPLATE.ai/detailtest.asp

Trend Portrait Design - Vectorilla, http://www.vectorilla.com/2009/12/trend-card-template-vector-graphics/

Black Minimalist Design - Page Curl Business Cards, http://elemis.iki-bir.com/02/03/page-curl-business-card/