Free Sample Car Wash Flyer Templates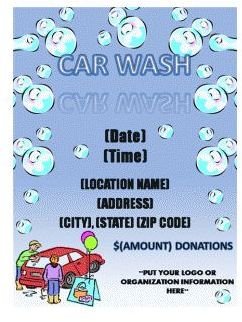 Get the Word Out
One cost-efficient and effective way to advertise a small business is through the creation and distribution of flyers. Whether you have just set up your car wash business in the neighborhood, or you have already been running this business for a while now and would like to market it more, it is still best to use flyers as one method of your promotion. Of course you do not have to stick to just this one method of marketing your small business; you can use several in order to get the word out about your car wash service.
There are many sample car wash flyer templates that you can find on the Internet. However, you have to keep in mind the following things first when deciding on the appearance and text of your flyer:
Make the most important text big and readable from afar. This should include the name and location of your car wash business, as well as slogans such as "Guaranteed Clean and Polished Like a Brand-New Car" and promotional come-ons like "Free Umbrella for Every Car Wash!"
Use graphics or pictures representative of your car wash business. For instance, you can use the picture of a shiny, new car or a car wash attendant happily cleaning a car. Add a simple border if you wish, for a more appealing design.
Avoid putting too much design that can be distractive, such as lots of swirls and lines. Also limit the graphics/pictures to one or two only.
Do not include too much text as well. It might be confusing and would make the flyer less attractive, since most people do not have much time to spare for reading these ads.
Place a contact person and a contact number at the bottom so as to invite inquiries.
Car Wash with Bubbles Flyer Template
Adding bubbles all around your flyer is one way to make it more attractive and at the same time give a hint of the service provided. Just make sure it does not clash with the text. This template has nice and pleasing colors too. You can edit it with the use of MS Publisher.
Image Credit: https://www.flyertemplates.org/car-wash-flyer.html
Fund-Raising Flyer Template
If you are h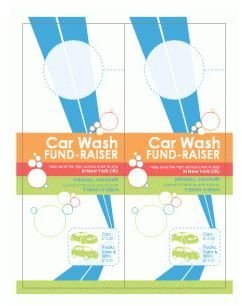 aving a car wash as a fund-raising activity, you can make use of this template. It is very easy to edit because it was only created in MS Word. Since it is in vertical form, taking up just one half of a regular bond paper size, then you can save more paper and ink.
Image Credit: https://www.freeflyertemplates.org/car-wash-flyer-template.html
The Best Car Wash Flyer Template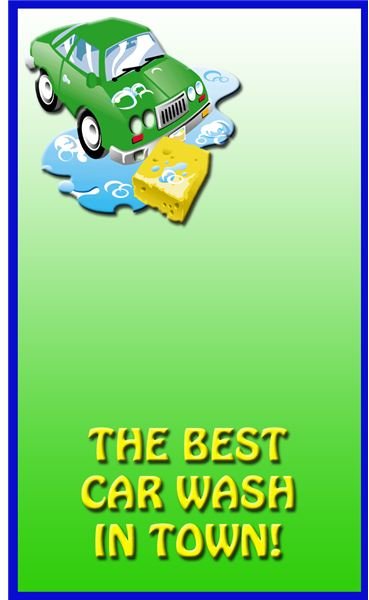 A simple design such as this template can also be more effective because of the greater attention placed on the text. The middle part is left blank for you to put additional information, such as the location and contact details. You may also want to include the basic services provided, and the prices too if you wish. If you have a promo, you can choose to write about it in the middle part of this flyer template. Use Adobe Photoshop, MS Publisher, or MS PowerPoint to adjust the flyer to your needs.
Free Download: Best Car Wash in Town Flyer
Image Credit: Author's own
Brand New Car Flyer Template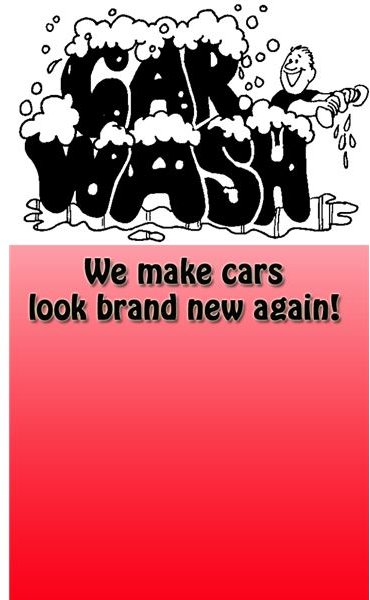 Sample car wash flyer templates need not be too extravagant in design to catch the attention of potential customers. Just like the previous one, this template looks interesting already even if the appearance is simple. Just place the additional text at the bottom half part to get your message across. What are the most important things that you would like people to know about your business? How can you best attract them to come and avail of your services? This template can also be edited with Adobe Photoshop, MS Publisher, and MS PowerPoint.
Free Download: Foamy Car Wash Flyer Template
Image Credit: Author's own
Love Your Car Flyer Template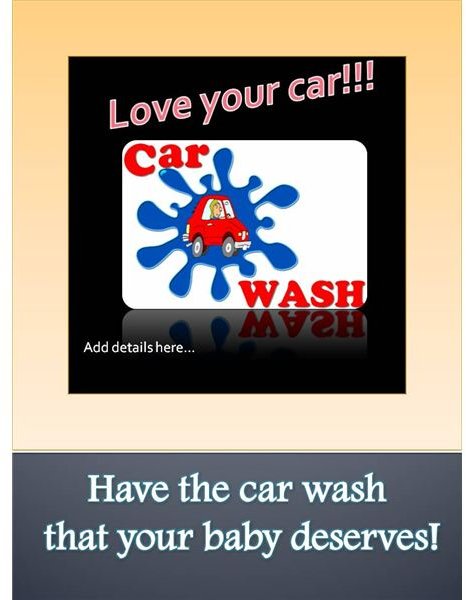 The message that this flyer template shouts out is very appealing, as it calls for car owners to show their love for their "babies". An owner who sees this flyer will be encouraged to indeed give his car the car wash it deserves. You can add other details below the picture, by editing this template in MS PowerPoint. You can also adjust the look by changing the size of the border and picture, and editing the size, font, and style of the text.
Free Download: Love Your Car - Car Wash Flyer
Image Credit: Author's own
References
https://www.flyertemplates.org/car-wash-flyer.html
https://www.freeflyertemplates.org/car-wash-flyer-template.html
https://images.brighthub.com/media/1AA2DB_carwash1.jpg
https://images.brighthub.com/media/086376_untitled-1-copy.jpg
https://images.brighthub.com/media/CC9D96_carwash.ppt