5 Free Easter Dingbats: Great Images to Use for Scrapbooks, Flyers & More!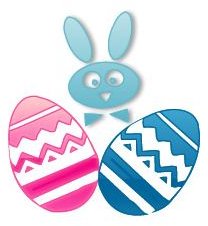 Easter Dingbats
With Easter quickly approaching, now is a wonderful time to start finding the graphics, backgrounds, and other things you need to create your Easter DTP projects. This guide will show you five free Easter dingbats you can use to create some of your Easter graphics.
These dingbats will work great for anything like scrapbooking embellishments, greeting card graphics, invitation graphics, and more. To change the look of these dingbats, you will need to load them in a graphics editor program or Microsoft Word. You can then apply effects to the dingbats to create your embellishments. The graphics to the left were opened in Fireworks and created by applying effects.
To download the dingbats in this list, please see the links in the resource section at the end of this page.
Easter Art Dingbats

This set of images is called Easter Art dingbats. This cute set includes bunnies, eggs, Easter baskets, and baby chicks. You can open these dingbats in the DTP program you use and decorate it with effects and styles to create nice Easter graphics. You can then use those graphics for greeting cards, invitations, scrapbook pages, and more.
Eastertide Dingbats

This next set of dingbats is known as the Eastertide dingbats. If you are looking for religious Easter dingbats, this would be a great set for you. In this set, you will find crosses, religious Easter eggs, dingbats of Jesus, and a lot more.
These dingbats would work great for church bulletins, church Easter play invitations, scrapbook pages, and greeting cards. You could open these dingbats in programs like Fireworks, Photoshop, Illustrator, and Word to turn them into graphics. If you are using them for church bulletins, you can simply enlarge them and change the color of them to create that perfect Easter graphic.
Destiny's Easter Dingbats

The next set of dingbats also has some religious images. Some of these dingbats include crosses, Bibles and flowers, butterflies and eggs, and floral dingbats. These dingbats will probably work best with scrapbook pages as embellishments, but you could try them on other projects if you would like. Sometimes it helps to try things to see if they will fit or not.
Easter Art

This next collection is a cute little set of dingbats. In this set, you will find chicks coming out of eggs, Easter baskets with eggs, Easter eggs by themselves, and Easter bunnies. These dingbats would make adorable scrapbook embellishments for Easter scrapbook pages. You could add bevels, styles, drop shadows, and other effects to these dingbats to create the perfect embellishments for a scrapbook page. Sometimes the dingbats look fine by just resizing them and changing the color.
WM Easter Dingbats

This last set of dingbats are absolutely adorable. Some of the dingbats include bunnies, Easter eggs, Easter hats, baby chicks, and flowers. This set of dingbats would make great greeting card graphics and party invitations. They would work really well if your child wanted to create Easter cards for his or her classmates.
Resources
1. Urban Fonts, Easter Art Dingbats, https://www.urbanfonts.com/dingbats/Easter_art.htm#
2. Font Space, Eastertide, https://www.fontspace.com/dani-foster-herring/eastertide
3. Dingbat Depot, Destinys Easter, https://www.dingbatdepot.com/details/DestinysEaster
4. Font Space, Easter Art, https://www.fontspace.com/gemfonts/easter-art
5. Ace Free Fonts, WM Easter, https://www.acefreefonts.com/font-16790-WM_Easter_1.html
All images are the property of their respective designers.