Five Easter Backgrounds for Greeting Cards, Flyers & Other Desktop Publishing Projects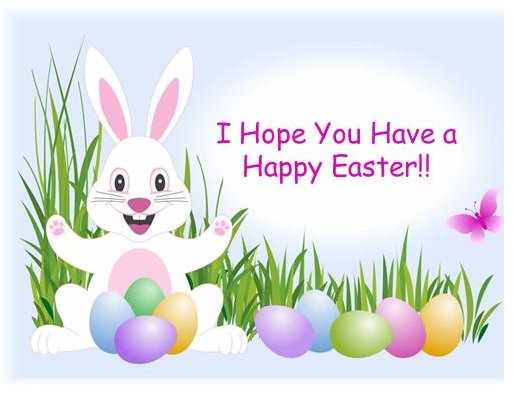 If you are the type of person who likes to create your own greeting cards for the holidays, take a look at these Easter backgrounds. I have selected 5 neat backgrounds that you can use to create your own Easter greeting cards. These greeting cards normally work best when sending them through email. Some of the backgrounds do not look as great when you print them, unless you are printing them on photo paper.
The backgrounds in this guide are all free to download and use. I have taken one of the backgrounds from below and turned it into a greeting card just to give you an idea of what you can do with them. You can take a look at my greeting card by clicking the image to the left.
Note: To download the backgrounds in this guide, use the links found in the Resources section at the end of this guide.
Clipart Background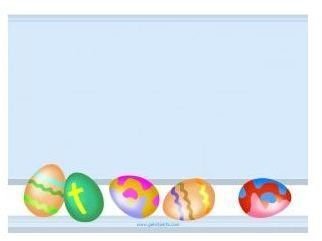 The first background in this list would go great with a religious style greeting card because of the egg with the cross on it. So, if you are looking more for a religious type background, you may want to use this. The Easter Clipart image has plenty of space for you to type your message. With all the design components located at the bottom of the background, you could easily add your greeting at the top of the card.
Easter Bunny and Easter Eggs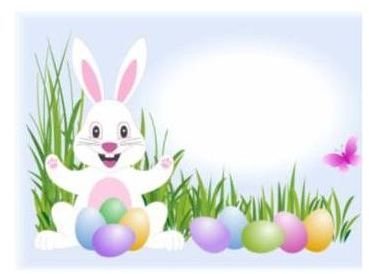 The next background is called Easter Bunny and Easter Eggs. This background is so cute and fun. It is perfect for a greeting card because with all of the graphics, there is a white feathered spot where you can type your message, perhaps even using an Easter font.
This is a cute little card with a bunny surrounded with Easter eggs. It appears the bunny is sitting in grass. All you need to do is open the background in a DTP program, resize it to the size you want, and add your text. You will then have a beautiful Easter card you can send to friends and family. This is the background I used for my example to show you how easily you can turn this background into a card.
Cross Background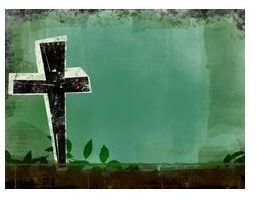 The next item on this list is the Cross Background. It is a simple background with a simple name. However, the image is very beautiful with that vintage look applied to it. This background would make a nice looking religious Easter card. You could use a brown, black, or dark green color for your text and it will really make this card pop.
Easter Eggs and Flowers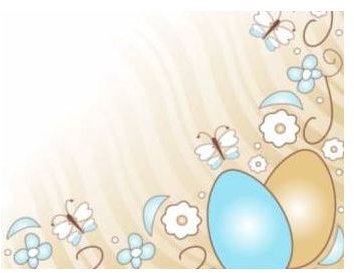 This is a beautiful background and is very calming to the eye. This background would work great with any type of Easter card you wanted to create. It would work with a religious card, a funny card, cards to different family members, and cards to children. What would make it even more beautiful is creating the text with a soft, curl font, and using the color blue that is in the egg for the text. That would go together nicely. Here are some lovely fonts that would work well with this card.
Piglet & Eeyore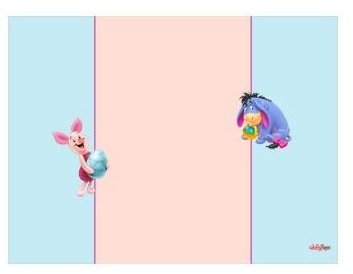 So, I saved the best for last! Who doesn't love Piglet? Oh, he just melts my heart! I just couldn't resist passing this one on to share with you. This will make a wonderful greeting card to a child or an adult. Most of us still have a little kid in us, especially at Easter time. You can add your text to the center column, where the pink strip is, to create your card. You can also size the background down if you need too.
Resources
1. Get Cliparts, Easter Clipart Backgrounds, https://www.getcliparts.com/easter-clip-art/
2. Christian Layouts, Easter Bunny and Easter Eggs, https://www.christian-myspace-layouts.com/backgrounds/Easter-bunny-and-easter-eggs.jpg
3. Youth Ministry, Cross Background, https://www.youthministry.com/easter-backgrounds
4. Christian Layouts, Easter Eggs and Flowers, https://www.christian-myspace-layouts.com/getcode.asp?id=37682
5. Jelly Pages, Easter Piglet & Eeyore, https://bg.jellypages.com/eeyore-piglet-easter/b.jpg
All images are the property of their respective designers.