The Best Printers Used To Print on Fabric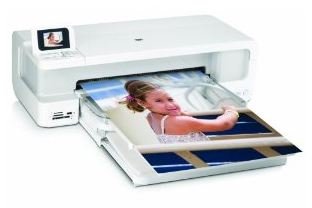 Printing on Fabric
You may want to create a special gift for that special someone - why not print on fabric like a shirt to create a unique gift? To print on fabric is a lot like printing on any other type of material, but it does require some special ink and printer design to achieve optimum application of colors. The best printers for fabric printing are those that can apply ink in such a way that it will not wash out easily. Fabric is very susceptible to moisture and getting wet, so ink that easily washes out is not desirable. Printer design should allow for optimum fabric handling since regular printers are designed to handle paper. Fabric is more likely to cause a jam in the printer thanks to its easily wrinkled nature, so look for a printer that is designed to minimize wrinkles, creases and bending around the edges. Take a look at our tips for printing on fabric article for more ideas! Here are some printers that are ideal for fabric printing.
HP Photosmart B8550 Inkjet Photo Printer
This printer focuses on delivering lab quality photos printed on standard sized paper and other materials like fabric. It supports borderless printing for paper sizes that can go up to 13x44 inches as well as regular sized paper. It does this in blazing speeds of a minimum of 95 seconds for 13x19-inch paper. It is designed to use 5 different dye ink cartridges, which means if you run out of a certain color, whether it is cyan, magenta, yellow or black, you only need to replace one instead of all the cartridges. The ink it uses dries up fast and is resistant to smudges. You can get it at Amazon for $159.99.
Epson Stylus NX625 Color Inkjet All-in-One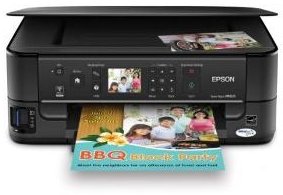 Epson Stylus NX625 Color InkJet All-in-One
With all its useful features like wireless printing within a network and even mobile devices, fast borderless printing, automatic two-sided printing and image enhancement tools, the Stylus NX625 really shines in fabric printing because of its ink. Epson's ink is known to be the friendliest kind of ink for fabrics. This combination of fabric-friendly ink and advanced features make this printer a solid choice for various printing projects at home. You can buy it for $101.45.
Epson Stylus Photo R1900 Large Format Photo Printer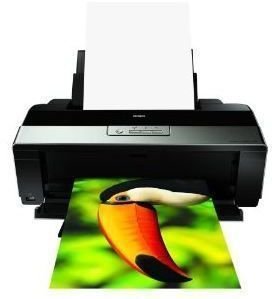 Epson Stylus Photo R1900
Epson's pigment ink is perfect for being able to print on fabric thanks to its ability to dry quickly, providing resistance to fading, smudging and getting wet. This high compatibility with fabric printing is enhanced by Radiance technology that provides better print quality and more colors. This ability to give vibrant colors is highly useful in printing large prints whether the material being used is regular paper, matte paper or fabric. In addition to support for multiple materials via multiple paper paths, this printer is also capable of printing images panorama cameras. You can purchase this online at $399.99.
Canon BJC-85 Portable Color Bubble Jet Printer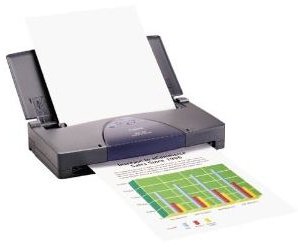 Canon BJC-85 Portable
Bubble Jet Set technology was specifically developed to allow printing on fabric that does not wash out easily. This is why bubble jet printers are your best bet when printing on fabric. This particular bubble jet printer from Canon has a compact and lightweight design that makes it ideal for printing jobs that require moving around a lot. It is capable of printing 720x360 dpi images with a speed of two minutes per colored paged or a minute for black and white pages. You can get this printer for $699.99.
Canon i320 Color Bubble Jet Printer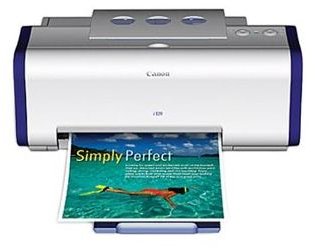 Canon i320 Color
Another bubble jet printer from Canon, the i320 is capable of printing 600x600 dpi black and white pages and 2,400x1,200 dpi colored pages. It is also capable of borderless printing at a speed of at least 80 seconds. It emplys photo lighfast technology that makes photo quality last for about 25 years. If you are looking to buy any of the best printers for fabric printing, you should start by taking a look at this one. You can get it for as low as $199.
References:
https://www.cjenkinscompany.com/category_s/21.htm https://h71028.www7.hp.com/hho/cache/784-0-0-39-121.html https://www.amazon.com/HP-Photosmart-B8550-Inkjet-Printer/dp/B001B19XPA/ https://www.amazon.com/Epson-Stylus-NX625-InkJet-C11CA70271/dp/B003YCOL60/ https://www.amazon.com/Epson-Stylus-Format-Printer-C11C698201/dp/B0011G47PQ/ https://www.amazon.com/Canon-BJC-85-Portable-Bubble-Printer/dp/B00004SGBW/ https://www.amazon.com/Canon-i320-Color-Bubble-Printer/dp/B00006CBDV/ All images from Amazon.com Product Listing