Top Sources for Printable Blank Marriage Certificates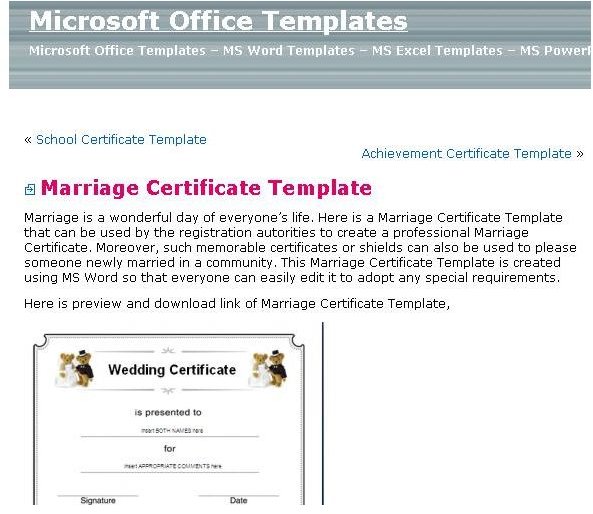 Commemorating Your Marriage
Couples getting married may have a marriage license, but may not have an attractive certificate documenting the important event of marriage. The good news is that printable marriage certificates are available online, and can be downloaded and customized for the couple that is tying the knot.
Of course, these certificates are not intended to be legal documents (hopefully couples have those safely tucked away), but are important and creative ways to help keep the wedding day alive for many years to come.
Couples are not the only people who can use a souvenir marriage certificate. Clergy and other officers overseeing marriages can issue their own creative certificates, and so can friends and family members to make unique gifts that share the perspective of those who know, love and support the couple that just got married.
Below readers will find four sources of downloadable certificates of marriage that are available online.
Microsoft Office Templates
Our first source for printable blank marriage certificates is OfficeTemplates.org, a site that is not affiliated with Microsoft, but offers a number of freely available certificates and other templates that load in Microsoft Office. This particular template is downloadable in a compressed "zip" file that users can save on their computer and then use to create impressive marriage certificates that can be used for gifts and keepsakes for those who are setting off to build a new life together.
Free Printable Certificates
A great source for printable blank marriage certificates is at FreePrintableCertificates.net. Visitors to that site can choose from one or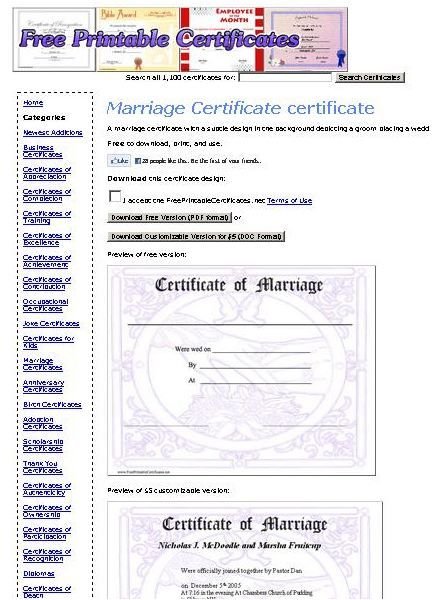 more certificates that couples can use to help celebrate their marriage. Also, ministers and justices of the peace can use these certificates to create a commemorative remembrance for the people they serve.
For each certificate available, visitors can select whether to use the free, un-editable version or purchase a fully customizable certificate for a $5 fee.
Certificate Street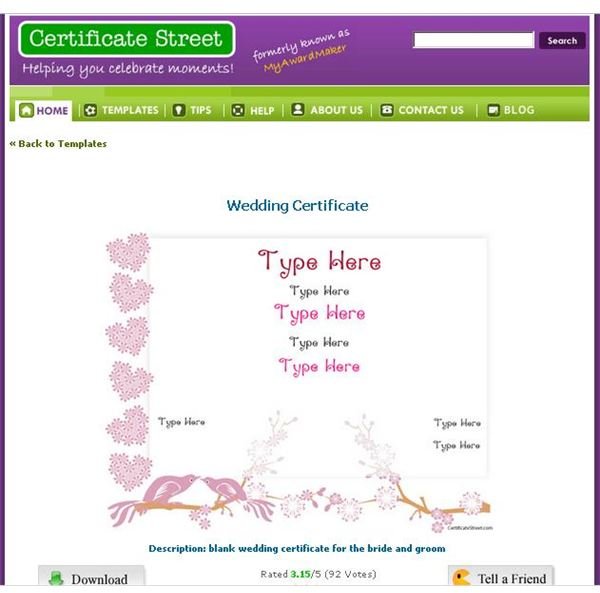 Certificate Street has printable blank marriage certificates that visitors can download, customize and print for free. Preformated with editable name, event, and other fields that can help users create a marriage certificate for capturing the emotions of the moment forever. Users to the site just click one "Download" button and the rest of the process is in their hands.
Hoover Web Design
Another great place to find wedding certificates is Hoover Web Design, a professional Web design company. There visitors can find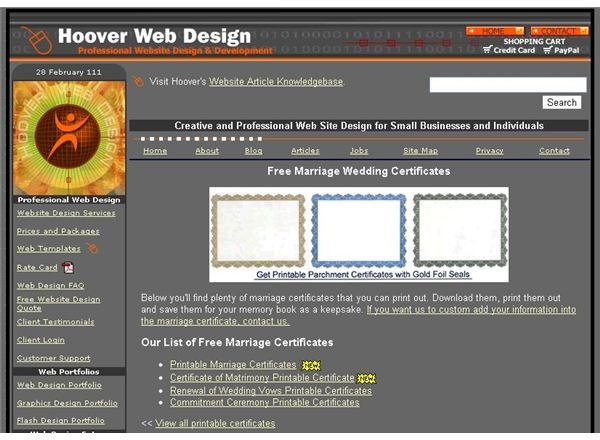 some unique and attractive marriage certificates, certificates of matrimony, marriage vow renewal certificates, and even commitment ceremony certificates. This impressive selection is available with no purchase required, so people can create frameable mementos of these important events in their lives.
References
"Marriage certificate template",https://www.officetemplates.org/marriage-certificate-template.html
"Marriage certificate",https://www.freeprintablecertificates.net/showcover/marriage2
"Wedding certificate",https://www.certificatestreet.com/relationships_8/wedding-certificate_398.htmla
"Free marriage wedding certificates",https://www.hooverwebdesign.com/free-printables/printable-certificates/marriage-certificates.html
Screenshot images are property of each individual web site listed.