Top 5 Sources for Free Printable Graduation Stationery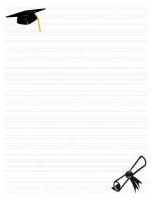 Preparing for Graduation
In the United States today, there are more graduation celebrations happening every year. Graduations are not just celebrated for high school seniors and college graduates anymore, but also celebrated at the kindergarten, fifth grade and eighth grade levels.
In light of more graduations being celebrated than ever before, the importance of being prepared for this time period has become greater as well. Deciding on the printables that you want to use can be a first step in preparing but once you choose where to start the expense of getting all the graduation materials can be pretty high. In an effort to save costs, you can utilize a range of quality online free printable graduation stationery. The focus here will be on the stationery only but if you need free resources for graduation party and ceremony invitations see, Graduation Invitations on a Budget.
1 Computer Stationery
The 1 Computer Stationery web site has a wide range of free school themed printables. To find their section on stationery that can be used for graduations of all school levels, click through here.
Overall the website offers fifteen different stationery printables. In the image shown to the upper left is their School 200 template. Even though their site offers various templates, the majority is focused on the high school and under-grade levels for the graduation theme.
Design Betty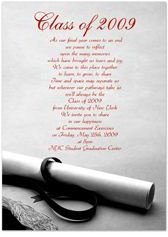 Design Betty online has offers hundreds of free printable on various themes. Under their Graduation category page they offer graduation invitation templates as well as free printable graduation stationery. The templates that they carry are high quality, full color pages that can be download by right clicking and are for use in applications such as Microsoft Word, Adobe Photoshop and even the OpenOffice suite of free application software.
The graduation page holds eighty-seven templates, one of which can be seen in the image to the left. For access to all of their graduation templates, click through here.
HP Creative Studio

Hewlett Packard's online Creative Studio offers a variety of free printables for home use. Under their graduation themed category they carry fourteen free selections, some of which you can add in the graduate's picture before printing.
In the image shown to the left is one of their free graduation stationery templates. For the full selection, click through here.
My Expression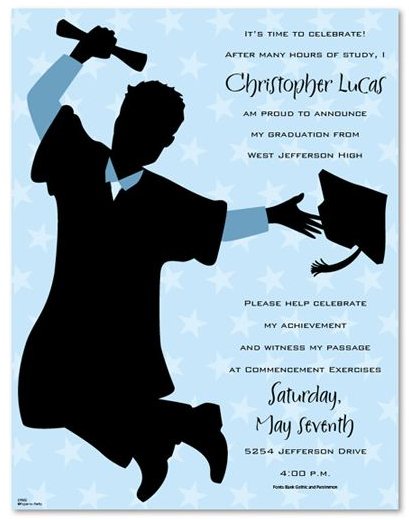 The website My Expression offers up to forty graduation stationery printables. The site does offer to print en mass for you with prices differing by design but you can chose to download a selection for free when opting to print the template out yourself.
In the image at the upper left is one of their graduation selections called Boy Graduation Stationery. To view their full collection and get started on choosing your template to print at home for free, click through here.
Microsoft Templates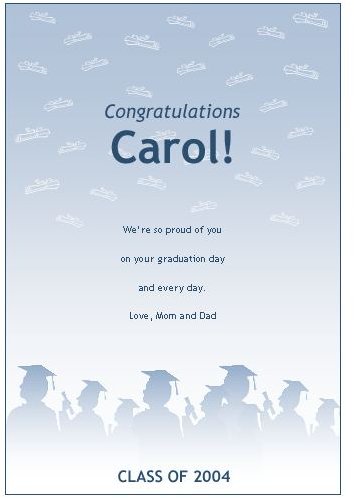 The Microsoft Word Template gallery offers hundreds of free graduation themed printables for those who are using the Microsoft Office suite of applications. Each template can be downloaded and edited for free, then printed up at home.
Shown to the left is just one of their graduation offerings. In order to see the entire collection that they have available, visit the main Microsoft Template Gallery page and type in "graduation" through the site's search function.
References
Images used were provided by and are © 2011 Design Betty, © 2011 Hewlett-Packard Development Company, L.P. , ©2010 MyExpression.com and © 2011 Microsoft Corporation.