3 Famous Artists Who Worked in Silk Screen Printing & Painting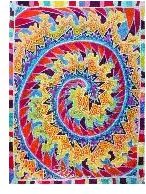 About Silk Screening or Batik
As a non-artist, even I was fascinated about the world of silk screening, often referred to in my hometown of Taos, New Mexico, as Batik. Taos is home to many world-renowned art galleries. So, off on a journey I went, to meet with local artist Gary Fey who runs a silk-screen/Batik gallery, not to just take a class but to learn of the famous artists who worked in silk-screen printing and painting!
Before we dove into conversations about the famous silk screeners, Gary offered me a piece of 8X10 silk and stapled it to a wooden frame. Next my job was to take a piece of plain white paper and draw anything I wanted—an abstract, a tree, an animal, etc. Because I lack skills in the artist area, I drew a tree!
The next step was to use hot wax to trace my tree (the paper is inserted under the silk and frame) and allowed to dry. The final steps include painting, repainting, washing, and drying, keeping the creation near UV lighting. In the screenshot to the upper left, you can see one of Gary's abstracts—I'd show you mine, but–well, I'm sure readers will enjoy viewing his more!
After our class, we settled in to talk about some famous artists who worked in silk screen printing and painting.
Andy Warhol

We've all seen that famous Andy Warhol Campbell's soup can, but most of us also remember that infamous silk screen piece starring Marilyn Monroe. Born in Pittsburgh Pennsylvania, now home to the Andy Warhol Museum, Andy turned silk screens into avant-garde art as far back as the late 1960s and 1970s. Along with portraits, Warhol dabbled in the abstract, and in 2007 his silk-screen painting, Green Car Crash, sold for a whopping 71.7 million dollars. The world lost Warhol in 1987, but those who love his work still seek any piece—if they can afford it!
Georgia O'Keefe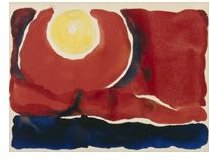 Perhaps well known for her oil paintings, by the late 1940s O'Keefe made Taos, New Mexico, her home (maybe because she heard the Taos Hum) and at a visit to the Georgia O'Keefe Museum in Taos you can see tons of her later silk-screen works. In the image to the left, you'll find her Evening Star. Georgia's collections are massive—all are public and there are over 100 collections in places all over Europe, Asia, and Central America—beyond those lucky enough to own an original. I have a charcoal sketch O'Keefe did in the late 1960s. I was lucky enough to win it at a fundraiser at the former home of O'Keefe (Ghost Ranch), located not far from Taos in Abiqui, New Mexico, that borders the Chama River—an exciting and inspirational place indeed!
RC Gorman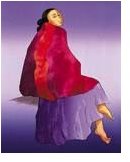 Navajo artist RC Gorman also found his homestead in Taos! How lucky I am to live in such a unique place where these famous artists who worked in silk-screen printing and painting lived! The world lost RC Gorman in 2005 and, as a friend, I can only say that his death shocked the art world. Known for his famous Native American oils, watercolors and bronze statues, RC also loved silk screening. His Navajo Gallery is still open today where visitors from around the world browse and buy his unique and masterful pieces. The lithograph I have, given as a gift from RC, will be forever treasured!
Final Thoughts
It's not hard to see that even those artists who worked in other mediums also enjoyed silk screening from time to time, and those listed here are just a few of the famous artists who worked in silk screening. Luckily, I live in Taos, a place where two of them called home. Actually, since my birthplace was Pittsburgh, also the birthplace of Andy Warhol, I must say, I have always lived near silk-screen artists without evening knowing how close!
References
Special thanks to Gary Fey - https://www.garyfey.com/Home.html
Warhol Marilyn Monroe courtesy of Wikimedia Commons/Michael Philip
Georgie O'Keefe Evening Star courtesy of the Georgie O'Keefe Museum (Taos) - https://www.okeeffemuseum.org/index.html
RC Gorman Twilight courtesy of the Navajo Gallery (Taos) - https://rcgormangallery.com/editions/index/category:silkscreens