Help with Award Certificate Wording: Examples & Free Resources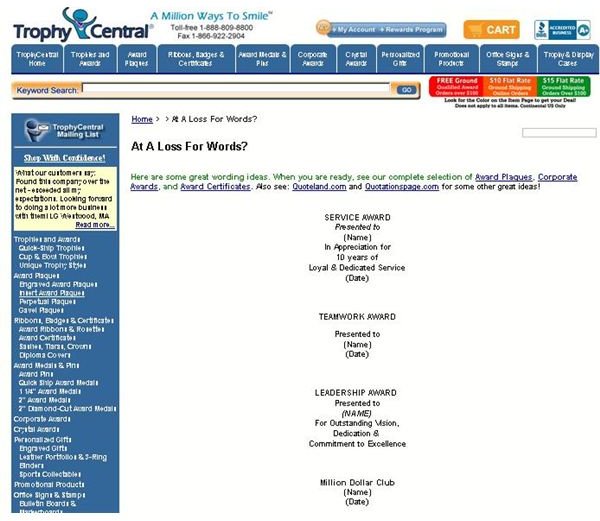 Finding the Perfect Words
When the time comes around to prepare awards for the people in a class, club, civic organization, school, or church, some people freeze up when they realize that they don't know what to say.
Wouldn't it be nice, if it were possible to "prime the pump", so to speak, and get some ideas for what to put on all the rewards you have to create. Here you will find some resources to help with award certificate wording that are sure to get the job done.
At the same time, some readers may find certificates that they can download or print for free or for purchase that can simplify the awards process even further.
As an example of a well-designed certificate with appropriate wording, please see our free download for a Big Brother Award.
What to Say on an Award Certificate
Sometimes a hint, or a simple suggestion, is all it takes to get started writing an excellent award. For example, an award certificate for service might include a concise description of what the recipient has done for the organization or community. Key words such as "commitment" and "dedication" should be included, to establish the outstanding character of the person being recognized. The wording could be something like:
Outstanding Service Award: Presented to [NAME] in sincere appreciation of 5 years of dedicated service to the Civic Hero Community Center. Award presented by the CHCC Board of Trustees.
Wording for an athletic accomplishment should include the season for which it is awarded, as well as the league or organization which sponsors the recipients participation.
Coach's Award: Presented to [NAME] for outstanding character, leadership and athletic performance during the 2010-2011 basketball season with the Smithville Tigers of the Smithville Varsity League.
Leadership awards should include the position the recipient holds, the number of years in that position, and a few words on what the recipients leadership accomplished.
Exemplary Leadership Award: Presented to [NAME], under whose 5 years of leadership the GizmoGadget development team won five patents and two product of the year awards. Presented by Bill Smith, Chairman & CEO, XYZ Corporation.
One more thing, the name of the award should always be in large type so that the recipient and others can easily recognize that the award is for leadership, service, athletic performance, etc.
Now that we've provided looked at some examples and general tips for wording, let's look at some online resources that can help with the final product.
At a Loss For Words?
A section of a popular awards website, has a section specifically designed for those who don't know what to say on an award. These wording ideas come from a company that has been in the business for a long time, so feel free to use some of the ideas on the site to get your awards written.
The web page is called "At a loss for words?" and has a long list of possible wording for award certificates. Choose from examples for service awards, teamwork awards, leadership awards and more.
Of course you can choose to purchase your award certificates there too, but the wording examples are free.
Microsoft Office Templates
When looking for help wording great certificates, The Microsoft Office website is a perfect place to look. Here, Office users can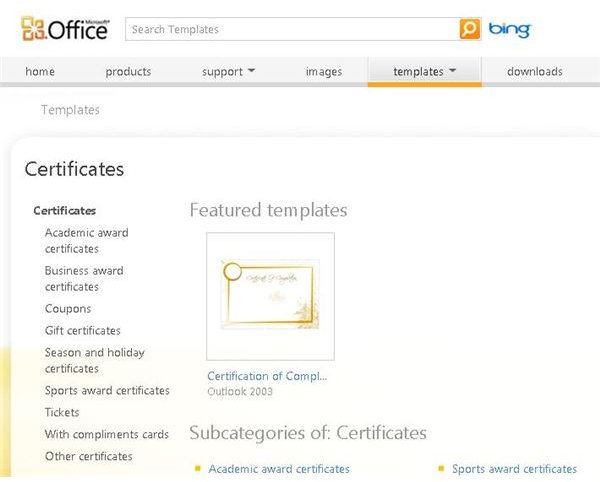 find a number of certificate templates, complete with wording, that can fit almost any occasion. Selections available from the site include:
Business awards
Coupons and gift certificates
Seasonal awards and certificates
Sports awards and certificates
Other certificates
All these templates open in Microsoft Office applications, making it easy to find the right words for certificates and create certificates all at the same time.
Free Printable certificates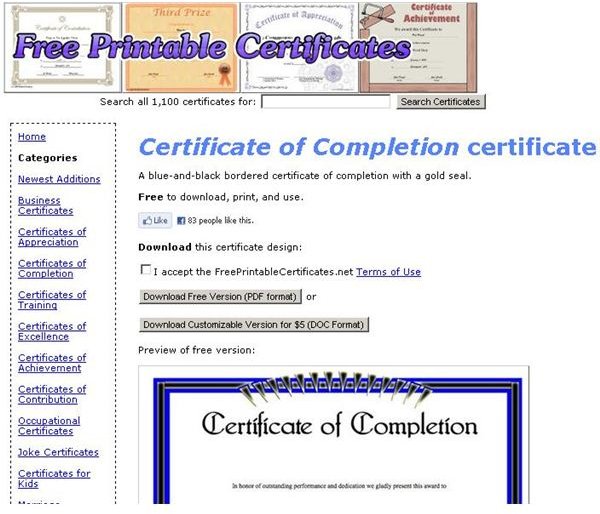 Another great place to find good examples of award certificate wording is the Free Printable Certificates website. There you can find examples of fully worded certificates and awards, together with the opportunity to save some time and print out the whole certificate on the spot.
Get to Work!
Armed with a few resources and some great wording examples, readers can now get started creating the best awards they have ever made.
References
Screenshots provided by writer
"Certificates",https://office.microsoft.com/en-us/templates/CT010104300.aspx
"Free Printable Certificates",https://www.freeprintablecertificates.net/
"At a Loss for Words?",https://www.trophycentral.com/atlossforwords.html